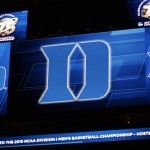 It's time for my last-minute thoughts on today's Duke vs Louisville match up to see which team moves on to the coveted Final Four.
Road Blue and the underdog
Duke will wear their royal Duke Blue uniforms today and find themselves a rare 4 point underdog to Louisville. But that line makes sense in that this will be a pro Louisville crowd. It's less than a two hours drive for their fans and they've been known to travel. Indiana fans had originally purchased tickets here but got knocked out by the Cards in that this was the closest venue to them. Louisville fans have been gobbling up the tickets available in the local paper and everywhere you go you see red.
Louisville comes in a roll
The Cards are riding a 13 game winning streak and the only game they lost prior to that in the last was against Notre Dame in five overtimes. They are a confident bunch, playing loose. Some may point to a three game losing streak prior to the streak but how many teams would succeed against Syracuse and road games against Villanova and Georgetown? The Cards have no bad losses and stand 32-5 against a tough Big East schedule.
Could revenge play a factor?
Of course it could. It's hard to beat a good team twice and Duke holds a 76-71 win earlier this season. Their fan base certainly seems to want some revenge but the Louisville players downplayed the game, one saying "Duke," on the chest in no way scares them.
The keys for Duke
Much has been made of Ryan Kelly and his recent inability to knock down the three ball. The Cards could sag on Mason Plumlee until he hits one in this game. Then there is the Curry factor. In a 24 hour turnaround he averages 21 ppg in the 1st game and 13 ppg in the 2nd game with a significant drop off in shooting percentage. That means Quinn Cook will need to bounce back from his lack luster game against Michigan State and Rasheed Sulaimon cannot afford a drop off. Duke must also stay out of foul trouble and hope the refs do not give into what will essentially b a home crowd for Louisville. Duke made up for shooting 40% from the field by hitting 24-26 free throws against the Spartans. It will be hard to repeat that but it favors duke if they can once again get to the line. And for those whining about Duke gets all the calls, they shot a grand total of two more free throws in the win over Michigan State.
What it comes down to
Duke will need to come out of the gate strong and take the initial one, two punch Louisville will throw their way. Duke must protect their key players from foul trouble and make an effort too have a man back due to the Cards ability to easily get into the lane.Duke also needs to find and push their three-point shooters off the line. They did a good job with that against Luke Hancock in the first game. Louisville gains the services of Gorgui Dieng in this game, who is a presence at 6-11, 245 and he missed he first game allowing Duke to score some easier inside buckets.
The pick
This game is going to go down to the wire and fans can expect their nerves to be frazzled. If the Blue Devils can cut off the Louisville break and not allow easy points it benefits them greatly. Th Cards want to run, Duke may surprise some and do so as well but you can expect to see some good defense and I think this game struggles to get into the seventies as the first game did. Kelly finds his shot and allows Duke to stretch the floor and Coach K and company claw their way to a 67-66 win to advance to Atlanta.