The Duke Blue Devils moved to the top of the ESPN/USA Today Coaches Poll this afternoon,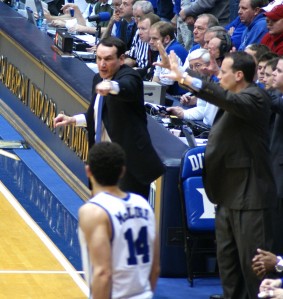 garnering all but one first place vote.  Duke has now been number one sixty times since the polls inception in 1999.  UNC is a distant second since that same time frame. 
The Blue Devils will carry that #1 ranking into Winston Salem on Wednesday night to take on last weeks #1 team in Wake Forest.  Duke joins, UNC, Pitt and Wake Forest as teams that have held the position so far this season.
 1.

Duke

(30) 18-1 774
 2.

Connecticut

(1) 18-1 733
 3.

Pittsburgh

18-1 706
 4.

Wake Forest

16-1 666
 5.

Oklahoma

19-1 663
 6.

North Carolina

17-2 636
 7.

Louisville

15-3 547
 8.

Marquette

17-2 538
 9.

Michigan State

16-3 475
10.

Xavier

17-2 458