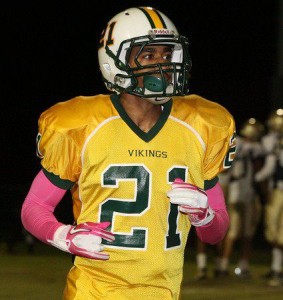 Head Coach David Cutcliffe and the Duke coaching staff received their 3rd verbal commitment in the class of 2013 on Wednesday from Virginia CB Evrett Edwards. Edwards is a 5'11″ 175 pound cornerback prospect from Woodbridge HS in Woodbridge, VA. Though he didn't start playing football until 8th grade, Edwards was a quick study, learning from his uncle, Benny Guilbeaux, a former safety at Notre Dame. By his junior year in 2011, Edwards earned 1st Team All-District honors, totaling 38 tackles, 6 interceptions, 4 pass break-ups, 3 fumble recoveries, 2 blocked field goals, and 1 blocked punt. The speedy prospect has seen his recruitment take off in recent weeks, and he chose the Blue Devils over scholarship offers from Boston College, Illinois, Ohio, Wake Forest, and West Virginia. He picked up his Duke scholarship offer on a March 17th visit to Durham and caught up with BDN shortly afterwards. He updated BDN today on his decision to commit to Duke.
BDN: Can you tell us about the decision you made today?
I called Coach Cutcliffe around 2:30 and told him I wanted to be a Blue Devil and I wanted to play for him after I finish high school.
BDN: What did Coach Cutcliffe have to say to you?
We were both very excited. He was proud. He was glad that I called him first, he was very glad about that. He let my position coach and my recruiting coach know.
BDN: I know that your family was involved in your decision; are they excited for you as well?
Yes, very much so!
BDN: What was it that ultimately led to your decision to commit to Duke today?
The fact that - the relationships there. I did my research on the school, I didn't do what most players do and look at uniforms and what not, I looked at the endowment, what I can do for the school and what the school can do for me, and I really liked that. And just the relationships - the conversation that I had with Coach Cutcliffe, it was very big in my decision.
BDN: I'm sure Duke fans will be excited to hear from you; is there anything you want to let them know?
Go Duke!
BDN: Alright, thanks a lot Evrett and congratulations!
Thank you!