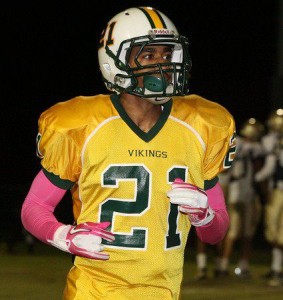 With the upcoming graduation of Lee Butler and Tony Foster, one of the most inexperienced positions facing the 2013 Blue Devils will be at cornerback. Fortunately, two prized prospects in the class of 2013 will be enrolling in January to get a head start on their preparation for their freshman season. Both Quay Mann and Evrett Edwards were on campus this past weekend for their official visit, and both are looking forward to getting back on campus in January.
Edwards is a 6'0" 165 pound cornerback out of Woodbridge, Virginia. After committing to the Blue Devils in March, his recruitment took off, and he quickly picked up over a dozen scholarship offers, with interest from many more powerhouse programs. The speedy cornerback put together an outstanding senior campaign, playing on both sides of the ball for Woodbridge High School. Edwards was hosted by All-ACC cornerback Ross Cockrell on his official visit, and the Blue Devils hope that he can replicate Cockrell's success on the field as a shutdown cornerback. BDN caught up with Edwards after his official visit on Sunday. [private]
How did your official visit go this weekend?
It was wonderful.
Who did you get to hang out with and who was your host?
My host was Ross.  I hung out with Ross, Jared, Tony, Bryon Fields, and Breon Borders.  Johnell and T.J. were the two wide receivers from Florida.
I heard from those receivers that you guys had a little back and forth going on about competing in practice next year.
Yeah, you know just wide receivers and cornerbacks.
What kind of things did you get to talk about with the other players?
Well, I did ask Ross and Lee and Lex what you all expect from me.  They kept telling me how I had a chance to come in and get on the field fast and how much of an advantage I have because I'm coming in this spring.   They basically just explained campus life too.
How did it feel to be at Duke? How did you get along with the coaches?
I had a real good time when I spoke with Coach Cut and Coach Knowles and Coach Jones.  I felt real comfortable there, felt relaxed.  It was real easy to speak with the kids.  Again, I just felt really comfortable.
Obviously, you're trying to get back to Duke soon to enroll in January. What do you have planned between now and then?
Finish all this homework.
Going to finish out your senior year strong?
Yes sir.
Before I let you go, can you just sum up how you felt your senior season went overall?
We went to the playoffs and lost.  I had a really, really good year, actually.  I was targeted 12 times and only two balls were completed for like a total of 20 yards. I kind of got bored on defense, but I played well on offense.  I had close to 600 total yards this year, three touch downs; I forget how many catches exactly.
Congratulations on your great senior year. I know Duke fans are excited to have you on campus and see you play next fall.
I can't wait to get on campus.
Thanks a lot, Evrett!
No problem. Thank you.
[/private]