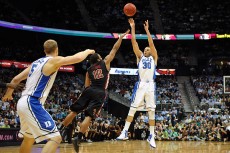 The Duke Blue Devils fell to Florida State 62-59 in the ACC Tournament semi finals in Atlanta, Georgia and fell to 27-6 on the season.  The team will now await the NCAA selection show on Sunday to see which region they'll play in but it is pretty much a lock they'll be in Greensboro for their first one or two games.
Duke had a hard time with their bread and butter three point shots in the tournament and today they went 5 of 20 from beyond the arc.  Duke almost tied the ball game on a shot at the buzzer after a defensive play, but the ball rimmed in and out for Curry.  The Blue Devils managed to stay in the game with its free throw shooting where they went 16 of 18 but the Seminoles dominated the boards for most of the second half until late in the game and all the loose balls seemed to go their way in key stretches.
Luke Loucks nailed a three pointer over Josh Hairston with 12 seconds left and Duke failed to score on two possessions with the aforementioned Curry miss and another failed three from Rivers.  The ACC Freshman of the Year led Duke in scoring with 17 points and Curry added 13 as the Blue Devils only two double figure scorers.
It was obvious that the Blue Devils missed Ryan Kelly and that they were at times out of synch on offense without him. Kelly can stretch the floor pulling big men out as a true three point threat.  Kelly is day to day but will likely see limited action in this weeks tournament.
With Mason Plumlee saddled with foul trouble, the Seminoles took advantage in the paint outscoring Duke 34-24.  That forced Miles to take on much of the load and he did grab 11 rebounds and scored 9 points.  Mason ended the game with 8 points and 4 rebounds.  Duke got just 9 points from their bench, 4 for Josh  Hairston and 5 from Quinn Cook while Andre Dawkins continued his struggles going scoreless.
Both teams played hard with maybe the Seminoles making a bit more effort.  Duke was sluggish in the 1st half and a look at the stats would make one think they had trailed by more than 2 points. 
Coach Krzyzewski has done a great job with this team to date but the Blue Devils may have to tweak their offense a bit without Kelly seeing significant minutes.  When Duke needed a stop tonight it just didn't come and sometimes that's just the way the ball bounces.  We'll discuss that a bit later as it's now time to look forward where all teams are 0-0.