Ryan Kelly helped Ravenscroft go 2-1 during the Glaxo Smith Kline Invitational and his play earned him not only a spot on the All Tournament team, but his bracket's Most Outstanding Player Award. [private]
Kelly was visibly disappointed after his teams loss to Centennial where the wheels came off and the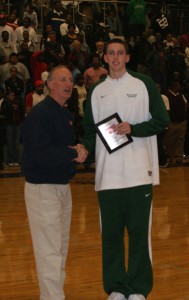 lack of depth in the Ravens' back court was exposed by constant pressure.
Ravenscroft hopes to bounce back against Word of God this coming Wednesday.  John Wall, C,J. Leslie and company will travel over to participate in a big game on both teams schedule.   Unfortunately for Duke fans, Duke hosts Davidson and Curry that same evening.
Kelly was able to talk with Coach Krzyzewski after his teams loss as we passed to do an interview.
Kelly attended yesterday's Duke-Loyola game as did the Plumlees.  They were also able to meet with Andre Dawkins, a class of 2010 commitment.
Part I -
What does a guy like Ryan Kelly do with his time off?
Go to church, get some shots up, go to movies and hang out with my girlfriend.
A girlfriend?  How long have you two been together?
About a year now (smiling).  Her name is Lindsey Cowher.  She plays for the Girls team at Ravenscroft.
And she is the daughter of Bill Cowher the former Pittsburgh Steelers coach?  Whats it like to be around him?
I am very fortunate.  I've had a lot of good opportunities and met a lot of good people in my life.  My parents are great.  I've been blessed.  I'm having a fun time and just finishing my senior year of high school.
Is it hard to go through all of these tournaments and then get it back together for school?
We'll find out. (laughing)  No, I think I handle it pretty well being responsible.  We have our study halls after school and we all do a good job
Your Coach, Kevin Billerman said you were able to talk to the Duke coaches a lot ...
Yeah, I talk to them pretty consistently after their games.  I let them know about my season and they let me know how theirs is going.  Obviously they are doing pretty well.
Were you able to talk with Wojo or Collins the other night?
No, the timing ... they probably left just before the game ended.
Do the Duke coaches give you a heads up when they are coming?
Yeah, they let me know when they are coming most of the time.
Part II (after his teams loss to Cetennial)
That was a tough loss, but Ryan Kelly will bounce back.  What will you do in order for that to happen?

We just have to play better as a team and get our confidence back.  At Chic-Fil-A we lost a couple because we jumped to some really good teams.  I felt like we had gotten it back a little bit (to straight coming in) ... actually I felt we had it (confidence) back to where it should be, but today it disappeared.
You played a good game, so it must have been frustrating that your team played well early only to come apart in the second half.
We never let it slip to the point where we weren't in it.  We just couldn't get over to hump to get it under ten again.  We kept it close for awhile but thats where the confidence comes in tying to get over the hump. [/private]