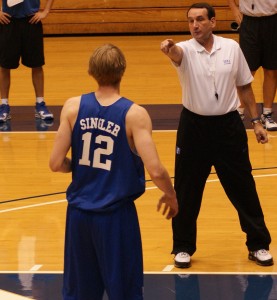 DURHAM, N.C. -- The Wednesday, Dec. 9, 2009 edition of GoDuke Weekly is now live by clicking here!
This week's edition features:
Duke football teams with N.C. Central for Shoebox Christmas Program
Ronald McDonald House Duke Athlete of the Week -Jasmine Thomas (women's basketball)
The 2010 Duke Basketball Yearbook published last week
Senior Profiles - Alison Whitaker (women's golf), Ken Sullivan (men's cross country)
Recap of the past week in Duke Athletics
This Week in Duke Athletic History
ACC Standings
Duke women's basketball tickets
Barry Jacobs Feature - Thaddeus Lewis Ends Career As One Of Duke's Best
A.J. Carr Feature -  Duke Center for Sports and the Law to Host Panel Discussion
Five Things You Should Know About ... full court pressing with Jasmine Thomas (women's basketball)
Blue Devil Snapshot
Campus Corner
They Said It
You may sign up for this free magazine by simply entering your email address.