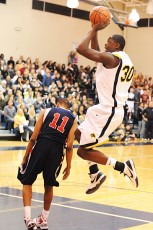 LOS ANGELES - Speed, athleticism, size, strength, and basketball IQ. Usually college coaches fight tooth and nail over a prospect that may have 2 or 3 of these attributes, in hopes of landing the next big thing, but when they find one that possesses all of these qualities they are sure to fall head over heels in love with him. Julius Randle has all of these attributes and it shows when he's on the court. The 6'8 combo forward from Plano, Texas has been showing fans on the AAU circuit why most scouting services have him ranked so high. Possessing a quality inside game and the ability to step outside and attack the hoop, Randle has the ability to dominate games. BDN got a chance to chat briefly with the Texas Titans lefty.
BDN: How is the [private] ankle treating you? You hurt it a few events ago I believe.
JR: It's feeling great. I'm a lot more explosive right now it's just been great for me.
How does your role change from your high school team, Prestonwood Christian Academy, to your role in AAU with Texas Titans?
It doesn't really differ that much, I just do my thing! (laughs)
You seem to do it well
Yes sir! (laughs)
Are you more comfortable on the inside or outside at this point?
I'd say equal really. It just depends on who is guarding me.
So with a smaller guy you'll go inside..
Yes sir I'll definitely take him inside.
I notice you really love to use the glass a lot. Have you tried focusing on that?
It's just naturally really. Not really a practice thing. It's just touch basically.
Talk to me a little bit about your teammate Matt Jones (2013 SG)?
It's just amazing to play with him. Over the years he went from shooting in the corner, to where now he basically does everything on the court for us. He's developed tremendously over the years and now he's turned himself into a great player.
How do you find being vocal on the defensive end..
Oh yea definitely. Communication is real big you need to talk to your teammates. Talking to your teammates helps you out tremendously.
You have a lot of interest from many schools, specifically the ACC. Recently Duke added Coach Jeff Capel, what's that relationship like?
Oh yea, Coach Capel is just a great guy, a tremendous guy. He's just a tremendous coach. He did well with players in the past and it's exciting to have a relationship with him.
How does he approach you when you talk? As a coach, a friend, a father figure?
He talks to me like a big brother.
I notice he has a very youthful personality.
Oh yea definitely.
Thanks for your time, Julius.
No problem. [/private]