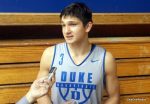 Duke captain Grayson Allen addressed the media today in Cameron Indoor Stadium -
On the start to the season:
"We've had a good one. We'd like to have one less loss of course. But we've had a good start to the season. We've learned a lot about ourselves, about what our strengths and weaknesses are. I'm happy about that. I'm happy about this week of practice we just had. I feel like our defense is improving a lot. I feel like we can turn what has been a weakness into a strength because we're so athletic and I like our potential to keep getting better."
On his play so far:
"It could be better. It could be more efficient, turn the ball over less, lead better. But those are all things I look at on film each game and make sure I do better in the next one."
On Evansville:
"We've obviously gone through all their stuff, gone through their personnel. They like to take time out of the clock a little bit on offense. They move the ball around really well. They cut extremely well without the ball. Off ball, they're constantly screening, getting split actions. It's going to be a game where you have to be awake off the ball and there's going to have to be pressure on the ball. They're such a tough team because they're very precise with everything they do and all the guys can pass. When you get shooters spreading out and then guys back cutting it's a really tough action to defend. We're going to have to do a really good job on defense. Talking is going to be so important with how many times guys are going to come together off the ball and screen. It's going to be a game where our defense is going to be important to stop them because there might not be as many possessions as we're used to."
On team turning weaknesses into strengths:
"One of our biggest weaknesses has been team defense. I think we play really good individual defense at times because we're so athletic, guys can guard well. But we need to do a better job of helping. Guys coming over on the weak side, making sure we're not guarding air, making sure we're not hugging our guy, just being active and in the right position. We've had a nice week, week and a half of practice now to review all that and get some good habits down so hopefully we'll put that into the game."

On response after the loss:
"I think they had the right response. They were upset and angry after the game like they should have been. But I think it kind of woke them up to how the ACC is going to be, how our league's going to be. We're going to have two or three games a week and they're going to be fights. They're going to have to show up and play every game, we all are. It was good wakeup, obviously I would have liked us to win the game, but it was a great wakeup going into the ACC play and to finish our nonconference schedule that we don't get breaks, we have to play every game."
On what the biggest adjustment made on defense:
"Talk. Talk is always the biggest one. So many things can be fixed with communication. Even if you say the wrong things, a lot of times they're athletic enough to make it work anyway. We just need to keep our communication up and make sure we're not just scrambling around out there. That the five guys are together and playing as one, playing in the right position on the court."  
On being captain:
"I like it; I embrace the role as a leader of the team. I like talking to the young guys, commanding them, and it helps me out in a lot of ways. I have to be so focused on them that I don't really have time to think about myself, I just have to go out there and do what I do. I've really enjoyed it. It's been a challenge because we have so many young guys but it's a lot of fun because they work. If I tell them anything, they're open to it. They'll come to me with questions and so it feels good to be in that spot."
On Christmas plans:
"We get about a five-day break after the upcoming game. We're home for Christmas and then come back the morning after, the 26th. That's always an important time. It's important for guys to stay in shape when they're away from the team but at the same time it's a great time to be home and have a little mental break when you're about halfway through the season and right before the start of ACC play."
Stay tuned for an in depth recruiting update for BDN Premium members.  December special, whatever membership you sign up for, we will double your time.  That is two years for 100.00 or a lesser time package.