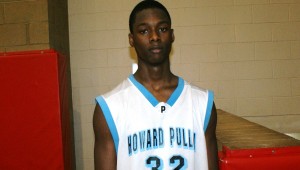 Durham, N.C. - Can you remember the last time that the potential signing of a prospect overshadowed the start of the regular season, not to mention home opener for Duke Basketball?  Quit searching, for it has never happened, but one must keep in mind that this is Harrison Barnes and he's become a household name not only in the Triangle [Raleigh-Durham-Chapel Hill], but in the nation.
Barnes of course is the consensus top rated player in the Class of 2010 and his addition can really sway the balance of power on the college basketball landscape.  Come 4:20 eastern standard time tomorrow afternoon, when Barnes makes his destination known; the staff and fan base of one school is going to be riding on cloud nine while the five contenders will go into hiding until the initial shock is over.
The suspense is already turning various school sites message boards into a cesspool of rumors and propaganda.  Yet many fans hang on to everything they hear trying to fit together pieces of supposed inside information to give them an early answer.  Never mind, that these claims are coming from anonymous posters, it doesn't seem to matter in the frenzied world of recruitniks [a reference to recruiting fanatics].
It looks as if Barnes will actually announce his decision rather than some "need of the scoop" media types blowing his day in the sun.  You can rest assured that media types are making calls to all channels in an effort to get said scoop as I type and they'll stop at nothing, including trying to pick the losing coaches.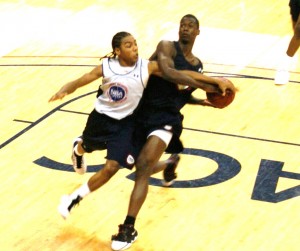 If my sources are true, Barnes will not call or contact any of the opposing coaches with concerns to his decision, save to thank them for recruiting him.  IOW, Barnes will make the coaches wait as well, or will he?
Barnes day in the sun will continue after his decision in that this recruiting battle  is destined to be talked about by many.  I mean, can you hear Dick Vitale saying, "The amazing Harrison Barnes signed with the ...... baby!  Watch out, he's the second coming ..."
Okay, it may not go quite like that, but you get the picture in that Harrison Barnes is the most hyped prospect since LeBron James skipped college to go straight to the pro's.
Despite the comparisons with James with concern to hype, Barnes is a kid who is big on education and he seems to be a kid that easily fits in.  What I am trying to say is that Barnes could well stay in college more than just one season.
Duke started recruiting Barnes in the summer of 2008 and they had an offer out there early, but Kansas was the first school other than hometown Iowa State to get involved in his recruiting.  UCLA wasn't far behind, nor was Oklahoma.   UNC got in late but there are many indications that they made up a lot of ground in a short time.
Depending on who you trust, the Barnes spin mill has him going to four schools on his list of six.  UCLA and Oklahoma have become the dark horses, while Iowa State is hanging out of respect, a Barnes trait.
North Carolina fans and their players seem confident that Barnes is theres and that Michael Jordan served as a trump card.  Kansas is proported to be the choice with concern to location and allowing the family to stay in the area.
Duke?  Well, I cannot speak for the assumed rumors and assumptions above, but I can tell you how Duke's recruitment of Barnes has gone from my vantage.
The Blue Devils had more visits than any other school save Kansas. Coach Kryzewski has been the front and center lead man for Barnes.  It is believed that the two have formed a sound relationship and word is that he gets along with the players both current and coming.
Duke has been up front with Barnes throughout the process and they have made no secret he was their target from day one.  It's also obvious that Duke fans are hanging on the result of this one for they too are deeply involved with the outcome.
All of the schools offer a great opportunity for Barnes, but it isn't hard to see that the Devils have a plan and that Barnes is a vital part of their future plans.
In closing may I suggest you brace yourselves for even more late breaking rumors.  At Blue Devil Nation, we do not have public message boards, instead opting for a members only forum.  But even there, we have multiple Barnes  threads with as many as 30,000 views.
Make no mistake, fans are hanging by a thread and anxiously awaiting Barnes decision.
To discuss the Harrison Barnes recruitment and get our feel for the outcome, join Blue Devil Nation Premium for full site access.