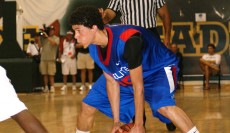 Austin Rivers will visit campus this coming weekend with [private] his Mom.  The Rivers family contacted Duke last week to set up the visit.  There are positive vibes surrounding his visit, meaning that the staff feels they can make a great impression.
The men's staff was out in force a week ago seeing Brad Beal, Kyrie Irving, J.P. Tokoto and Quincy Miller in open gym sessions.  Duke will concentrate on Beal after the Rivers and Kyrie Irving official visits.
The visit went very well with Kyrie Irving this past week.  How good?  Well, Duke canceled their in home visit with Brandon Knight which was scheduled for tomorrow.  Duke is hoping that Irving pulls the trigger in the next month or earlier.  Duke will stay on Irving big time, so much so that they will visit an open gym on Tuesday of this week.
There are good feeling surrounding Quincy Miller, but with Brian Clifton involved there could be a long delay before he is ready or allowed to verbal anywhere.  When Duke offered Miller, he wasn't even near the top ten in the rankings.  He soared in the next go round of ratings showing that the Devils do have a good eye for talent.
Harrison Barnes was in a similar situation as well.  Duke offered Barnes shortly after the NBAPA Top 100 Camp in 2008.  He climbed the rankings steadily since that time.  Barnes is still slated to take all of his visits, but there was some reason for optimism on the recent visit to see Barnes.
Duke will be visiting Marshall Plumlee at Christ School this week as well.
So, breaking it down, I feel good about our chances with Irving, Barnes and Rivers.  Yes, Rivers.  Duke is a great fit for this young man and he'll certainly get a good look with his Mom.  If all goes well, Duke will set up an official visit and in homes.  Duke will go after Beal once the dust clears on a busy September.  They are in the process of setting up visits.
Duke will continue to set up plans on a week to week basis going forward.  Ideally, they get verbals from Miller and Tokoto early so they can concentrate on other areas.
The men's basketball staff is looking forward to the season and working with players as a whole instead of small groups.  There are no serious or nagging injuries being reported, meaning the team is in good health.  [/private]