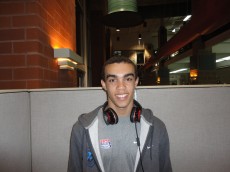 A young man caught my eye during the opening session of the Nike EYBL in Hampton, Virginia this season.  I watched on as he ran his Howard Pulley team with great precision from the point guard spot.  I later learned that Tyus Jones was in the class of 2014, yet here he was playing with the big boys and looking as if he were there classmates.  He impressed me with his ball handling skills and the kid has a seriously good offensive game to go with his multiple skills.
Jones also caught the eye of the Blue Devils staff and they will get involved early on with the Apple Valley, Minnesota product.  He dropped 30 in front of Coach Krzyzewski during this past weeks Nike EYBL Peach Jam and BDN Premium caught up with the budding talent in an effort to get to know him.  After our conversation it is fair to say that Jones is very mature for his age and he comes off as a really bright young man with great character.
Jones also played for Team USA and he turned heads there as well, so keep an eye out for this kid can play.
You've been playing very well the entire AAU season but you also played well for Team USA.  How was that experience?
It was definitely an honor to be selected to play for tour country and it's something I enjoyed participating in.  It was a great experience where we went 5-0 in Mexico City.
Do you have a list of schools? [private]
Iowa and Baylor offered.  Minnesota, Michigan State, Ohio State, Illinois, Arizona, USC and others making contact.
You mentioned earlier that a couple of other schools are starting to show keen interest.
The newer schools are Tennessee and Florida.
Have you heard from any ACC schools?
No, not really.  North Carolina sent me a questionnaire but that's about it.  I haven't talked to the coaches yet.
Would you be open to ACC schools like Duke or UNC?
Yes, definitely, definitely. (emphatic)
What do you think of Duke?
Duke is a great program.  I mean they have Coach K and great tradition.
Did you have a dream school growing up?
Not really.  I watched all the big name schools but had no real favorite.  I guess I followed Michigan State the most growing up and they recruited my brother, so I kind of rooted for them but they are not necessarily a favorite in the recruiting process.
How would you describe your own game?
Probably just a complete point guard who likes to distribute the ball and set up my teammates to give them an opportunity to score.  But if I am given the opportunity to score or someone plays off of me, I'll take the shot.
Do  you have a timetable with concern to when you would like to commit in the future and who will help you make your decision?
Definitely no time table and I will probably not commit until late but you never know.  My mom and Dad are the people who will be most involved.  They were the people who raised me and made me the person that I am.  My older brother will play a big part in it as well.  Maybe my high school coach and Antwan Harris my AAU coach,
Will distance be a problem?
Right now we are looking at everything, so I am not really sure yet, but probably not.
How do you feel about education?
Ever since I was little it was important, so I was raised taking my education seriously
What are you looking for in a school?
Just a goof fit.  It will be a combination of a lot of things.
How do you feel you played here (Peach Jam)?
I think I played pretty well and as a team I think we had some success as well.
You're a young man with a lot of time before you have to get serious about schools, yet you seem mature beyond your years.  Do you feel that you are?
Yes, I guess so.  I have always been comfortable playing with older players, so I have grown into it.  It is nothing new to me.
Do you try an emulate anybody on the court or do you have a favorite player?
Probably LeBron James.  I watched a whole lot of basketball growing up.  I want to be successful like him.
Born and raised in Minnesota?
Yes. I was born and raised there.
With all these coaches watching, do you ever in awe of say Izzo, Coach K or Williams see you play?
Definitely the big name coaches.  You see them on TV but not so much in person and the three you named are all pretty ... it's a cool thing.
When did you first know you had it?
Ever since I was little I was playing up. (with older kids)  I talked to my parents when I was in the 7th grade about playing varsity and I was successful and I knew I would get recruited.
Have you taken any unofficial visits?
Only the U of M, Minnesota.  I might take a couple in August but I am not sure where yet.
What style best fits your game at the college level?
I definitely like to push the tempo so an up tempo team.  I will be looking into things a lot.  The location and coaching style and campus, players, just all have to fit.  You want to have a good team bond like my AAU team, it is important and I will have to see where I can fit in.
Do you want to play for a team which has a shot at the national title in college?
Definitely.  A national championship as a college athlete would be a great accomplishment.
Thanks for your time and good luck the rest of the way.
Thank you.
Discuss this article on the BDN Premium Message Board.  A side note - members must sign up for the board separately in order to gain access.  Once you've done so, you will be approved in short time. [/private]