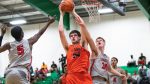 The Duke men's basketball staff is wasting no time with their recruitment of 2020 center Hunter Dickinson.  The Blue Devils recent offer is being followed by an in-home visit where the staff will get to know the key prospect and his family.
Dickinson announced his offer on twitter this past Friday.  The DeMatha Catholic prospect stands 7'2 and weighs in around 250 pounds plays where former Blue Devil Danny Ferry starred in high school.  Another former Duke standout, Quinn Cook played at the program as well before transferring to Oak Hill for his senior season.
The latest Blue Devil offer went out after Walker Kessler elected to go to North Carolina.  Dickinson had been on the Duke radar for some time and now has a chance to develop his skills under Mike Krzyzewski in Durham.
Dickinson played for Team Takeover, an AAU program on the Nike EYBL circuit.  That program has had great success over the years teaching their player how to develop within a team concept.
The Blue Devils are now moving to get Dickison on campus in October or early November at the latest.  Duke looked at several big man prospects when a scholarship became available and came to the conclusion that Dickinson was the best fit.
Duke currently has an offer out to another big man in Mark Williams who is the teammate of committed prospect Jalen Johnson, his teammate at IMG Academy.  Williams is the brother of famed Duke women's standout Elizabeth Williams.
The Blue Devils also have a standing offer to Zaire Williams who is a west coast stud prospect.  Duke needs to sign a large class where they are once again faced with mass losses to the NBA.
The Duke class currently consists of a point guard, in Jeremy Roach and the aforementioned small forward Jalen Johnson, the first two players to pledge their service.  Duke later added talented swing guard DJ Steward and most recently got a pledge from hard-working Henry Coleman, a power forward out of Virginia.
Dickinson holds several offers which include Michigan where he visited earlier this month.  Ten other ACC schools have offered Dickinson who has had multiple suitors.
Should Duke land Dickinson, he would be one of the few big men on the teams' roster.  Duke will lose senior captains Javin DeLaurier and Jack White after the coming season.  And the Blue Devils will also lose freshmen studs Matthew Hurt and Vernon Carey Jr. as early entrants to the NBA draft.
Duke has two staff members in Jon Scheyer and Nolan Smith who can share with the Dickinson family how much similarly sized Brian Zoubek meant to the program.  Those three guys were a part of the 2010 national championship team.
For more on hoops recruiting and our thoughts on how things will turn out, join Blue Devil Nation during our one-year special.  Thank you for supporting Blue Devil Nation.