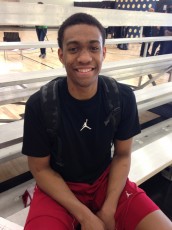 "This above all: to thine own self be true,
And it must follow, as the night the day,
Thou canst not then be false to any man."
-Polonius, Hamlet by William Shakespeare
With the upcoming Nike Hoops Summit in Portland, Oregon left as the only major event in the high school career of one of Chicago's most celebrated basketball players, Jabari Parker, the 6'8" 220 lb. wing from the Windy City's South Side, has managed to avoid the familiar pitfalls of contentment, sloth, greed, entitlement, and violence that have claimed the lives of many a schoolyard legend. Playing in America's third largest city, gracing the cover of Sports Illustrated, having a father who played in the NBA, and being touted before he ever suited up for the Simeon Wolverines, Parker has been under the microscope arguably as much as any high school basketball player in the age of social media. In an area of a city rife with gun violence, Parker has walked through the fire unscathed, earning the ear of Chicago's mayor, Rahm Emmanuel. Jabari has served as the prototype for how to remain dignified, spiritual, loyal, and a legitimate student-athlete in an age of adulation and scrutiny.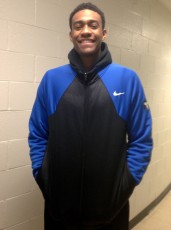 Over the past four years, Parker, a devout Mormon, has transformed his physique from a somewhat chubby wing into a lean, athletic hybrid-forward. The Chicago Bulls' young star, Derrick Rose, played for Coach Robert Smith at Simeon Career Academy and won a pair of state titles. Jabari followed in Rose's footsteps to the vocational school on Vincennes Avenue, but raised the bar for future wunderkinds by winning an Illinois State Title in each of his four years and compiling one hundred and eighteen wins, including a 93-6 record over his last three seasons. During the past two summers, Parker has teamed up with his friend 6'11" Jahlil Okafor, a fellow Chicagoland product and Duke recruit, to form a potent one-two punch for both the Mac Irvin Fire AAU program and, in international play, with USA Basketball, including earning a gold medal after winning the FIBA U-17 World Championship in Lithuania last July.
Among the lengthy list of accolades that Parker has received includes Mr. Basketball for Illinois (twice), Gatorade National Player of the Year, USA Basketball Player of the Year, Parade All-American, USA Today All-USA First Team member (twice), McDonald's All-American, and most recently, MaxPreps High School Player of the Year. If he continues on this trajectory, Jabari "J.P." Parker, a polished interviewer, will be able to turn down endorsement deals from companies looking to be associated with the hard-earned image of a clean-cut winner with a disarming smile.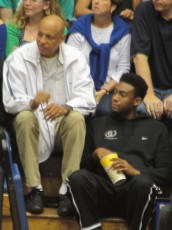 Relaxed and focused, Jabari arrived in Gotham with a fresh hair cut and a sense of relief, something that this year's Jordan Game offered that the more celebrated McDonald's All-American Game, which was played less than twelve miles from his high school, could not, due to the palpable feeling of hometown pressure and dissection. Parker arrived with Coach Smith, who served as one of the three coaches for the West squad at the Nike event. The incoming Duke freshman was intrigued by playing for the first time in the Barclays Center, an NBA arena that was partially owned by and located in the borough, Brooklyn, of his favorite rapper, Jay-Z.
Although not quite Ringling Brothers and, perhaps, a little messier, the ecosphere of high-level high school basketball can feel like a bit of a circus, performing in a new town each weekend. This weekend, it included stops at Pier 36 for practices at Basketball City, Junior's for cheesecake, a red carpet meeting with director Spike Lee, performing in front of a Cy Young winner as well as an assortment of rap, R&B, and basketball stars, and concluded by a concert with the performer, Drake.
Michael Jordan, the iconic quinquagenarian figure who was born in the County of Kings, NY and raised in the coastal region of North Carolina before winning Championships at UNC-Chapel Hill and with the Chicago Bulls, was at the Barclays Center.  The event's namesake had to sit in a box far from the court and other celebrities, observing the next great Duke star score sixteen points, snatch seven caroms, and capture the MVP award for his squad, which won 102-98.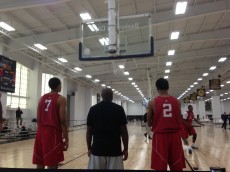 While this was largely the culmination of one chapter of Parker's life, the multi-day event enabled a pair of future roommates on Duke's East Campus, Matt Jones and Jabari Parker, who had merely crossed paths with one another, to lay down some kindle and truly get to know one another last Wednesday night at a Westin Hotel in Manhattan. Jones, a 6'4" guard from the Dallas suburb of DeSoto, said of Jabari, "He's great. He's so funny and it's amazing how down to earth he is, considering what kind of a player he is. I mean it's kind of shocking, but he's definitely a down to earth and humble kid."
Although he is now eighteen and has earned more than his fifteen minutes of fame, Jabari is largely the same young man that I encountered for the first time a few years ago: driven, open-minded, reflective, generous, and largely unencumbered by trappings of fame. His father, Sonny, said at an EYBL event last May in the Bay area of California that Jabari was "wired differently" than he was at that age and most young men are. It was a keen observation from a man that has helped many of Chicago's youth, but, hopefully, Jabari, like his favorite MC, has provided the blueprint for others to follow.
I spoke with Jabari Parker most recently at the Jordan Brand Classic.
What has the experience been like playing both here and at the McDonald's All-American game?
[private]
I think the Jordan game, well, the experience so far, has been great. I get a little bit more time to focus on what I really want to do. So I feel like there are no distractions because I'm away from home. Really, I get the chance to have fun and I love NY, I love the whole atmosphere.  
I remember you've come here before. Do you do anything different in terms of approach? Play within the game, become more aggressive? How is your mentality different here than there?
I'm going to run up and down and feed my teammates as much as possible. I just want to use that style to build chemistry with other guys.
Including #2 on the team, Matt Jones?
Yeah, Matt, me and him, and I just want to get the win. Most importantly, play a team game and that's what it's going to take. 
It looks like you've gotten leaner.
I've been working out and I've gotten a little bit thinner, I'm staying away from weight room. I don't want to be as heavy running up and down the court. I'm trying to work on my footwork, I'm trying to trim down a bit, and really just work on my wind.
You just won your fourth straight state title. How is this different than the other ones?
It's just been a very good experience. The best so far out of my career. There was so much hard work and dedication that went into that whole thing. Just to do it for my high school and to do it for my team. I never tried to take it in vain. 
Did it feel different this time, knowing that this would be your last run, no matter what the outcome?
Yeah, and there was no coming back. All of the years of hard work, that was just the way I wanted to go out. But yeah, definitely, it felt different and it was in the back of my mind. Yup.
How would you characterize your senior year overall?
 It's been a great experience for me. I've been working hard, getting back to my game. It's given me a little bit more character and it helped build me into a stronger person and I think it was because I endured a lot. 
You've become more athletic and explosive. 
Oh, yeah. I think that came with maturing and slimming too. I'm a late bloomer. I'm, well, I really didn't start dunking until my sophomore year. 
Your father was a leaper. He was explosive.
I felt like, well, I didn't start dunking until my sophomore year, I wanted to become more explosive. 
I'm sure guys come up to you all of the time and ask you for advice. What is some advice that you often give to the younger kids who are looking to make it like you have so far? What do you tell them?
Just have good character, be a good person, and always want work. I think you need to have a good work ethic. And most importantly, probably, is to be hungry. That's pretty much it.
What are your expectations next year for the team and for you?
I want to win a National Championship. With the guys, I think that we can get it done. I think we can get it done with the group that we've got coming back.
Some great wings.  Have you thought about what uniform number you want to go with?
Yeah, I wanted either #1, #13, or something in the thirties. 
Those are your lucky numbers?
(laughs) Yeah.
I've got to start playing the lotto. In terms of position, are you looking to play the three, the four, or even the two?
Yeah, the two/three/four. 
Looking to take advantage of your versatility?
Yeah, exactly
Are you recruiting anybody?
(laughs) No, I'm not recruiting anybody. That's the coaches job. 
What did you and Matt Jones talk about at the hotel? He said you and he got to know each other.
Oh, just personal things. 
Oh, I'm sorry.
 (laughs) No, no, it's just a chance to get to know each other. We got a chance to know each other after playing with each other. We asked about our lives and our families, those kind of things. 
He's going to be your roommate next year?
We don't know yet, but I think so.
What has Coach K asked you to work on?
 Being a basketball player and having an aggressive instinct. I was approaching it that way, be aggressive. 
In terms of Brooklyn, I know you're a big Jay-Z fan. Is there any appeal about playing in Brooklyn?
It'll be a great chance to play in the arena where he's a part owner. It's a great foundation where basketball can be built up to, whatever that means. 
How do you assess your defense at this point?
It's getting better, but I need to keep focusing on it. 
Have you thought about what you'd like to study at Duke?
No, not yet. 
Where do you think Jahlil will go? Have you given him any advice? I'm sure you talk to him all of the time.
Yeah, I talk to him all of the time, but no, I just leave that up to him. It's a personal decision. What's on him is on him. 
What's your current size?
6'8", 235.
Have you been working on your diet and doing a lot of cardio?
Yeah, I've been trying to work on both things.
Has Derrick Rose given you any advice?
No, not really. 
---------------------------------
Post-game press conference:
This was your first time playing in the Barclays Center. What did you think of the arena and the atmosphere?
I was just glad that had it in New York again. The Mecca of basketball. It's always great playing here. It was a chance to get some exposure, playing in front of different types of people. It was a great experience overall.
Did you speak to Amar'e or Carmelo?
It was a great experience to play in front of both of them, particularly Melo. I don't really have a personal relationship with both of them, but, as soon as we saw them and they met the team, they gave us a lot of respect. It was an honor to play in front of them.
Does this kind of come full circle for you? You start off the year with an injury, then you get back healthy, and here you are, at the Jordan Brand, game winning MVP?
It's okay, but I don't want to take it in vain. I just want to win. That's the only thing on my mind. I really don't go for individual accolades, but, today, I was very grateful to get the opportunity to be in the right situation and the right place at the right time. Anybody on the team could've won, but it just came to me and I was grateful. 
What have you seen from the Canadian players both out here tonight and in international competition? Guys like Andrew Wiggins and Tyler Ennis were out here tonight, but what do you think about this wave of Canadian players and, in particular, those from the Toronto area?
Well, basketball has become a really international game and it's played at a high level all over, but luckily America…really North America still has the best players. We compete, but we're all a family. It's no different from the United States. It's Canada. We're basically the same. They have great talent and they're real good people. Good players. 
(Brian Fitzsimmons)You mentioned this week that you're thinking about staying at Duke for more than one year. Is that the type of decision that will weigh on you in any way? Will it weigh on you over the course of the year?
Probably not. I just want to go to school and going to Duke is really special for me because people around my neighborhood …well, they probably wouldn't even have thought of getting an education and so I'm just looking forward to taking advantage of different opportunities where I can grow. I don't know where it's going to be, but I always keep my eyes open and my options.
What was it like in terms of the process of coming back from the injury and trying to get back into shape?
Well, I mean I feel good now, but it's been building. Thank God for my parents and the people around me. They've been helpful and supportive to me..trying to get me to go to rehab. Staying around and doing extra work. It's not all me. It's all of them. I felt like if I was going to go out there on the court then there were no excuses. If I couldn't play, then I should sit down.
_______________
From an earlier event:
Were you glad to get the decision out of the way?
Oh, yeah, it made it easy. I didn't have to worry about anyone bothering me (laughs). It's been fun.
(Jim Halley) How much of a bother was it?
Well, it was necessary. That's probably the right word to say. It was necessary for me to go and talk with the coaches and get on the phone with them because you've got to do your research. You've got to do your research and figure out where you want to be for the next couple of years.
(Evan Daniels) Why Duke?
Well, you can't go wrong with Duke. I just felt that it was the perfect fit for me. They always win. It's a private school so I won't have any distractions. It's not too far away from home and that contributed to my decision.
Did you enjoy making the announcement? I'm sure kids were coming up to you all the time and asking you where you were going.
Oh, yeah, it was fun. It was a real fun experience. It was great because eI had all of my teammates, who supported me, around me for the announcement. It was great for them to be able to be on ESPN and share with me the experience.
(Jim Halley) The night before the announcement, did you sleep well or we're you up all night?
Oh, no, I slept good. I got like twelve hours of sleep. It really wasn't that big because I already had my decision made and all I needed to say was the words and be prepared. In terms of the media, it's been easy since then.
What are you trying to work on and get better at?
Rebounding, always being on the attack, and improving my athleticism. When you see guys like LeBron, Kobe, or KD (Kevin Durant), they're always on the attack and, well, I'm just trying to get like that. You know keeping the defender on his toes. 
When that shooting occurred after the game against Morgan Park, I was wondering if you worried at all about your safety or health?
Oh, no, I knew that I'd be fine because I'm always away from all of that stuff. I'm never really outside, but, for me, it was kind of emotional to see my city going through such turmoil and then everybody worrying about themselves. Then again, you know I have to do my job so that I can make it one day. I want to be a community activist and help people. 
 I know that you're friendly with Mayor Emmanuel. Out of curiosity, have you made any suggestions to him about gun violence or anything like that?
Oh, no, I honk he's got everything handled. You know it's just always like this. You know that a couple of years ago it was just like this.
You think it's just another wave.
Yeah, but every city has their problems and we're just going through ours now. We'll be good.
(Bryan Horowitz) You mentioned after you committed that your visit to Duke was actually your most boring visit and yet you committed to them because of the substance. There must've been something that you really liked about the school.
I think everything was necessary even though I didn't understand it at the time. At that time, I saw the campus and it's pretty nice. They've got great resources and a tremendous coaching staff that working twenty-four hours a day to help the players. Those were some great things. As a player, you always want to go to the Tournament and, at Duke, you're always going to the Tournament. They're always going to give you the opportunity and you just have to be able to handle resources from there. 
(Bryan Horowitz) Do you see yourself being able to step in next year and be a leader?
Well, I just think that I need to step in and be hungry. I need to be twice as hungry next year. Of course, I want to be a good teammate. That's all. I know it's going to be a little difficult accepting me as a player, but I'm going to learn my role and not try to step on anybody's toes.
[/private]