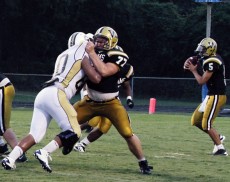 In their three-plus years in Durham, Head Coach David Cutcliffe and Offensive Line Coach Matt Luke have built the Duke offensive line into a position of strength. The past two recruiting classes have brought in a very good group of offensive linemen, and the Blue Devils hope to continue that trend with the class of 2012. Jacob Ingle is a 6'3" 280 pound offensive lineman from nearby Burlington, North Carolina. As a junior, Jacob started at left guard and left tackle for Walter Williams High School, earning 1st Team All-Conference and All-Region honors. Highlights from his junior year can be viewed here, and more information about Jacob can be found on his website.
BDN: Can you start out by describing your strengths for fans who haven't had a chance to see you play?
Personally, I would say more like base blocking, run blocking, just one on one, so that's one of my favorite things to do, and just regular pass blocking.  One of my favorite things to do, I think I'm best at, is just one on one base run blocking, I would say.
BDN: What are some of the things you are working on this offseason?
Right now, this off-season, I'm just trying to get as strong as I can, get faster, same thing I've been trying to do every offseason, but the other thing I'm gonna focus on is just getting better, technical-wise, just to get ready for this season, so I haven't really been doing it all season, but this year I'm gonna try to focus more on getting better with my techniques.
BDN: What are your goals for your senior season?
Well, I want my team to – we haven't had a winning season yet since I've been here.  First thing I want to do is just one thing at a time, first of all, I just want to have a winning season with my guys, 'cause just senior year, I'll probably never get to play with any of them again, really just have a good time playing football, but I would like for us to go as far as we can in the playoffs more than anything, possibly win state.  I guess individually, my ultimate goal is to win all-state this year, and possibly further than that if I can.  Mainly I just want to have a really good senior season with all my friends from football.
BDN: As you approach your college decision, what are the most important factors you're looking for in a school?
Mostly, I've been looking at how good schools are academically, and if they have majors, how good their programs are for possible majors I want to have.  And then I just look at the football team, see what the coach is and what the atmosphere – like go to their game, mainly just look at schools that have the majors I really want, have a good academic program.
BDN: You mentioned some possible majors you're interested in; is there a specific field you are interested in?
One is exercise science, and also – either that or I want to major in music, something in music.
BDN: Which schools have you been hearing from the most? Who was the first to contact you?
This season, when they could first officially send out mail, I got my first letter from Duke, inviting me to their games, to check out and the other one being [North] Carolina, East Carolina State.  Wake Forest is sending me stuff, and I've got a lot of letters from Georgia Tech as well, and a couple from Nebraska, as well as – and a couple from West Point, I'm also looking at that.
BDN: Have any schools offered you a scholarship at this point in the process?
The closest I've talked about for a scholarship was at [NC] State, the recruiting coach came to my school, he told me that – I said I haven't been to there camp yet, but they want me to come to their camp, and if I do good there, they said they'll offer me at [NC] State.
BDN: Have you had a chance to take any visits?
Yes, this past season, I've been to games that they invited me to, and I've been to Duke's games, [North] Carolina's, [NC] State's, Army's, Vanderbilt, and ECU's games.  Yeah, also, I've been to [NC] State's Junior Day and Duke's Junior Day, and I'll also be at Wake Forest's Junior Day.
BDN: Have any schools stood out to you at this point in this process?
Not really standing out, but honestly all the schools I've gone to I wouldn't mind going to, but none of them stick out. I wouldn't mind going to any of the schools that I'm in contact with right now.
BDN: Do you have any plans for additional visits or camps this spring or summer?
I don't know which ones they are, but I'm definitely – my summer's gonna be full of camps, I'll definitely go to [NC] State's, [North] Carolina, Wake Forest's, probably Vanderbilt again.  I'm just gonna try to sign myself up for as many as I can without conflicting with any other dates.
BDN: At this point in the process, do you have an idea about when you would like to make your college decision?
I'd say probably the last possible second or day that I can make my decision.  Unless a school pops up that I really like, or if I change my mind about school and feel like I could commit there early, but as of right now I'll probably wait until next year's signing day.
BDN: Is there anything else that you think is important for college football fans to know about you?
The only thing I can think of is that I don't think most people realize I like music as much as I like football, and that's part of the reason I want to major in it.
BDN: Thanks a lot Jacob and best of luck to you.
All right, thanks, you too.