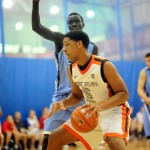 LOS ANGELES -- After winning the Swish N Dish last weekend in Milwaukee, Jahlil Okafor was sidelined this weekend with a sprained ankle. The 6'10 Chicago native had a great year for his high school, Whitney Young, but fell short of the Super-Sectionals when his team lost to national powerhouse Simeon Wolverines. Even though he didn't play this weekend, Okafor could be seen clapping and cheering his team on the whole way.
I was able to catch up with Jahlil and ask him about his season, his recruitment, his teammate Jalen Brunson, and Jabari Parker's recruitment process.
BlueDevilNation: Is there a reason you didn't play this last game?
Jahlil Okafor: Oh I have a sprained ankle.
BDN: Will you be able to play this weekend at all?
JO: Oh no I'll be out the whole weekend.
BDN: Oh that's unfortunate. I hope you get better soon. You had a great season with Whitney Young this year, but, unfortunately, it came to an end against one of your good friends Jabari. How do you feel about your season?
JO: You know it was really a successful [private] year. I think we had an amazing year. It just didn't end the way we wanted it to. But overall it was a great year.
BDN: Simeon will be losing some key players next year, do you feel it's Whitney Young's turn to take the state championship?
JO: I thought last year and the previous year was our turn so I have the same mindset and that's to win state.
BDN: Of course. Good luck with that. What do you think you improved most on this season?
JO: I think I was a leader this year. I think that's the one thing that my coach tested me, was being more of a vocal leader on and off the court. I thought I really improved on that.
BDN: What's your current height and weight?
JO: Uh about 6'10 ½ -6'11 and about 270lbs.
BDN: Are you trying to get bigger or lose weight?
JO: Na I'm just playing basketball. You know, I'm just trying to be in shape.
BDN: So then some conditioning?
JO: (looks at ankle and laughs) Oh well I haven't as of recently..
BDN: Oh, of course. But in general?
JO: Yea that's always something I can work on is my conditioning.
BDN: Congratulations on winning the Swish N Dish last weekend. What was that like?
JO: That was great. We won the Swish N Dish without Cliff (Alexander) who was one of our key players.  It was great, you know, we beat MeanStreets, which is an EYBL team, in the championship game. You know it was good to have the first tournament win of this year.
BDN: You have a pretty good teammate in Jalen Brunson.
JO: (laughs) Oh yea he's pretty good.
BDN: Can you give me a little scouting report on him?
JO: He can shoot the lights out with the ball. He has a great handle. Not the most athletic but you won't take the ball from him and you won't stop him on the offensive end. And he's an underrated defender.
BDN: So you have some in-home visits coming up correct?
JO: Yea I think I have Duke on Monday, I'm not really sure. I think I have Duke on Monday and Michigan State on Tuesday, and then Kansas and Baylor on Wednesday.
BDN: What are you looking to ask the coaches? What is there specifically you'd like to find out?
JO: I pretty much know everything, you know. Most of the coaches have been recruiting me since my freshman year so I pretty much know everything I need to know about the programs.
BDN: Do you have a better relationship with certain coaches or would you say it's equal?
JO: I wouldn't say there's any coaches I have a better relationship with than the other.
BDN: So with Duke coming in, how did you feel about Mason Plumlee's year?
JO: Oh man he had an amazing year, you know. I came down to Duke before the season started and I watched their Midnight Madness. I told my dad that I think he'll be player of the year because of some of the things they were doing with him. I sat down and talked with Coach K and he told me the game plan and how they would use Mason and utilize his skillset. So I thought he had an amazing year and that's what I was expecting.
BDN: Is how they used Mason how the coaches have said they would use you?
JO: Yea pretty much. Something a little similar, they told me I was a little bit more skilled. So, you know, but they said you know there's so many rumors about using their bigs so they were just showing me how Mason took care of those rumors.
BDN: So how do you feel about those rumors and perceptions?
JO: Oh no no no, not at all.
BDN: Who do you speak with mostly from Duke?
JO: Coach Capel, I talk to him mostly. But Coach K, I talk to him through text maybe once or twice a week
BDN: Do you have a timeframe for when you want to make your decision?
JO: I would like to make it early so I don't have to worry about it during my season, but you know, there's no telling when it'll happen. I was just talking about that to my dad. Hopefully it's early but I'm not really sure.
BDN: With you and Tyus stating you want to play together, would you guys make a decision together at the same time or day?
JO: (laughs and smiles) Oh yea definitely. Definitely, yea.
BDN: You're going to make some school very happy.
JO: (laughs)
BDN: Jabari made his decision recently. Did he talk to you about his decision and how it was for him?
JO: Well I asked him about how he handled it with the commitment day and how he called the other coaches and let them how he wouldn't be going to their school and stuff like that.
BDN: Did he say if it was a tough decision?
JO: Yea he said it was a very tough decision.
BDN: Did he highlight any reasons for picking his choice of Duke?
JO: The rich legacy of it. The rich legacy and he's really high on Coach K.
BDN: And finally just a different question not about recruiting. Do you have a favorite subject in school?
JO: Oh I like British Literature.
BDN: Thanks a lot, Jahlil.
JO: Oh no problem [/private]