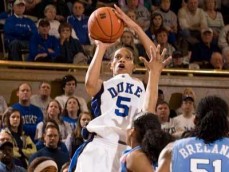 Head Coach Joanne P. McCallie
On freshman transition from high school to college.  What is one thing you are emphasizing?
"Just really keeping them attacking all the time on defense and on offense. I think they understand attacking on offense better than they understand attacking on defense. So we are really trying to get that aggressiveness up. It's really important that they make aggressive mistakes versus passive ones. You know aggressive mistakes are ones that you can coach and live with.  Passive mistakes don't get you very far and don't allow you to develop. So that is the biggest thing I can say for our young players is to just to be really getting after it on both sides of the ball and to be understanding of value of both sides of the ball. In high school, often there is not that value simply because kids dominate with offense. But these young folk know that they are going to be going against junior and seniors, I mean that is pretty much what is going to happen.  So it's important to be thinking like a junior or senior a little bit and trying to push yourself to take those steps."
On team chemistry
"I think as a coach you can try and help it with the combinations and the different things you do but in reality I think that it occurs during game play and experiences together to. You have to let the team have experiences together, but I think we can help it along as coaches, different subbing patterns that we do at various times. It's kind of an exciting part of developing a team because you, essentially you do start all over again. No matter what you did the year before, we had some really great experiences last year.  Those are terrific memories but you have to create new ones and your back to creating them all over again."
On the skills of the freshmen:
"We hope they are going to be extremely aggressive, help us with our offensive rebounding. We also hope they are going to help us spread the floor a little bit with their shooting ability to -- so [that will] give us more spacing relative to what they can do offensively. And we also hope that they enjoy playing together and finding what I call our shot -- you know the best shot for our group at the moment. We are learning that as you can see from the Blue/White.  I mean we have rims in our eyes and springs in our arms and make no mistake about it, 40 three's going up so I think we had to get that out of our system, which is I think I will just shoot at any time. That mentality, we've got to have a little bit of a plan behind what we do and we have to work together to create what I consider our shot and we haven't done that yet."
On the offensive priority:
"The priority is to play great basketball which is move the basketball -- play inside out sure, get it into the paint. Paint shots are very important, as a matter of fact, championships are pretty much won on paint shots. Perimeter shots are very important to, so as I call it an equal opportunity, everybody on the floor, I think we've got five people in five different spots that can create and the judgment piece and the maturity piece is what will be needed as where the ball should be."
On the post player's condition:
"We are in great in three ways and not in great shape in one way. Haley Peters and Kathleen Scheer are really providing us with some quickness, some shooting ability and Krystal [Thomas] is rock solid. After Ali [Allison Vernerey] hit her head in practice you know -- a couple of things; a hit to the nose and the next day [she] smacked her head pretty good on the ground.  We are taking it really slow with her. So I would say that we are not full.  We are not full but we have three folks with Karima [Christmas] as well dabbling in a floor spot also."
Senior Krystal Thomas
How do you think you've evolved this season? Can you talk about your growth?
I've definitely made it a point to be in the best condition that I can. I'm just really making sure that I run as much as I can. I've also gotten a lot stronger, which always helps. So that, even when I'm out there, I'm not out there getting pushed around -- I can fight back. Also, just working on my face up game, being able to pass better, as well as hit the open outside jumper.
What is this team's identity? What do you guys do best?
Right now I am not exactly sure, come back and ask me in a few weeks. Right now we are just so balanced, so versatile, that it is hard to tell what is going to be our strength. Last year we were a very defensive minded team and that is something we definitely want to carry over to this year. We also want to add to that, we also want to add the offensive component so that teams can't label us as a one dimensional team.  So that we can attack in many different ways.
What is your comfort level with Allison [Vernerey]?
It's definitely grown a lot. The beauty of playing with Allison is that she is very easy to flow with. We complement each other very well because we are very opposite. She can get down there; run the floor with the guards, whereas I am much more the power, more physical post. I can play on the perimeter; she can play on the outside. We can complement each other. It works really well to have two bigs offensively and defensively in the lane.
Freshman Haley Peters
What skills do you think the freshman class brings to the offensive scheme this year?
I think we have a balanced class, in terms of offense. We definitely have some good shooters and an attacking mindset. We have two great point guards who can handle the ball and are great passers. As I said, it's a great balance I think.
How do you see yourself working with Krystal and Allison, when she's healthy?
I've grown a lot just in practice, playing against them, because they are so physical and strong. I think that I can add a little bit of outside shooting, but KT [Krystal Thomas] can really shoot the ball from outside now. I've just been learning from them every practice, what they do and the moves that they use.
Freshman Tricia Liston
Coach P said that all of the freshmen bring something different, what do you bring?
I think the ability to score and shoot outside.
Have you always been an outside shooter? Who taught you? How young did you start?
My dad taught me. I started as soon as I could hold a basketball because my three older sisters played and I was always tagging along and my dad always coached them.
Were you always a pure shooter?
Right at a young age I got the form down and that is usually the hardest thing for a young kid to learn, not using two hands. Once I got the form down I loved the game so much that it just kind of came when I was little.
You had option, why did you choose Duke?
It was competitive in the classroom and with athletics. Every year you hear about Duke Women's basketball, Duke men's basketball and the atmosphere here is centered on basketball. Everyone here is a huge basketball fan, which I have been since I was a kid -- both watching and playing. Also, just being on a team that has the potential to do really great things and win a lot of basketball games.
When was the first time you can remember paying attention to Duke women's basketball?
As a kid, every girl who plays basketball here is about Duke, UConn and Tennessee so it started off more as a dream to me, as a dream school.
Did your parents influence your decision?
They pretty much left it up to me. They knew that what made me happy, made them happy. Also, since I'm the last one, they are going to get to travel and see all of my games.
Shooting is your first skill; defensively did you have to do some work?
I definitely have had to do some work and I still have to continue to work.
What is the biggest difference?
The speed and also every girl that you are defending can potentially score. In high school, you can be guarding somebody that you can't expect to put the ball in the basket even once.
Senior Karima Christmas
You have a difficult non conference schedule this year right off the bat. How will you prepare for that and the tournament in April?
I think really just playing your game. Not trying to change and do something different. A lot of players when they first come in try to do too much. It's just do what you know how to do and do it to the best of your abilities. Anything that you do, and contribute is going to help us out in the long run.
What have you noticed about Krystal Thomas during workouts this year?
I think her conditioning, especially after being out as a result of her surgery. Just being conditioned is enabling her to stay out on the floor for more minutes. I can note it from last year to this year, how much more conditioned she is, how much longer she can stay out there and be a threat.
Have you seen her (Thomas) work at it? Passing drills and extra practices...
She's definitely stayed after practice and put in extra reps -- did extra agilities just to try and get back a little extra.
What does it mean to have her be able to stay in there for more minutes?
It's about depth. Her and Allison will probably rotate in and out for each other. But her ability being able to stay out there more will allow them to play together more, giving us more subs to come in for them. Since they can stay in longer it won't be a big deal to play them for long stretches of time together.
Freshman Chelsea Gray
On what she did this summer to prepare herself mentally and physically for college ball?
"Mentally, I just knew that I had to come knowing I'm going to be surrounded by great people.  I just had to come in here knowing that I had to work hard non-stop.  I just knew coming here that I had to adjust to everything -- the speed, the tempo, everybody.  I had to come working hard every day.  In the summer, we came here as a collective group and did some things with our conditioning coach that really helped a lot."
Junior Shay Selby
On recovering from injury:
"It still gives me a little bit of a problem when I do certain things, but it's mostly back to normal.  The brace helped me back a lot, especially on defense and quickness.  It was hard to move, cut, stuff like that."
On confidence:
"It's alright...getting up there.  It's hard coming off an injury and then being hurt for a while.   But right now, I'm healthy and I just need to focus on doing everything right."
On the non-conference schedule:
"I think our schedule is pretty good this year.  We have a lot of teams we played last year and unfortunately lost to.  So, hopefully we'll have a payback year and we can put everything together and make it all the way to the top. "
On growth of freshmen on team:
"I think they've grown a lot so far.  Once we get into games and they have to deal with pressure situations, I think it will be good for them."
Comparing this year's team to last year's:
"We have more offensive threats with the freshmen coming in.  A lot of them look to score and distribute the ball.  I think that it will be to our benefit.  Like last year, we struggled shooting and handling zones.  Having more threats from the perimeter will help us tremendously."
Senior Jasmine Thomas
On the upcoming season and this year's team:
"I'm excited.  Definitely losing B [Bridgette Mitchell], KJ [Keturah Jackson] and Joy [Cheek], you lose rebounding, you lose defense, and you lose scoring.  It's good that we have five freshmen that can come in and fill all of the things that we lost.  It's a very weird feeling to not have them around, but I'm also very confident in what we have on this team.  We have a bunch of scorers, we're quick and strong, and we have the ability to defend just like we did last year."
On Chloe's [Wells] development under her guidance:
"I see a lot of myself in Chloe as far as how aggressive she is and how she can attack.  She shoots well which is something I admire about her and she can also set people up.  I'd like to take her under my wing if she'd let me."
On her expectations for this year (personal goals):
"My personal goal is just to be the best that I can.  Whatever that takes me to -- whether it's another ACC Championship, a NCAA Championship, or All-America - that's fine.  But I can't focus on that because just because I get that doesn't mean I'm the best I can be.  I don't think I'll ever get there, but that's my goal - to keep trying."
Freshman Chloe Wells
On adjusting to college ball:
"I'm having a lot of fun.  It's a growing period for me.  I'm the smallest and the weakest so far, but I'm getting in the weight room.  I think the biggest difference is the pace of the game, but I feel like I'm learning that now."
On how she was prepared to make this mental transition:
"Playing with my dad, he always had us play up.  Most of the girls I'm going to play against are juniors and seniors and I've already played up against different people, so I know that I need to bring it."
On what she has learned from Jasmine [Thomas]:
"Her work ethic - whether we are on the court or off the court, she is always going hard.  She's always first.  I admire that about her, especially on defense.  She's just relentless, and that's something I'm trying to do now.  And on offense, when she's not looking for her shot, she's looking to create for others."
One thing that Coach P harps on?
"I have to talk.  I've got to lead."
For more coverage visit GoDuke.com