Andrew Slater took in the Prime Time Shootout this past week and here is his first report which covers the Hotchkiss-St, Anthony game which includes an interview with Jason Morris -
Facing his toughest opponent to date, Jason Morris, the 6'4" junior from the Hotchkiss School, struggled against longtime New Jersey and national power St. Anthony's of Jersey City.
Coming in averaging eighty points per game, the Bearcats of Hotchkiss implemented the unorthodox strategy of pressing St. Anthony's to begin the game to relative success, only trailing the Friars 18-16 at the conclusion of the first quarter.  The legendary Coach Hurley and his staff did an excellent job of mixing up defenses, varying from diamond presses to switching zones and playing man at times.  If they didn't scout Morris, they did an excellent job of quickly picking up on his tendencies. When playing man, they opted for the longer Dominic Cheek and  [private] only doubled when Morris tried to get into the lane.   They forced and dared him into long shots and contested him in his favorite areas to shoot the ball.
On defense, he had a difficult first half trying to stick with the offensively gifted Cheek. The Friar utilized the high ball screen and constant movement to gain the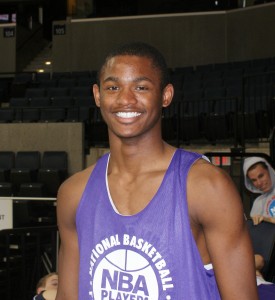 necessary separation from the athletic junior Morris.  Cheek scored seventeen first half points and the Jersey City program took a commanding 39-24 halftime lead.
In the second half, Morris tried to force more shots against the Friars' zone, but was completely unsuccessful, finishing 0 for 5 from the field in the quarter. Perhaps, it was a matter of recovering from a prior rib injury, but, despite being in excellent physical shape, Morris rapidly tired out as the game wore on, clanking even a pair of free throws in the third quarter.
His only basket of the second half was to hit a three-pointer from the right wing to open the fourth quarter.  Morris' most noteworthy miss of the final quarter was a missed reverse alley-oop that excited the crowd to his potential athleticism. Jason Morris finished with eight points on an eye-popping 3 for 18 from the field (2 for 5 from beyond the arc), three turnovers, one assist, a block, and a steal. After the game, the Augusta, Georgia native gave the Blue Devils Nation a quick update and post-game comments.
Blue Devil Nation: Last time we spoke you had played in just a few games because you were recovering from a virus and yours knees were giving you trouble. Are you back to normal?
Jason Morris: I'm in pain, but I've just got to suck it up. My knees are fine. They're fine.
BDN: How have you played since Springfield?
JM: This is like my first game back in two weeks. I had a cracked rib.
BDN: Playing a team of the historical nature of St.Anthony's, how much more "amped" up did you get for this game than a league game?
JM: Yeah, we were definitely amped up for this game. We got a little helter-skelter there for a while.
BDN: You managed to keep it close for the first quarter.
JM: Yeah, we did, but then we lost the lead and we could never rebound from that.
BDN: Talk briefly about facing Dom Cheek.
JM: It was fine. You now we went at each other, but we got switched up at times.
BDN: They used the high pick on you quite a few times.
JM: Yeah, yeah. They did it whacked me pretty hard on the left side there. It was kind of hard to stay with him.
Blue Devil Nation: Heading into the playoffs, do you feel your team is rounding into shape?
Jason Morris: We're rounding into shape, but some guys are battling injuries. We should be fine, though.
BDN: Talk about Derrick Wilson. Any chance the two of you wind up at the same college? Have you talked about it?
JM: I'm not sure, but there's a slight chance.
BDN: Last time you mentioned that WF had recently offered, has there been any material change or new entrant in the past few weeks?
JM: Off the top of my head, I'd say "no."
Blue Devil Nation: Any planned unofficial visits for the Spring?
Jason Morris: I've visited pretty much every one that offered me, but I haven't had a chance to look at Wake Forest's campus or Stanford's campus. Everyone else I've seen unofficially.
BDN: What are you looking for now in a program?
JM: A team that is disciplined, but a coach that lets his guys play. He doesn't really have them on a tight leash. I'd like a close knit family setting, after playing with a lot of teams where there is a lot of disarray between the coaches or players. I'd like a disciplined school.
Other guy: Has Duke offered you?
JM: They've shown interest, but, no, they have not officially offered.
Blue Devil Nation: I know your father's family was from NY. Did any of them make it down for the game?
Jason Morris: All of my aunts and uncles are here.
BDN: Was that who you were waving to?
JM: Yeah, yeah. My parents were too busy to make it.
BDN: I'm sorry to hear that. What was it like playing in your first nationally televised game?
JM: It felt really good, but I just wish we had a better result.
BDN: I know, but, if nothing else, it should good preparation for Oak Hill.
JM: Yeah, it should. A lot of guys played really raw tonight for some reason. It was maybe their first time facing this level of competition.
BDN: You mentioned that you were switching to the Gauchos, do you have any other summer plans locked in at this time? Camps or trips to Brazil?
JM: So far, I'm just going to stick with LeBron and the Paul Pierce camp. [/private]