#9/15 North Carolina (16-5, 4-3 ACC) at #6/6 Duke (18-4, 6-1 ACC)
Monday, Feb. 8, 2010 at 7:00 PM
Durham, N.C. • Cameron Indoor Stadium (9,314)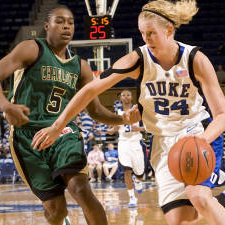 One of the biggest rivalries in college sports will resume on Monday, Feb. 8 as sixth-ranked Duke (18-4, 6-1 ACC) women's basketball will host ninth-ranked North Carolina (16-5, 4-3 ACC) in Cameron Indoor Stadium at 7:00 p.m. The game will be aired live nationally on ESPN2 Big Monday with Bob Wischusen (PBP) and Stephanie White (Color) calling the action.
Fans can also hear the Blue Devils on the Duke ISP Radio Network at www.GoDuke.com with Steve Barnes (PXP) and Morgan Patrick (Color) on the air. Duke is currently ranked No. 6 in both the Associated Press and the ESPN/USA Today Division I Coaches Polls, while North Carolina is No. 9 in the AP and No. 15 in the coaches poll.
Immediately following the Duke/UNC contest, senior Joy Cheek will be recognized for reaching the 1,000-point mark on Jan. 29 against Florida State.

Noting Duke...
Duke has notched a 129-10 record at Cameron the last 10 years ... during the first 11 games of the year, Duke only took five charges, but over the last 11 contests the players have taken 14 (Allison Vernerey - 4, Karima Christmas - 4, Shay Selby - 3) ... the Blue Devils are the only team in the ACC to have beaten a ranked non-conference opponent this season (No. 3 OSU and No. 25 JMU) ... the Blue Devils hold a 790-380 points in the paint advantage on the year ... Duke has been listed in the top 25 of the AP poll for 200 straight weeks, which is the longest current streak in the ACC and third nationally.
A Look At North Carolina...
North Carolina enters the contest on Monday with a 16-5 overall and 4-3 league mark. The Tar Heels have lost two straight games in league play to Florida State and Miami. So far on the season, UNC is 2-4 in road games and are 1-2 in ACC road contests.
Leading the Tar Heels on the year has been Italee Lucas (16.6 points, 3.7 rebounds, 38 treys), Cetera DeGraffenreid (13.2 points, 112 assists) and Chay Shegog (8.6 points, 5.8 rebounds). Head Coach Sylvia Hatchell is in her 35th season as a head coach and 24th year at UNC.
The Series With North Carolina...
The Blue Devils and Tar Heels will meet for the 77th time on Monday with North Carolina leading the overall series 45-31. Duke has won 18 of the last 28 games.
As of late, it has been a series of streaks since 2000 -- Duke won 12 in a row, UNC won five in a row, Duke won two in a row and UNC won four in a row before the Blue Devils won the last meeting in Cameron Indoor Stadium. In games played in Durham, N.C., the Blue Devils own a 18-13 overall record and have won nine out of the last 12.
Duke and UNC will play each other for the first time since Feb. 21, 1997 when the two squads are coming off losses. North Carolina won that contest, 81-61. The first time they played after coming off losses was on Jan. 29, 1981 as the Tar Heels won 77-65. The last Duke win with both teams coming off losses was on Feb. 15, 1989 with a 58-56 victory at home. UNC holds a 7-1 advantage all-time when both teams are coming off losses.
Blue Devil Head Coach Joanne P. McCallie will face North Carolina for the eighth time over her 18 years as a head coach. McCallie has a 1-6 record against the Tar Heels. She lost two of those contests while as head coach at Maine. McCallie's squad faced North Carolina in the 2000 NCAA Tournament in Santa Barbara, Calif., and fell 62-57 on March 18. The Black Bears also lost, 68-52, on Dec. 28, 1996 on a neutral site. Since joining the Blue Devils, McCallie has notched a 1-4 mark.
Storylines/Other Blue Devil Notes...
When Duke is the higher-ranked team in the series with UNC, the Blue Devils own a 18-9 record. UNC owns a 19-5 record when it is ranked higher. The higher ranked team has won 37 of 51 games.
The Blue Devils will look to avoid back-to-back ACC regular season losses on Monday for the first time since the 1999-2000 campaign when Duke fell to Virginia and Maryland.
Junior Jasmine Thomas will go up against her former AAU teammate, Chay Shegog. Thomas is from Fairfax, Va., while Shegog is out of Stafford, Va., and they played for the Fairfax Stars.
Duke has won 11 straight ACC games in Cameron Indoor Stadium, which dates back to the 2007-08 season.
In three out of the last five games, Duke has registered only one double-figure scorer, which was Jasmine Thomas. In those games, the Blue Devils have notched a 1-2 record with the victory coming at Maryland (other games were UConn and BC).Even though senior Joy Cheek has struggled shooting from the field recently, she has been making up for it on the boards as she has averaged 7.0 rebounds the last six games. She pulled down 11 boards at Miami, had 11 at Maryland and posted nine against Florida State in that stretch.
Over her first three years at Duke, senior Bridgette Mitchell registered eight double-figure scoring games, while this year the 6'0 wing has collected eight games with double-digit scoring.
In her three years at Duke, junior Jasmine Thomas has increased her field goal percentage, three-point field goal percentage, free throw percentage and scoring each year.
During the month of January, junior Karima Christmas struggled with a finger sprain on her right pointer finger. This happened in practice following the Temple game and she reinjured it at Clemson on Jan. 7. She scored in double-figures only one time in January.
Senior Keturah Jackson has a career high with five three-pointers made in a single season. Over her four years, she has hit 10 treys. She hit her fifth of the year at Boston College.
To show how tough Duke's schedule has been this year, the Blue Devils went up against eight undefeated teams this season -- Connecticut (17-0), Ohio State (8-0), James Madison (7-0), Stanford (7-0), Western Kentucky (3-0), Georgia Southern (1-0), Houston Baptist (0-0) and Texas A&M (0-0).
In three years at Duke, Head Coach Joanne P. McCallie has notched four victories against top-five ranked teams -- #3/3 Ohio State in 2009-10, #3/4 Stanford in 2008-09, while knocking off #4/3 Rutgers and #5/4 Maryland in 2007-08.
Duke is currently ranked No. 6 in the latest RPI by Jeff Sagarin -- Connecticut (107.84), Stanford (100.81), Nebraska (98.89), Tennessee (97.64), Notre Dame (96.98) and Duke (95.31). The next closest ACC school is Florida State at No. 14 (88.73).
Junior Jasmine Thomas has hit 43 three-pointers in only 22 games this season. As a freshman, she hit 24 in 35 games and as a sophomore she hit 28 in 30 games.
Junior Krystal Thomas has moved into eighth place on Duke's all-time blocked shots list with 111. She is 19 blocked shots shy of seventh place all-time on the Blue Devil charts.
The Coach P Radio Show will next take place on Tuesday, Feb. 16 at 6:00 p.m. The show will be stationed at Satisfaction Restaurant in Durham at Brightleaf Square. Make sure you get there early to secure a seat.
Follow DukeWBBSID on and CoachPDuke on Twitter to get the latest updates on Duke women's basketball. Also, join the "Official Duke Women's Basketball Group" on Facebook to get the latest video, pictures and more. Join both now as they are free! You can win free prizes each week on both Twitter and Facebook so make sure you follow closely.
What Happened Last Time We Met...
Jasmine Thomas scored 19 points and Abby Waner hit the go-ahead 3-pointer with 45.8 seconds remaining in overtime to lead No. 10 Duke past No. 9 North Carolina 81-79 on March 1, 2009, in Cameron Indoor Stadium.
Karima Christmas had 18 points, Carrem Gay added 15 points and 12 rebounds and Bridgette Mitchell finished with 13 points for the Blue Devils (24-4, 11-3 ACC), who snapped a four-game losing streak to their most hated rivals in dramatic fashion, won for the fifth time in six games and clinched the No. 3 seed in this week's ACC tournament.
Rashanda McCants had 24 points to lead the Tar Heels (25-5, 10-4). They shot 45 percent but slipped to the No. 4 seed in the league tournament because they couldn't overcome 33 turnovers.
And Waner - who had missed 14 straight shots during her final game at Cameron Indoor Stadium - cashed in on the most important one.
Joy Cheek stole Cetera DeGraffenreid's pass to the block and hustled up court before dishing off to Waner in the left corner, and the senior swished a 3 to put Duke up 78-76.
Thomas, who scored eight points in overtime, hit two free throws on Duke's next possession and Christmas added a foul shot to make it a five-point game with 10.8 seconds left.
Duke Players Vs. North Carolina...
Over the last three games against UNC, junior Jasmine Thomas has averaged 15.0 points, 3.3 rebounds, 2.3 assists and 1.7 steals. She has notched double-digit scoring in three consecutive games (16, 10, 19). In the last contest, Thomas hit 8-of-17 field goals, had four rebounds, three assists and two steals. She scored 10 out of Duke's final 16 points in the second half/overtime to give the Blue Devils the victory.
In the last game against the Tar Heels, Bridgette Mitchell notched a career best 13 points as she hit 6-of-10 field goals. Junior Karima Christmas is coming off posting 18 points, seven rebounds, two steals and two assists in 27 minutes.
Home Sweet Home...
Duke has registered a 10-1 overall record at home this season and are outscoring opponents by a 21.1 margin in those contests. The Blue Devils are averaging 4,331 fans at home this season, which ranks second in the ACC.
The Blue Devil defense is holding the opposition to only 35.9 percent shooting, forcing 23.1 turnovers and pulling down an 11.7 rebounding margin.
Jasmine Thomas is averaging 17.2 points, 3.8 rebounds, 4.0 assists and 2.4 steals at home this year, while hitting 40.7 percent of her three-pointers. At home against ranked opponents, Thomas is averaging 20.5 points, 4.5 rebounds, 3.5 assists and 2.0 steals. She has hit 9-of-19 treys for a 47.4 percentage.

Cheek Nets 1,000 Points...
Senior Joy Cheek became the 25th player in Duke history to register 1,000 career points on Jan. 29 against Florida State. She has appeared in 123 games and missed only one in her career, while playing in 110 straight contests.
Cheek will be recognized immediately following the Feb. 8 home contest against North Carolina for reaching the milestone.
Junior Jasmine Thomas is also approaching 1,000 points as she is 58 shy of hitting the milestone.