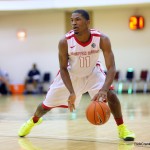 I made my annual trip to Hampton, Virginia today for the Nike EYBL Session II event where most of the nation's top players gathered to play in front of what seems like every major college coach in the country. As always, Blue Devil Nation focuses in on the players you want to hear about, and also gives you a heads-up on some new names popping up. That said, let's get right into Day One.
Tyus Jones was Priority One for Coach K
If you have been living under a rock you might not realize that Duke is all in on Apple Valley (MN) High's Tyus Jones, a 6-1 PG generally ranked as the second best overall prospect in the Class of 2014. Duke Coach Mike Krzyzewski watched Jones' entire game, but of course so did other coaches vying for his services, including Michigan State's Tom Izzo. Jones scored five points down the stretch, including knocking down a key three-pointer to give his team a 62-61 lead with 1:30 left in the game. He then iced it by drawing a foul on another three-point shot, though he took a nasty fall in the process.  Jones, like always, rose to the occasion and willed his team to a win and that is the mark of a winner.  That is what Tyus Jones is all about, for his team is not always as talented as its opponents, yet they find ways to win. Jones had 20 points, 8 assists and 6 rebounds the last time I checked but those numbers may be a little off.
Jones told Blue Devil Nation that at this time he is looking at a making a Fall decision, and he reiterated that he would likely be a package deal with 6'10" center Jahlil Okafor, who balls for Chicago's Whitney Young High and plays for the Mac Irvin Fire on the AAU circuit. If it's going to be a package, that likely means it comes down to Duke, Michigan State and Kentucky, but the Blue Devils and Spartans have long been considered the leaders in most circles.  Check out this video [private] with Jones  -
Wojo watched Okafor sit
Duke Assistant Coach Steve Wojciechowski left no doubt that Duke is interested in Jahlil Okafor by sitting through his game -- despite the fact that Okafor did not even play. Okafor is still nursing an injury and it's unknown at this time whether he suits up before the weekend is out.  This game was going on at the same time Tyus Jones was playing, forcing the coaches to split up.
Coach K takes in Harry Giles
Coach K was the first and only coach in the gym for the first half of Class of 2016 Harry Giles' game.  Giles is a talented young prospect with some skills.  He attributes those skills to wanting to be a guard when he was growing up, but a growth spurt killed that.  At one point, a Villianova assistant was overheard saying, "Coach K is down there too," to John Calipari, who peeked in from behind the curtains.  By that time, eleven more coaches were watching.  K and Calipari ended up exchanging pleasantries for about three minutes and then retreated back to their neutral corners.  Kentucky assistant Orlando Antigua, as always, was slithering around the gym as well.    It's easy to forget sometimes, but Harry Giles is just 14!!!! He will be the real deal when he grows into his body.  He likes to direct teammates where to go and how to space properly.  Giles did get upset when his teammate turned the ball over, costing his team the game.  Giles scored 16 in the loss.  The 9th grader will also compete with Team USA on May 28th of this year.  Check out his video below -
K takes in Justise Winslow
Forward Justise Winslow, the major Duke target out of Houston, dished  5 assists in his game but somehow was credited with zero ,which led to his voicing displeasure on Twitter late last evening.  Coach K made it a point to watch Winslow, as did Rick Barnes of Texas, Steve Alford of UCLA and John Thompson Jr. of Georgetown.  Interest is now lukewarm for Theo Pinson, who seems to want to be coddled, stating that he wants to play for a team that really wants him.  That team could be N.C. State, who is turning up the pressure.  K and company have also been watching 6'6" Stanley Johnson out of California, who I feel is a back up to Winslow now.  Pinson is not totally out of the picture but he is not their player of choice at that position -- Winslow is.  Winslow said Jones and Okafor would be a package deal, but for Justise it is no secret that Arizona has made an impression, leading me to believe it's a two team race -- Arizona and Duke.  Winslow glowed when talking about Wildcat coach Sean Miller and he liked the atmosphere in Tucson as well.  Justise also mentioned that it was closer to home, meaning his mom could attend more easily.  While K watched Winslow, Wojo took in 6'9" PF Elijah Thomas, a 2015 prospect out of Texas.
I lost the previous update and this one is not nearly as good, but it should give you an idea of what happened yesterday.  More to come. [/private]