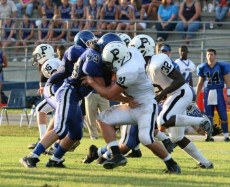 Kory Williams is a 5'11" 220 pound linebacker from Jacksonville, Florida. As a leader on the Providence High School defense and fullback on offense, he helped his team into the playoffs as a junior. While he's still early in the recruiting process, he's already heard from a few schools in the ACC and SEC. He took a visit to Duke for Junior Day in January and "loved everything about it."
BDN: Can you start off by describing the strengths and weaknesses of your game for someone who hasn't had a chance to see you play?
Well, I'm 5'11" 220 middle linebacker. My coaches say I hit like a freight train. I don't have running-back type speed, but I do play a little fullback and carry the ball some. I am one of the fastest guys on our team, but not the fastest. I have pretty good feet. I react well to the ball and I just always find myself to the ball.
BDN: What are some of the things you've been working on this offseason?
I've been working with Lonnie Marts, former linebacker for the Kansas City Chiefs and [Jacksonville] Jaguars, to get my agility better, my feet better, working to get faster and my reaction to the ball a little better.
BDN: What are some of the goals you have for yourself and your team this fall?
For my team, I would like to, I know we'll make it to the playoffs, but we're in harder classification this year so it will be a little bit harder, but I believe we could make it to state. For myself, I would like to have over 100 tackles, a couple interceptions, and 10 sacks.
BDN: What are the most important things you are looking for in a college?
Mainly, the education, because life after football – I'd like to have a great education to get me in somewhere that I can have a great job and support a family later down the road. Also, I'll be looking for how well I fit in with the college, like the campus style, and the coaches, and how early I could play.
BDN: What schools have you recently heard from? Who were the first schools to contact you?
The first schools that were contacting me were Indiana, Iowa State and Ole Miss. The past couple weeks I've been getting stuff from Georgia Tech and he came down to our school the other day and I met the recruiter for our area from Georgia Tech.
BDN: Can you talk a little about the schools you have been able to visit recently?
I've only been to Duke this past weekend. During the season I had the chance to go to an Ole Miss game, but I got the mail late and didn't have a chance to make the trip out there.
BDN: Do you have any plans for other visits this spring or summer?
I'd love to go visit Duke again. I just love it – I loved everything about it up there. I'm looking to go to Duke's camp this summer, and looking forward to going to Ole Miss, Tennessee, and Georgia Tech as well.
BDN: It's still very early in the process, but ideally, when would you like to make your college decision?
I think that when I get an offer that suits me well and has most of the things or all of the things I'm looking for, I would commit if it's the right choice that God has planned out for me. I would be looking to commit either after the season or during the season.
BDN: Is there anything else you think is important for ACC football fans to know about you?
On the defense, they labeled me as a leader at mike linebacker, a vocal linebacker that gets my team straight. Out of all the people I have in front of me at the line and the outside linebackers, I would get them situated as well as the safeties. But I mainly have the front line and the linebackers, myself. I'm on all special teams. Coaches love to have me on the field looking to hit somebody or make a tackle. I love the feeling when it's 4th and 1 and the coach is telling me he wants a brick wall, he wants us to get the ball back, he counts on me to get my team ready and motivated and to stop them and get us off the field.
BDN: Thanks a lot, Kory and best of luck to you.
Alright, thank you, you too.