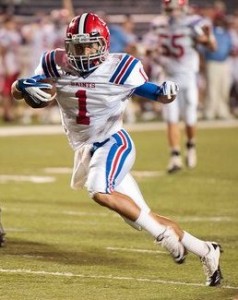 St. Paul's Episcopal school in Mobile, Alabama, produces a number of BCS prospects annually. Recent alumni include Alabama safety Mark Barron and quarterback A.J. McCarron. Under Head Coach David Cutcliffe, an Alabama native, the Blue Devils have recruited the Heart of Dixie well, landing players such as Johnny Williams and David Reeves in recent years. In the class of 2014, Duke has already secured a commitment from one St. Paul's star in LB Zavier Carmichael. With just two scholarships remaining in the class of 2013, the Blue Devils are hosting a speedy playmaker from St. Paul's on an official visit this weekend. Kylen Towner is a 5'7" 165 pound athlete with scholarship offers from Western Kentucky, Northern Illinois, UAB, and Memphis. What he lacks in size, he makes up for in speed, having been clocked at 4.32 seconds in the 40-yard dash, and winning a state championship in track. Though he has played everywhere from cornerback to running back on the football field, the Blue Devil staff loves Towner's speed at slot receiver and return. After a visit to Western Kentucky, the speedster will visit Duke on Sunday and Monday.
How did your senior season go?
This season, we went to the fourth round of the playoffs, we lost in the semifinals and that I had one interception and one touchdown in that game. Throughout the season, I don't know all my stats, but I had 7 interceptions.
You've played all over the field in high school; what position are college coaches recruiting you to play?
Slot receiver, and kick return and punt return.
Where do you stand with scholarship offers so far?
I have offers from Western Kentucky, Northern Illinois, UAB, and Memphis.
Have you had a chance to take any visits, or do you have any scheduled?
I have only visited UAB so far. It went good. I have Western Kentucky Friday through Saturday, and then I am coming to Duke on Sunday, Monday, and Tuesday.
Can you talk about your relationship with the Duke coaching staff and what you know about their program?
Coach Middleton has been recruiting me from there, and I know it's a great academic school and the football program has been improving lately.
Do you know when you want to make your decision, or will you wait until Signing Day?
I want to make a decision by next week.
Highlights