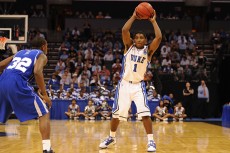 DURHAM, N.C. -- Former Duke point guard Kyrie Irving was voted NBA Rookie of the Year by members of the NBA media, as announced by the league on Tuesday. Playing with the Cleveland Cavaliers in his first professional season, the 20-year-old Irving led all NBA rookies with an average of 18.5 points per game. In 51 games, he averaged 5.4 assists and 1.1 steals per game while logging a 1.72:1 assist-to-turnover ratio. He became one of just six rookies in NBA history to average at least 18 points and five assists.
Irving received 117 of a possible 120 first-place votes from a national media panel. San Antonio's Kawhi Leonard and New York's Iman Shumpert received the other first-place votes.
Irving is the third Duke player to win the NBA Rookie of the Year Award. Grant Hill shared the honor with Jason Kidd in 1994-95, and Elton Brand split the award with Steve Francis in 1999-2000.
"There is no limit for me," Irving said. "The only way I can go is up. That's the only way I want to go. This season was a learning experience. I learned what to do and what not to do. Going forward, I want to apply it next season and take it to another level."
Cleveland drafted Irving with the No. 1 overall pick of the 2011 NBA Draft. He helped the Cavaliers improve their winning percentage from .232 (19-63) in 2010-11 to .318 (21-45) in a lockout-shortened 2011-12. Irving scored at least 20 points in 25 games and scored in double figures in all but five contests. Irving also sank three game-winning shots during the season and was named MVP of the Rising Stars Challenge, part of NBA All-Star Weekend, by scoring 34 points - including an 8-for-8 showing from three-point range - during the rookie and sophomore all-star game.
"The progression of Kyrie from Game 1 to Game 50 probably exceeded everyone's expectations," Cavaliers head coach Byron Scott said. "I don't think anyone expected him to do what he did this season."
Irving left for the NBA after playing one season at Duke in 2010-11. A toe injury forced him to miss 26 games, derailing a promising freshman season in which he averaged 17.5 points and 4.3 assists per game. Irving returned to Duke in time for the NCAA Tournament and averaged 17.7 points during three postseason contests, including 28 points in the 93-77 loss to No. 17 Arizona in the Sweet Sixteen.
What They're Saying about Kyrie Irving
"Kyrie Irving is the Rookie of the Year. Kyrie is doing it all. He's so explosive. The difference is everyone game-plans for Kyrie. They don't game-plan for some of the others."
- Los Angeles Lakers legend Magic Johnson
"I see no reason he wouldn't be at the same level as the Chris Pauls and the Derrick Roses and those guys. He's got size. He's quick. He takes the ball to the basket. He makes good decisions. He's shooting over 40 percent from [3-point range]. He defends. Even right now, let's say conservatively, he's in the top seven or eight point guards in the league ... I knew he was good in the little bit I'd seen. But then you sit and watch him ... oh my God."
- Orlando Magic coach Stan Van Gundy
"He's taking Cleveland where they were a few years ago before LeBron left. It's a big void to fill, but he's doing a great job."
- Boston Celtics forward Paul Pierce