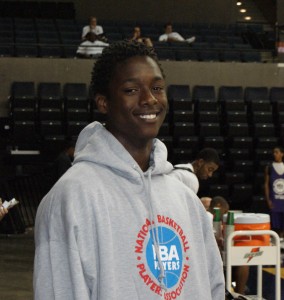 All you have to do is read the names in the tags of this story to know what's ahead.  If you still can't figure it out, a lengthy 1800-plus word recruiting update with the very latest information awaits you inside.    Don't miss our one time trial offer to join Blue Devil Nation Premium, for it ends at midnight on Saturday.  We think you will decide to stick around when that month is up. [private]
You will want to stay close to the Blue Devil Nation this weekend, for I will cover the Nike Boo Williams Invitational. The event is loaded this year and the four hour drive north will not seem so bad.  The reason is that I get to see Harrison Barnes playing for Howard Pulley.  For the first time, Barnes will play on the east coast.  Well, there is the NBA Player Developmental Camp, but other than that, this is his first time this far east in AAU ball.  BDN will be sure to get the latest from Barnes while we are there.  I will also talk once again to one of our best recruiters, Andre Dawkins.  As I told you a month or so ago, his athletic ability is starting to shine through.  He will play for the host Boo Williams team, which will also feature young McAdoo.  There is a possibility that Kyrie Irving will be in the house as well, but that has not been finalized yet.  Irving sometimes plays for two AAU teams.  Irving will also be visiting Duke very, very soon.  There are a few other kids (one big name in particular), but I am not going to tip in those other sites until after the fact.   Last season, the "borrowers" would send someone who would squirrel in the corner of the gym and watch every move we made.  It's both sad and hilarious that this happens.  Anyhow, this site deals in facts and you can trust the names we give you for our sources are pretty darn good.  Our members know that new names often come out here and they sure as heck know this site works harder than anyone this time of year.   Okay, enough whining and bragging 😉  I will have some occasional live updates on the message board.
Speaking of the Blue Devil Nation Premium Message Board... there are both long time members and new trial members who have yet to register.  If you are not taking the occasional peek there, you are missing the full effect of BDN Premium.  Keep in mind that you must register for the board in that it is not set up automatically upon payment.  Also, we'd like to welcome the trial or new  members and encourage all of you to post and introduce yourselves.  Trust me, most of the members here lurk.  That said, there is no better time to start posting than now.
A few of you have asked if Duke has any interest in Deshaun Painter who will not go to Florida.  The answer is no.  You may have already known that, but you probably don't know this - Josh Smith is no longer being recruited very hard.  The reason is that Duke is concentrating their efforts on players they feel are realistic.  Smith has long been rumored to be a UCLA lean and all of my sources have maintained that getting off the west coast is a long shot.  Why should the Devils waste all that time with a kid in Washington state whose interest is lukewarm?  Yeah, I know.  We need a big bruising inside guy. First of all, Duke has not shied away from this type of player, but they have missed on some.  The bottom line is getting a kid who can qualify and, for whatever reason, Boozer types have been few and far between in meeting the prerequisites.  Duke feels as if their current front court is deep and the addition of  Hairston in 2010 will add athleticism.  Put Barnes in the mix and Duke is going after guards.
Still no official word on Gerald Henderson, but he will almost certainly go in the draft.  The Hendersons in no way blind sided Duke.  In fact, they were forthcoming in saying this would likely be the last year before the season started.  Still, Henderson wants to go in the lottery and if he slips for some reason, he may well return.  Keep in mind that true measurements and such will come into play during visits with NBA teams.  Henderson could surely benefit from another year by learning to go to his left.  His handle needs some work as well, but his athleticism and lineage makes him attractive.  We should hear something on this in an official capacity next week.
Nate James will contact Eric Bledsoe to see if they have indeed been dropped off the final list.  Turns out that if he dropped Duke, he did not tell them.  Stay tuned.
Josh Hairston is playing very well and garnering attention.  Here is an excerpt from Scouts.com - Hairston plays with a great deal of energy and effort, when engaged in the game. He has a versatile skill set, which allows him to dominate games when he tries. He has to alleviate his tendency to drift, especially offensively, when his team needs a critical bucket. This face-up 4-man has very good quickness and athleticism, which he uses to drive past bigger, slower defenders. Once in the paint, Hairston will finish with his left or right hand at the basket. He can also stretch defenses with his ability to connect on jumpers, with the occasional 3-pointer falling, but he needs to improve his perimeter consistency. He will also post up on the block and he demonstrates solid footwork with his back to the basket. As Hairston gets ready for the next level, he will have to add strength and muscle to his frame, which will make him a better finisher and rebounder on both ends of the floor. He also needs to continue his improvement on the defensive end, an area in which he said he needs better for college. Hairston plays an unselfish brand of basketball and readily accepts coaching. This young man, with his good character, should flourish throughout the summer and become a very good player at Duke, when he enrolls in the fall of 2010.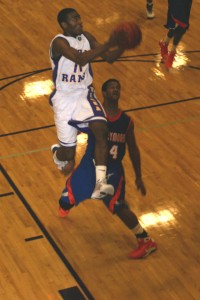 Anyone heard of this kid named John Wall?  It amazes me how much false information and rumors abound on message boards, but that is the nature of the beast these days.  Wall left on Tuesday to participate in the Nike Hoop Fest.  In a recent brief conversation, he said he would sit down with UNC coach Roy Williams.  But he also said that Duke is very much in this race and that he continues to get to know Coach K and was impressed with all that he has heard.  Another source close to Wall, claims that Coach K is considered the most "straight up," of the remaining suitors.  This source also stated that Wall is still very much undecided and that he would likely go until the end of April before a decision is reached.
While N.C. State has been rumored to be in the hunt, I think they are out.  In fact, I feel he will not make the trip to Miami as well.  Look for Wall to make a final list soon to set up a televised decision.  I feel Kansas could be on that list but will not be a serious player.  I am certain Duke, UNC and Kentucky will make the list and Memphis may sneak in as well.  Wall's coaches do not like the fact that Williams is just now coming in and Wall himself is the only one giving them the time of day.  This stems from them avoiding Wall in every way while recruiting others and is considered a slap in the face.
Brian Clifton is sometimes referred to as a handler, but he has been a part of Wall's life.  Clifton (D-One AAU coach) had reservations about Duke for the Wall camp had heard plenty of the negative recruiting tales and didn't know what to believe.  After the visit with Coach K, both Clifton and Wall realized that K was actually a pretty good guy.  It may help Duke in that they have been open about anything from Kenny Boynton to how Wall will be utilized.  It makes a little sense that another D-One teammate, Ryan Kelly, could help here as well.  It also makes a little sense in that Clifton could start a pretty good thing in a pipeline to Duke which would surely benefit him.  Deep down, both of them know Duke is a great opportunity.
While I am rambling, let's go back to Roy.  Williams would get involved if for no other reason than to block Coach K and Duke from Wall.  Maybe he's heard the visit went well and fears the Devils the outstanding PG??  Imagine UNC adding some negative recruiting to go with Calipari's ....   could be that Roy wants Wall in Lexington.  The rumors you hear about Wall wanting to stay close to home cannot be proven and he will certainly tell you that's not the case, but it could very well be true in the end.  Look, pull up a chair and look to the wind, for every time it changes directions, there will be another twist.  The Duke staff simply has to let this play out and hope that the offer of a key to drive the Duke machine will entice Wall to play his ball in Durham.  And you surely realize that I used a lot of speculation and what-ifs above.  We will continue to stay on top of this recruitment.
New Memphis Coach Josh Pastner is still trying to lure Xavier Henry's Father from his duties with the Oklahoma City AAU team.  He was originally slated to take the basketball operations job, but that is on hold for now.  Sources are now saying Kansas may be his destination but a few pieces have to fall into place.  I will talk to Mr. Henry this weekend to see if I can get the facts.  Solid sources are saying Wayne Ellington and Ty Lawson are talking with agents and will enter the draft.  Ellington's final four MVP and late season play sealed the deal for him.  Oddly, Lawson deseved the trophy.  There were 32% no shows for the coaches NABC during the Final Four which pretty much guaranteed Detroit was a one time deal.  Many complained about the logistical nightmares.
Okay, okay ... the other name I was hinting at above is Brandon Knight.  Now, sit back and watch those corporate sites try to play catch up and magically get the information now that it is here;)  Welcome to Blue Devil Nation Premium!   [/private]