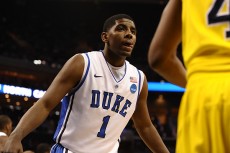 Duke will of course hold their annual basketball awards banquet on April 15th, a mere nine days off.  Wonder if we'll know the intended fate of Kyrie Irving by then?  The Duke Chronicle published this tongue in cheek  plea today, but before you bring up Elton Brand, step back and relax for it was meant in humor.  But fancy me this Batman!  Isn't it a fact that there is no way he'd have a back court sidekick like Austin Rivers in his first "professional" season? 
There is absolutely no rest when it comes to basketball coverage here at BDN.  This coming weekend we kick off our coverage for the 2011 season by covering Nike EYBL Session I, formerly known as the Boo Williams Invitational.  The question here is are the kids today overexposed?  Also, how crazy is it that grown men hang on the comments of 16 year old kids?  Mike Krzyzewski is the first to tell you that when the freshman come in today, they are far more adept at fitting in and producing right away.  Of course, one look around the nation this season proved that major freshman impact is here to stay.
Can Duke take their freshman on their trip to China this summer?  The answer is yes for they will be enrolled in school in July.  Imagine your first Duke experience is balling in China and Dubai.  Think that will help the freshman develop and aloow the coaches to see what they have?
If Kyrie Irving doesn't return, who will Duke go with at the starting point guard spot?  Quinn Cook made a case for himself with his recent play which quieted his doubters, but do you think Tyler Thornton will roll over without a fight?  The answer is no for the two went head to head in the same high school league.  But wait!  What about Seth Curry?  Could he develop at this position as well?  The bottom line is Duke will have some interesting options, but if Kyrie comes back, it is more than just a little settled.
Should Virginia Commonwealth been ranked higher than Duke in the final poll?  Sure, they had a great season ... down the stretch.  They beat Duke out for sixth by a single digit and I for one think most feel Duke at 32-5 had a better overall season.  Is it fair to award teams with high ranking from their final run alone?
Will Duke be a top ten team next season?  You bet they will.  Even if UNC finds a way to keep everybody home, the Blue Devils will still be at the top of the ACC.  They will be picked pre season number two in the league at the very lowest and will have the kind of team that gets better as the season goes along.
This years Butler-Connecticutt television ratings were down 18% compared to last seasons  Duke-Butler game.  What would the ratings have been in a rematch?
The Duke Women will lose three key seniors in Jasmine Thomas, Karima Christmas and Krystal Thomas.  Will Duke still be top ten?  Yes, they will.  Coach P is welcoming Elizabeth Williams and Amber Henson to the fold of a group of young budding players with a pinch of upperclassmen.  I think the Blue Devils will be just as good.
How tough is Duke's football schedule this season?  Tougher than North Carolina's and N.C. State, that's for sure.  Several ACC teams are playing cupcake schedules this season.  Duke will take on a pre season top five team in Stanford at home and travel to Florida International.  Hey, don't laugh at FIU who played in and won their bowl game last season.  If the game was the opener, Duke would likely be a field goal underdog on the road.  Duke also opens with the always dangerous Richmond Spiders.  Meanwhile, our neighbors get the likes of Liberty and James Madison.  The Heels toughest game outside the league is either Louisville at home or East Carolina on the road.  NCSU gets Cincinnati on the road and a truck load of cup cakes beyond that.