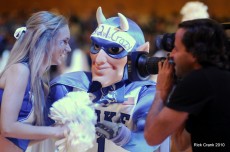 I imagine some of you are just getting your Christmas or Holiday shopping started, just make sure you stay out of my way in the stores if that's the case.  Seriously, the holidays can bring on quite the daze but, as a Duke fan, you have a lot to be happy about and we take a look at some of those things in our Monday's Musings column.  We have decided to salute the Blue Devil as our cheerleader of the week, for nobody works harder pumping Duke fans up on the sideline.
K-Sing, the stretch run
The college basketball season begins in earnest in January with games coming at a breakneck pace, unlike the brief holiday break we are currently witnessing.  This time of year means that a special senior, Kyle Singler, will be turning his game up a notch.  Each time you watch Duke in person or on television keep in mind that four-year guys are special when they return when they could have left two seasons earlier had they wanted to.  It is clear to see that Kyle Singler loves the Duke uniform and he's having a blast with his college experience.  It's not often this kind of thing happens, so enjoy the moment and take time to realize that Duke is the nation's top-ranked team and you simply cannot have it any better than that.
Kyrie Irving's  toe
In the pre-season, it was Nolan Smith's feet getting the attention after ESPN's All Access coverage where he called them his "money makers."  Of course, that was jest and Kyrie Irving's toe is nothing less than serious.  As the boards exploded with worry, I have maintained a stance that we'd not seen the last of the outstanding freshman.  When it comes to Duke basketball, I am a glass half full kind of guy.  I mean, how can you ever not have your glass half full if you are a fan of the elite program?  Still, the worry of Blue Devil fans was more than evident and for good reason -- they simply wanted to see the kid play.  I expect we'll be hearing some news sooner rather than later on the situation, so stay positive if you haven't been all along.
A low key approach
The media will take anything but a low key approach when Coach Krzyzewski ties North Carolina's Dean Smith on the all time wins list this evening.  I mean no disrespect to Elon,  but a win by them would be the greatest upset in the history of sports when looking at each team's talent level.  There is plenty of reflection for those of us who have been around long enough to see Coach Krzyzewski arrive on campus and had witnessed Dean Smith's accomplishments.  In Bob Harris's new book, "How Sweet It Is," he mentions a game between the two schools where Dean rapped the scoreboard in Cameron yet didn't get a technical.  People or those involved can say what they want to about the incident, but that was the game where a line was drawn in the sand by Duke.  A Michael Jordan led Tar Heels team ended up winning the game by a hair, but notice was served that the Blue Devils were here to stay and since that time Duke basketball has been golden.  While there is no disrespect from Coach K towards Dean, expect him to downplay the situation, for he wants the focus on his team and their season.  Expect more of the same in Greensboro, when they face a winless Spartans team in a game where he'll pass the UNC legend.  It's as if he knows there will be plenty of time to reflect in the off season or maybe when the actual record itself is broken.  Still, as fans, we need to appreciate the fact that Krzyzewski stuck with Duke and for that Blue Devil faithful are lucky.  And for the aforementioned game where Coach let the world know Duke was coming hard, we'll revisit that classic game that television somehow didn't pick up, meaning you had to be there.  So look forward to hearing from some Duke dignitaries who were there.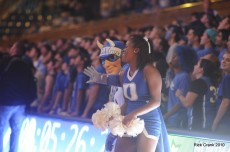 Frequent Flyer Miles
The men's basketball staff has been hitting the recruiting trail, leaving no stone unturned in their quest to find the nation's top prospects this week.  The staff will, of course, be at tonight's games, but some flights probably await a portion of them once the game concludes.  One of the tournaments they emphasized is the City of Palms in Fort Meyers, Florida.  Austin Rivers will play again at 11:00 and later in the day Alex Murphy will take to the court as well for his St. Mark's team.  Marshall Plumlee led his team in scoring and rebounding in his first game. 
Duke Football is working it too
The Duke football staff has been hard at work on the recruiting trail as well and BDN's Patrick Cacchio has been all over the action.  Check out our recent interviews with future Duke footballers if you haven't already, for the future talent level is getting better and better.  Season ticket renewals went out recently, so secure yours today and back an up and coming program.
Holiday Season is upon us
BDN wishes all of you joyous, safe and happy holidays.  It's a time to let by-gones be by-gones, let go of the petty stuff and spend time with your family and friends.  Some of us tend to stress this time of year but keep in mind that you pull for the nation's top team and that stress could be worse.  Be kind to all you meet at this time and understand that everybody you come in contact with is someone's father, mother, son, daughter, sister and brother.  Think about facilitating a few acts of random kindness and it'll make you glow inside.