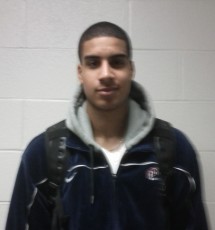 At 6'7," Richard Lucas was an undersized center, who averaged fifteen points and nearly ten rebounds per game for Don Monson and the Oregon Ducks as a senior in the early 1990s, while battling routinely against bigger players at his position in the Pac-Ten. His reputation was that of a player willing to bang inside and out-hustle his competition on the glass, dive for balls, and sprint down the court, which made him a crowd favorite and had the Oregon faithful chanting "Luuuuke."
Now, nearly twenty years later, Landen Lucas is a 6'9" junior reserve post player for national power Findlay Prep. In late July, he decided to leave the comfort of home in the Portland area and nearby Sunset High School, in order to spend the next two years working on individual skill development, preparing his frame for college basketball, and getting used to studying away from home. The decision has paid early dividends, as Landen lost a significant amount of weight immediately and has seen his recruitment heat up, with defending National Champion Duke University has begun contacting him and evaluating whether there is a fit.
Blue Devil Nation watched him at the Pangos All-American Camp in Long Beach in June, caught one of his games for the Northwest Panthers at the Super 64 in Las Vegas in late July, and recently watched him play twice at the Hoop Hall Classic. After his last game at Springfield College for the Hoop Hall Classic, BDN spoke with this son of an English professor about Duke's recent interest in him, his development and competition at Findlay, why he looks at the unique pairing of Tim Duncan and Dennis Rodman as basketball role models, and the attributes he shares with his father.
Let's start off by talking about the transition to Findlay.
You know it was a big transition and it would be anytime someone goes from normal high school basketball to prep school basketball, let alone to Findlay. It's just a big jump, even in practice. It really took a few weeks to get used to everything and settle in, but now it's fine.
Do you live in the much discussed players' house?
No, I actually live with Nigel. We're both from Portland so that helps.
Was it a big deal for your family, you know, you[private] moving away and trying to develop your game at Findlay?
Oh, yeah, it was definitely a big deal. It was hard for them to let me go, but they knew that it was the best decision, at least from a basketball standpoint.
Now, as I recall, you first visited there in late July. You showed up to the Vegas tournaments a few days early so that you could do a walk around of the campus and make sure you were comfortable. Is that correct?

Oh, yeah, exactly, I came early just to check it out and make sure I didn't step on there and get a really weird feeling (laughs).
(laughs) No, that'd be terrible.
Yeah, I mean I was already ninety-nine percent sure before I got there, but I wanted to be a hundred percent sure. Once I got there, though, I knew and it was a no-brainer with the coaches they had and the facilities they offered.
Touch on the facilities.
It's just awesome. They've got top notch everything. They provide you with everything you need to get better. It was the best decision I could make.

What do you feel is your biggest strength right now?
My strengths are being mobile and being a factor around the basket, both on defense and in our offense. Just being a presence.
What do you feel you need to work on most?
The things I think I need to work on are my explosiveness, you know, now that I've dropped the weight. This summer I want to get back in the room and work on adding strength.
You definitely look like you've lost body fat. The first time I saw you was at the Pangos this year in Long Beach.
Oh, yeah, yeah, absolutely, but, you know, we're just working on my body a lot. I know that, once I get to college, they'll have me prepared and in good shape for everything.

Touch on how your body has changed from August until now.

Oh, it's been a massive change. I dropped seventeen pounds in practically the first month. My body has dropped dramatically. The thing we're trying to do now is add weight back, but as muscle.
Do you have any sort of timeline for how you'd like to handle your recruitment?
Yeah, I'd like to narrow it down this summer and, after that, I sift it further. Then, in the fall, I'll take my official visits and decide.
So, this is not going to be a thing where, in a week, I'm gonna read that you just pulled the trigger and committed to somebody. You're not gonna do that to me, right?
(laughing) No, no, no, don't worry about that. I wouldn't do that to you. No, no, no, that's definitely not gonna happen. (laughing)

(laughs) I mean that's cool. It's your life, if you find something you like in the next week, just jump on it.
No, no, don't worry. Nothing like that's going to happen. I want to be one hundred percent sure about whatever school I'm looking at. Just like I did here, I can't be completely comfortable with a school until I walk on the campus and meet with the people that'll be a part of my life,
That's completely understandable. It'd be like buying a car without doing a test drive. I know you've visited Oregon recently. What are some other visits you taken and what ones do you have planned?
I've been to Oregon, Oregon State, Washington. My Dad was just at Arizona St., but he was there for the BCS game. I really haven't gotten to see too many outside of the West Coast. I think, you know, the more I go on the better.
Do you have any planned right now?
Yeah, actually, I have one planned right now. My mom and I are going to visit Harvard in March.
Okay, great.

Yeah, we'll try to probably visit some more East Coast schools when we're out here.
Coach Amaker is having a great season. He beat Boston College and just won against George Washington.

Yeah, absolutely, I've talked to Coach Amaker quite a bit.
Is there a player or two that you try to model your game after?
Yeah, I try to take a mix of people. Offensively, I really try to watch Tim Duncan and his mechanics.Defensively and in terms of rebounding, I would love to be anywhere near Rodman's rebounding. I know he..
No, I think he's player that you never hear mentioned because I think they're afraid of getting tied in with his off-the-court stuff, but was an excellent rebounder and defender and should be looked at by young forwards.
Yeah, exactly, I mean I'm almost afraid to say it because then people think you don't mind his attitude problems or that you're crazy.

No, I think it's an interesting answer. I loved to watch him defend and angle for rebounds.

Yeah, he loved to rebound and that's what I'm about, not his other stuff.(laughs)

Sure, he was about 6'8." How tall are you right now?
I'm 6'9" right now. So, I'm a little bit taller than him, but I would love to have that talent or develop that talent when it comes to rebounding.
Now, I know your dad played at Oregon and I want to get to that in a second, but how tall is he and how tall are you projected to grow to?
My dad's about 6'7" and my mom's six feet. Hopefully, I'll be able to grow another inch or two. I'd like to be at least 6'10" flat footed and 6'11" with shoes on.
From a position standpoint, what are most schools recruiting as, a four or five? And which do you prefer too?
You know a lot of people come up and say, "Yeah, you could play the four" and everybody wants to play the four and be outside, but what I want to do is be a five that can play the four, instead of being a four that can play the five. I like to stay inside and I love banging against other guys. I enjoy that. It's what I'm about. I love going out there and banging. I don't need the status or the other stuff that some guys are looking for. If I can help my team win just doing that, then I'm happy. All I care about is getting the W. That's all I need.

Can you tell the audience a little bit about yourself away from the court?
Well, I've talked to a lot of coaches and the thing is, as far as school goes, is that my work in the classroom has helped open doors for me in basketball as well. I've been talking with the coaches at Harvard lately. All I really do is play basketball, study, and then go to school. My mom is an English teacher and so she always stresses education.
Well, you're clearly articulate.
Thanks, I think that by succeeding in school it's really helped open opportunities.
Now, did she teach at your old school? Was that an issue for you at all?
(laughs) She taught when I was younger, but I was too young to…She's actually now an English professor.
Well, congratulations.
Yeah, she's now teaching in Portland at Portland Community College.
Who's the best player you've faced so far?

Christmas. I'm not sure his first name, but, man, was he a beast to deal with.
Rakeem Christmas. Yeah, when he's motivated and focused, he's a great shot blocker with a very good body.

Exactly, we played Christmas' team and he was just so bouncy, you know, and he had strength and size. He was really good competition for me. That was at a tournament recently.
Back to your dad, Richard, for a second, he played at Oregon in the 80s. They've just built the new arena with the, um, unique floor. Is there any pressure for you to stay in-state and play for the Ducks, either from him or the local fan base?
Oh, no, no. I mean, of course, the Oregon fans would love for me to come and play there, but, for him, as a parent, he just wants the best situation for me.

So, he's cool with wherever you go.
Yeah, he's cool with anything. He even let me talk to Oregon State, you know, so..(laughs)
Oh, alright, he must be if he let you talk to those guys.
You came out of the Portland leagues. Touch on the level of competition that that you now face, both in practice and on Findlay's schedule, which is arguably the toughest in the country. It's an amazing leap.
Yeah, it's ridiculous. i mean it sounds bad, but, when we go to games..

It's easier.

(laughs) Yeah, exactly, when we go to games, it still goes much easier than practice. I mean practice is so intense. We run them like we're competing for a championship in practice and everyone is intense.
Who do you face off with or match up with in practice? (Winston) Shepard?
Yeah, I'm usually on Shepard and sometimes (Anthony) Bennett, but, yeah, usually I go at Shepard. We've got good competition to deal with every day. It helps me get stronger and then, with our schedule, you go against other good guys. It forces you to raise your game.
In terms of AAU and camps, what are you planning on doing this year? I'm sure that a lot of programs are going to make a run at you.

I'm sticking with Northwest Panthers. I like the coach a lot and he's helped me and he understands me. In terms of camps, the only one that I'm really set on is the NBA.
You did that one last year. How was that experience?
It was awesome. It was the first time I was facing really top, top competition, you know. Dealing with older guys. For me to be able to deal with them, it gave me a sense of accomplishment. It was an honor to get invited.
Do you prefer to face-up or play back-to-the-basket?
I mean I like playing back-to-the-basket, but we're trying to work on developing a face-up game.
Yeah, frankly, it seems as though you're playing a lot more away from the basket here than you did at any of the events over the summer.
Yeah, well, I think they're trying to help me develop my game away from the basket, but I do like to face-up and see the spaces and who is helping, when they throw a zone against us.
How are things going academically for you at Findlay? Excellent, I hope.
Yeah, I mean I've got a 4.0 here.
That's good. I'm glad to hear somebody's cracking a book around here.
(laughs) Yeah, yeah.
Yesterday, the local paper here ran a story about Duke contacting you.
Yeah, it frankly came out of the blue. I never really expected it.
Nate James contacted you.
Yeah, exactly, Nate James contacted me. Nate James and we've been in touch. He's now trying to get to know me, you know, and my family.
You're in, sort of, an evaluation stage.
Yeah, yeah, and, you know, he says that, from what he sees and what he's heard, I'm the type of player they need or are looking for in the 2012 class. The thing is that the more I look at it and I've never really thought of them like that, but I think I could help their team out. The more I look at it. The more I understand it.
From afar, what do you know about their program and what's your impression of Coach Krzyzewski as well?
You know, from afar, you always hear that Coach K is "the man." It doesn't get any better than that. In terms of the program, what I hear about the program is that they, you know, they need somebody to come in and who doesn't need a lot of shots to be productive. Someone who can just get it done. So, I like to hear that. Results.
You're comfortable in an uptempo running system. They're looking to run and you're capable.
Yeah, absolutely, if they're looking to run than I'm looking to run, whatever they need, as long as I can help them win. I can fit in.
What do you know about the University?
University-wise, I don't know too much about them. I've never been on their campus and I really don't know too much about it. I do know that if this starts to pick up, I'm going to head out there and visit. Take a look, get a feel for it, and make sure that I like it.
Do you follow college basketball or the NBA fairly closely?
Oh, yeah, I definitely watch all kinds of basketball. I watch it all the time to try to pick up on things. Duke is on TV everyday or, at least, every game. That's actually one thing that they talked to me about. They're on TV all the time and their kids are in the spotlight and being interviewed and they need kids that can deal with the spotlight. They need kids that can be in that spotlight and be okay with that.
Playing at a school like Findlay helps you get used to being in the spotlight and playing in front of coaches, large crowds, and reporters.
Yeah, absolutely, that's the thing. You'd die here if you can handle the spotlight.
Do you have any brothers, Landen?
Yeah, two of them, younger ones. There's three of us.
Thanks for your time, Landen
Sure, I appreciate it. Nice meeting you. [/private]