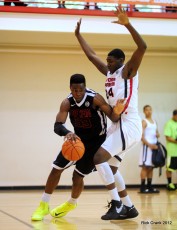 As the AAU season winds down, here is yet another BDN Premium Duke Basketball Team and Recruiting Update for our members.  Are you ready for a few thousand words on the latest?  If so, keep reading and be sure to join to get all the freshest info.   In this edition I reveal some new names on the radar, give an in-depth recap of the Duke targets from the recent Nike Peach Jam, and more.  Know that this is the perfect time to join BDN Premium in that we have recruiting analyst Andrew Slater reporting from Las Vegas all weekend long.
Let's start with a recap of Peach Jam happenings :
Semi Ojeleye - What you see is what you get, and that is consistent effort.  Ojeleye has a college-ready body, and he uses it to his advantage.  In Augusta, he struggled a bit from the outside, and never really found his rhythm, but nevertheless he is a versatile stat stuffer who guards multiple positions, and who plays team basketball, so what's not to like?  Semi is a classy young man on the court and off, and is a perfect fit for the Blue Devils -- and some of the Duke staff feel it is just a matter of time with Ojeleye.  I think he's a real Duke-type kid, and a player I would love to see in a Duke uniform.
Julius Randle - After his first game in Augusta, I was ready to proclaim him the top player in his class.  He dominated that game, but in the rest of the tournament, though his overall numbers were strong, [private] I saw him miss an unusually large number of chippies.  Part of that may be because, while he's a real physical specimen, he's not a great leaper.  Also, he moved outside more than expected.  He plays for a Texas Titans team that runs a three guard lineup, so it seemed unnecessary for him to handle the ball on the perimeter as much as he did.  Randle is great with the ball in his hands, but he will not be used that way in college unless he goes to a team with little talent.  Which is highly unlikely.  When he takes it to the hole,  he finishes with authority and when he draws fouls, he is a decent free throw shooter.  When Randle does go down to the blocks, he dominates, and while I realize he is trying to broaden his game, in my opinion he needs to go down in the low post more often, as at this point on the AAU circuit he is a man among boys down there.  He is also an intimidating defender down low.
I will say, however, that when Randle went against better competition, he struggled a bit.  He has the propensity to be a little foul prone; he is like a bull in a china shop, almost inviting contact on every play, and when he's out of control, it gets him in trouble.
The gym was packed for each Titans game.  Coach Capel missed only one, and in that instance Nate James was there in his stead.  The highlight was the matchup with CIA Bounce and stud forward Andrew Wiggins, in a game for the ages.  Wiggins got the better of Julius, but not by a wide margin.  Randle struggled getting his shot off when he went one-on-one versus the ultra-athletic (though smaller) Wiggins; Randle also was saddled with two early fouls, which did not allow him to remain aggressive down the stretch, and ultimately he fouled out.
While Randle may have fallen to #2 or #3 in the imaginary rankings, he can reclaim the top spot by simply taking his team far in Orlando over the next several days.  Make no mistake, Julius is a special talent, and is one of the four best players in high school basketball.  He's going to be an immediate impact player at the college level.  Randle, quite simply, is as likely as anyone to have a one-and-done type of freshman season.
Matt Jones - Matt has improved his game.  He is better off the dribble, he is a good (but occasionally streaky) shooter and he now loves to mix it up on put-backs and other plays underneath.  He has improved defensively as well; he checked Andrew Wiggins for much of their matchup and did a great job on him on the perimeter despite giving up some size.  In fact, most of Wiggins's hoops came on angles and also off of steals and breakaways, meaning there were few times when he faced up Jones for a jump shot.  Jones tried to carry his team after Randle fouled out, but a dribble off the opponent's foot derailed that.  It was clear that he was the go-to guy when Randle was out.  Matt erupted for a couple of 25+ point games during the event, and overall played very well.
Jahlil Okafor -  There is always a game in each tournament when he is just not impressive, but he always bounces back.  As I've mentioned before, Okafor continues to be plagued by the fact that his Mac Irvin teammates simply do not look for him in the blocks as they should.  The result is they get dusted.  It didn't help that Jabari Parker did not play for Mac this past week due to his foot injury, and that certainly changed the team's dynamic.  It took them awhile to adjust as a team, but when they finally started going inside to Okafor, he answered the bell, shooting an efficient 7 of 8 from the field and grabbing 13 boards.  In the team's remaining games, his teammates continued to feed him, and Okafor really responded with solid numbers the rest of the way.  His body is still a work in progress -- it is truly frightening to think what he may look like once all the baby fat is off.
Marcus Lee - Two words.  Foul prone.  In three of his games, he landed on the bench with five fouls, and his numbers were down due to the reduced minutes.  But when he did play, he was good, and he did save his best two games for late.   But overall, I was disappointed by his play and that of his team, as California Supreme layed an egg, winning (if I'm not mistaken) but a single game.  Lee is athletic and long, but tends to disappear for stretches.  Personally, I think he hurt himself here, and he is not what I consider to be a super elite player.   The staff watched some of his games, but to be honest, most of them were a bore.
Theo Pinson -
 Pinson is steady and he's been that all summer long, and in the process he has solidified himself as one of the very best players in his class.  His jumper is ugly but it works for him, and his slashing ability is quite nice.  He's getting better and is just starting to get a bit more serious in thinking about schools, which is good because he and his dad have been talking for a long time about having a lot of time to decide.  Make no mistake, the offer to Justise Winslow did not go unnoticed by the Pinson camp.  While there was some concern, the fact is that Pinson has visited Duke, played at Duke, been to games at Duke, and he stays in contact with Duke, so there are no real worries.  I have to admit, it upsets me that I cannot share more about this, but the reason is the unwarranted knee-jerk reaction from some on the board who state that there has been no TLC for Theo from the staff, when in reality, that is hardly the case.  Again, Pinson has just not been that serious about his recruitment.  So why should Duke be all over him if he hasn't been that focused on it?  Duke has done its due diligence; Theo has an offer and has
had
an offer, but it simply got lost in translation.  Sure, he was excited by the UNC offer as well, but he and his dad know Duke features wings, so some members need to chill out a bit and try not to go into "sky is falling" mode when you really have only limited information on the details.  Pinson likes Duke and Duke likes Pinson, and thus the offer.  For now, enough said.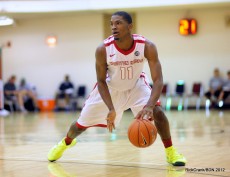 Justise Winslow - I love his game and I liked his demeanor during my interview, as he was respectful, he took his time with each response, and he said all the right things.  Justise is another kid who would be a great fit at Duke, as his education truly matters to him.  On the floor, in addition to a terrific skill set, he plays bigger than his size at times and he is ultra-athletic.  He is also a leader.  It's no surprise that so many analysts are raving about him now and all the top coaches are at every one of his games.   It was truly ridiculous the lengths that some coaches went just to be seen by him.  Anyhow, the Winslow offer is exciting;  I would take him on the spot.  But then again, I would take Pinson too.  There is room for one of them, but not both, at Duke.
Tyus Jones -  He is the best PG in his class.  He is a winner.  He is a team player.  He is a scoring point, but an unselfish one, and can put his team on his back despite their lacking much of an inside presence.  While Jones is not super athletic, his feel for the game is a thing of beauty.  Tyus is also a young man of character and maturity, and he will make any school he attends an immediate Final Four contender.  Lastly, every coach in America wants him. Did I mention his feel for the game?  Give him the ball, surround him with talent, and take home a trophy.  I hope Duke lands him.
Damien Jones - One assistant told me he was a long shot, so I did not pursue him initially.  I sat with Johnny Dawkins and Mark Madsen for a game, and they love him -- it's not surprising that a good ballplayer and good student like Damien would draw interest from the likes of Duke and Stanford.  Now Duke is a little more interested, so I am setting up an interview.  He's rising in the rankings, but it's hard to rate his game because he plays on the Texas Titans with Matt Jones and Randle, and as one coach said, it's hard to figure out just how good anybody is on the Titans because of Randle.  At this point Damien Jones is solid but not spectacular; he's a bit slender and needs to put on some muscle.  But in a class with few quality bigs, he has suddenly become a hotter commodity.  He told me he liked Duke a lot and that he would be open to them if they came calling.  Duke is evaluating him and will take another look in Orlando.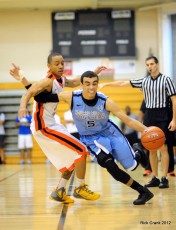 Peach Jam tidbits - I had a pretty incredible seat in between Bill Self and Leonard Hamilton for the classic matchup between the Texas Titans and CIA Bounce.   I cannot begin to tell you how entertaining this back-and-forth game was, and how good Andrew Wiggins looked.  Several times he drew the "wow" from the coaches seated next to me.  I had a good conversation with both.  Self, of course, was checking out Julius Randle and joked several times about all the ACC guys on his trail, not forgetting that he lost Matt Jones to Duke.  We discussed recruiting a bit, and he said that one of the challenges at Kansas is the lack of much local high school talent.   Still, kind of hard to feel sorry for him.  Hamilton warmed up and talked about last season as well as the future, and he seems happy that Syracuse and Pitt are coming into the league. He also feels that football needs to be better in order for hoops to be.  Not sure I agree, but he's a good guy and a heck of a coach, one who is getting a lot out of the pool of players he works with.  He  seemed to have a quiet confidence that the rebuilding job this season would be ahead of where most media and fans might think.  I sat with Coaches Capel and James as well.  While I try not to talk about that kind of thing too much, it is always cool to be near any of the Duke staff and just hang out and chat.  The gym was brutally cold and most coaches had on long sleeve shirts or jackets, including our guys who were both probably glad to get home and thaw out --  as was I.  Capel had a nasty bug and sure enough I caught it the last day as well, and it has slowed my reporting.  Thus the late update.
But the one thing that may tickle members is the musical chair show that Calipari and UK assistant Orlando Antigua played. Word is Kentucky covets a big-time PG.  So the two strategically scoped out and sat on the corner seats with the partition in between them in back to back seats while PG prospects Joel Berry and Tyus Jones were playing on opposite courts.  The two coaches would switch back and forth in an unapologetic fashion, literally pushing other coaches out of the way in an SRO crowd.  Antigua nudged a Western Kentucky assistant to the side without even a look, much less an apology.  They were by no means breaking any rules, but still.  Not cool.  Oh, and yes Virginia, Kentucky did start that rumor via Adam Zagoria, who sat beside me in the media area for most of the event.  If you missed it, they used Zagoria to put it out there that Duke leads for Jabari Parker, probably trying to sabotage it somehow.  As for Zagoria, he's a nice enough guy, but if you are being lured in by his sensationalist blog, you are not getting an accurate picture of what is really happening, for he is simply going for hits and hits alone, accuracy be darned.  Coaches know which media members to go to when they want to propagandize, and Zagoria is but one of many.  Other coaches leak a kid's secret on where he will go to school and ruin his big moment out of spite, even after the kid has the decency to make a courtesy call to show some respect to the coach who has lost out.  And some coaches even leak when a kid verbals to them in an effort to keep him from changing his mind.  You gotta love recruiting!
What happens in Vegas, goes on Twitter - Andrew is in Las Vegas and will be bouncing to various tournaments while following the nation's elite prospects.  Be sure to follow our site updates and our Twitter feeds for the latest information.  I have turned up a few names of kids catching the Blue Devils' eye, and one of those is Austin Grandstaff, a 2015 guard from Rowlett, Texas, whose father coaches his Team Texas AAU team.  He will be visiting Duke.  I originally kept that on the down low to avoid other local schools trying to get him on their campuses for an unofficial while he's in the area.  Grandstaff's teammate Elijah Thomas caught my attention too, and that of Coach Capel as well.  Thomas wasted no time retweeting our interview with him just moments ago.  Duke is evaluating a lot of young talent in an effort to lay early groundwork.  I will be checking in with Grayson Allen, who is a 2014 shooting guard that has contacted Duke and grew up rooting for the Blue Devils.  He carries a 4.0 GPA and played in the Peach State Classic down the road from the Augusta in Aiken, SC this past weekend.  He does not play for a  big-time AAU program, so like Robert Hubbs, he has flown under the radar.  I have two other names I need to keep on the down low until I can talk to them, but they will come out soon as well.  Once we put names out there, everybody jumps on them.
Orlando - I elected not to go due to the overall lack of #Duke prospects as well as the cost.  But Coach Capel is following the Texas Titans targets as well as a couple of other kids.  As Andrew has mentioned, Nate James is in Vegas.  We will surely be hearing a lot from the weekend as it's a loaded event out there, and Andrew is sure to do his usual excellent job of reporting.
A lot going on - I thank all members for their patience as we have been beyond busy. More members means more content, so encourage others to join.  I am in the process of doing whatever it takes to make BDN better, and will leave no rock unturned as we move towards making the promised changes actually happen.
Pro Am - Tonight is apt to be the last night Duke kids play, so take note.  I will let you know if something changes.  Some have asked if Murphy will play.  I think he'll be resting up after a long trip home, but we'll see.
ESPN U - will carry some games from Orlando, so check the listings.
Please note: I recently had to remove some information because the reaction to it was basically negativity and excessive paranoia.  I have said it before and will again: do not read so much into every little thing you see and hear on the Internet, and don't believe every little thing either.  After all, the reason you subscribe to BDN is to get accurate information that you can bank on.
Thanks to all of you who make up the Blue Devil Nation, and remember, Members, to check out Andrew Slater's work all weekend long.  Let's go Devils! [/private]