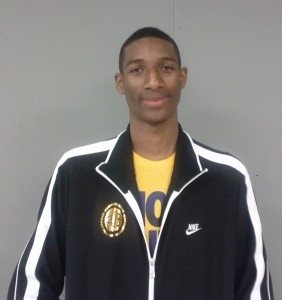 Some talents are identified early, but every year there are a few players that blossom later in life. One young man, 6'9" Marcus Lee, used his unusual mix of speed, size, and jumping ability this weekend to catapult onto every major program's radar. [private]  Lee, who is a gregarious and fun-loving young man, is from Antioch, California, an East Bay city of more than one hundred thousand people.
An all-league volleyball player with a wingspan of 86", he's tried to carve out a niche as a superior shot-blocker and rebounder. This past season for his Deer Valley HS, he registered fifteen triple-doubles and averaged nearly fourteen rebounds, fourteen points, and just over nine blocks per game en route to being named co-MVP of the Bay Valley Athletic League. The Northern California big man helped the Deer Valley Wolverines win their first league title and make their first NCS title game. He ended the season on a tear registering a triple-double of twenty-one points, twelve rebounds, and eleven blocks in the NCS semi-finals and scoring twenty-two points in the title game before fouling out with with 3:54 in regulation. Offensively, he demonstrates good court vision for a big man, a trait which may be attributable to spending a little time playing some point guard for his high school team.
This past weekend, he helped the California Supreme and head coach Miles Simon, the former Arizona player and coach, go undefeated at the Minnesota leg of Nike's EYBL. Duke coaches Krzyzewski, Capel, and Wojciechowski all watched Lee, a B+ student, score twelve points, block four shots, and grab five rebounds in a win against the Louisiana Select in twenty-six minutes.
Marcus' older brother and mentor, Bryan Lee, was an all-Pacific West player at Grand Canyon University, a Division II program in Phoenix, and currently works as a technical recruiter for Google. Lee, who played last year for the Bay Area Hoosiers on the AAU circuit, credits his older brother for his development. When thinking about colleges, he's looking for a warm climate and a coach that makes him feel comfortable, in a similar manner to his AAU coach, Miles Simon.
After the last game was over, Marcus, spoke with Blue Devil Nation about a variety of issues, including Duke's interest and Miles Simon.
Let's just start with a basic one. How do you feel that you and the team played this weekend?
Oh, I feel that I played great. I love playing in the national events and the team really played well together,  which helped us get wins and was probably unlike any other team here. We played really as a unit. It was just great.
Shot-blocking is obviously something that you're known for. Talk about that skill and your background in volleyball.
Oh, yeah, sure, volleyball is just a different type of jumping. It helps and I wish could explain it, but it just does.
Well, one guard that I know said that the plyometrics training in volleyball helped with his explosion for basketball.
Yeah, I think that's it.
How much of shot-blocking for you has been about improving your timing?
Yeah, well, that's been the key and volleyball has been great about that because it's all about timing. Now, that I think about volleyball also helps you to calm down and just concentrate on timing. It's very calming and you just block out other things.
So, you find it almost peaceful.
Oh, yeah, definitely.
I know that you've grown a little bit. What's your reach right now, if you happen to know?
Oh, yeah, it's 7'2."
I heard that you were trying to carve a niche as a shotblocker and rebounding specialist. Playing to your strengths to set yourself apart from some other guys.
Oh, yeah, well, I mean I started to think about blocking shots first and about how that was something that I was really good at and I'm 6'9"…So, I thought that I should first just concentrate on making myself the best at that and then the rest of my game would improve as well. It was just something that I thought I was good at and, you know, I thought why not concentrate on trying to make myself really good at that.
What position are most schools recruiting you as, a four or a five?
Dude, I just don't know.
Well, what position do prefer to play?
I just want to play. So, wherever they tell me to play, I'll go do it, man. I'm just happy to be out there.
How do you feel that your offense is coming along?
Oh, it's been great. I'm having fun. When you're having fun, you can't lose.
Let's move onto recruiting. What programs are recruiting you right now?
Everybody really. A lot of schools
What about a timeline? Do you have a time when you'd like to decide by or cut down on your list?
No, I'm in no real rush with that. I don't have any plans or anything like that.
Who will be some people that you will turn to for guidance, whenever you do decide?
Oh, yeah, my brother, Bryan, and my coach, I mean, my Uncle Mark.
I was reading that a school with warm weather is something that you were serious about. Is that accurate and will distance be a factor as well?
Oh, yeah, I've got to be in warm weather, but distance really doesn't matter or bother me.
Is there a player that you've tried to model your game after?
Actually, my brother. I've tried to model his game.
That's unique. Usually, guys will say a pro or hot college player. Were you a fan of any team growing up?
I've always been a North Carolina fan.
North Carolina?
Yeah.
Well, that may make the next question a bit rough.
(laughs) Oh, really.
What about Duke's interest in you? They watched you play a few times this weekend. How do you feel about their interest in you and would you be open to them, given your prior answer?
Oh, yeah, man, it was funny because we actually were talking them watching us for, like, the whole time while we were on the bench. It was amazing. We loved it.
Alright, well, then let me just ask if you personally would be open to them?
Oh, yeah, man, totally. I'd be way open to them. Way open!
Have you taken any visits recently and do you have any planned?
No, I haven't taken any visits recently and I actually don't have any really planned either.
Let's talk about Miles Simon and his coaching.
Oh, he's been amazing. He's very encouraging and he's a high energy guy. He's very supportive and encouraging to everybody on the team. He's always ready and prepared. He's an excellent motivator. Even when we're a bit sluggish or not ready, he'll be like, "Yeah, let's go! Let's go!" (laughs) He gets the guys energized and motivated. It's been fun to play for him.
What are you hoping to show coaches this AAU season?
I really don't know. I'm not sure.
What would you like the audience to know about you away from the court?
That I'm just a really good, chill guy.
What's your current height?
Oh, 6'9"
How does AAU compare to the high school ball for you?
Oh, everybody's much bigger and the teams are just stacked at this level. Almost every player here will be college ball at some level. Everybody's huge too.
What are your goals, short and long-term?
Just to never really get big-headed. I don't want to become someone else or ever think that I'm too good for people. To always be approachable and grounded..
What style of play do you prefer to play?
A good, chill running gazelle type of play. (laughs) Just let's run. That's what I like. 
Do you actually watch a lot of basketball?
Actually, between school and basketball, I really have a hard time watching basketball. There's just not enough time.
Lastly, what will you be looking for in a college program, other than the weather?
I'll be looking for a coaching staff that's encouraging and supportive.
Like you were saying about Miles Simon?
Yeah, someone like him and a place that I can feel comfortable in and a fun place to play basketball and go to school.
By the way, where did your play basketball?
Oh, Grand Canyon University.
Thank you very much, Marcus. I know you guys are trying to catch a plane.
Oh, sure, no problem.[/private]