Our lastest Premium Update is up, formerly known as our General Update.  There are a few rumors floating about of late and while this site gets tired of setting them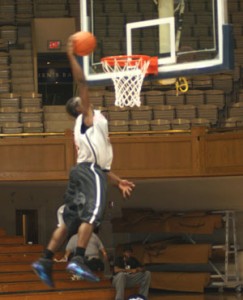 straight, we will attempt to clear the air on Ryan Kelly, Kenny Boynton, Jamil Wilson and Harrison Barnes.  Let's start with Kenny Boynton. [private] No decision has been made and he is expected to take all of his official visits.  While I'm sure Kenny enjoyed his visit to USC, the fact remains that Duke and Florida are running neck and neck down the stretch with teams like the aforementioned Trojans trying to sway his thinking.  Duke has put a lot of effort into Boynton and this will continue until he commits.  In fact, Duke will visit Kenny once a week until that decision which is the max allowed by NCAA rules.  Yes, this includes open gyms where the main players will all be in the stands.  Team Boynton has pretty much shut down any media contact of late, but that could change any day now.  He is still scheduled to visit Duke in his last visit.
While Ryan Kelly did visit Duke yesterday, he is not a solid Devil lean at this time.  In fact, Notre Dame is probably the slight leader.  Duke is in it and is one of two or three teams which are clearly at the top.  The Kelly family is said to be looking to go through the entire process, meaning they will think the decision through carefully.  Kelly took in some of the current Blue Devil players going through their workouts on Tuesday.
As I said earlier, Harrison Barnes has taken to Duke and wants to make an unofficial visit (tentative Va. Union game) if it is economically feasible for his family.  If he does come to Durham, he will have been to just two schools on unofficials, the other being Kansas during midnight madness.  Barnes has everybody in the country drooling and for good reason.  He is one heck of a player.  I will be adding the archives soon and suggest going back and read the earlier reports on him.  Our most recent interview is the most in depth you'll find anywhere on the web.
Finally, Jamil Wilson has not set up an official visit to Duke as has been reported by Scout, nor has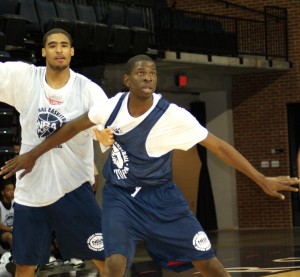 Duke pushed for one of late.  Duke will follow through with their plans which include Kelly and Boynton and if they miss, they'll revisit some other options which could then include Wilson.
While no firm dates are set at this time, the Duke staff will be visiting a lot of open practices in the coming days.
A reminder, the early basketball signing date is this November 12th through the 19th.  The final date is April 15th through May 20th in 2009. [/private]