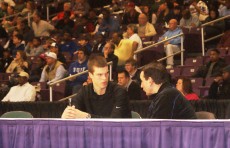 GREENSBORO - One thing you can depend on in January is the annual Martin Luther King Classic in Greensboro, North Carolina where high school hoopsters play a day of basketball. 
Christ School came out on fire against Greensboro Day grabbing a 20-6 first quarter lead and they never looked back.  When the dust cleared, Christ School took home an 83-47 win over their in state rival.
The Greenies had a balanced attack led by future Blue Devil Marshall Plumlee, a member of the 2011 recruiting class where he joins Austin Rivers, Michael Gbinije and Quinn Cook.  
Plumlee scored 12 points and he got to the free throw stripe often.  He equaled his point total with 12 rebounds giving him another double-double and dished out 4 assists to go with his 3 steals. 
The man known as Coach K, Mike Krzyzewski, took in the game with assistant coach Nate James and they stayed for the Oak Hill game which featured Plumlees soon to be teammate Quinn Cook.
"Its always an honor when they take the time to come and see me because I know they are busy with their schedule.  I just hope I was able to show him I'm working hard and trying to improve and I'm looking forward to be a part of the Duke program, " said Plumlee after his teams win.
When asked what his goals were for the remainer of the season, Plumlee told BDN, "Not to lose a game.  We want to keep it going and work hard on and off the court."
Christ School and Marshall Plumlee will play Oak Hill and Quinn Cook in Cameron Indoor Stadium this February in a game where the details have yet to be released.
For more on Plumlee and Duke Basketball recruiting, join Blue Devil Nation Premium.