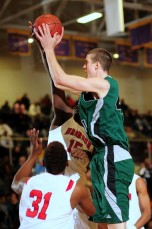 The Duke Blue Devils have put together one of the nations top recruiting classes in 2011 and Marshall Plumlee is a part of it.  The youngest Plumlee opened up to BDN furing a recent interview sharing his thoughts on a variety of subjects, some of which you've likely hear about for the first time.  So check out the latest offering from BDN Premium for yourself.
BDN - You just had a 20 point 11 rebound game where your team bounced back from a loss to finish off Glaxo strong.  You were really aggressive in the game and caused some problems on defense with your length, especially against their guards where you forced a couple of turnovers.  Can you talk a bit about that?
Marshall Plumlee - A lot of times you've got to work hard to get to that next level as a defender and I know there are things I need to work on.  I've got to have quicker feet and be capable of defending a player on the perimeter.  I have to take some chances in the game and eventually I will hopefully just pick it all up automatically.
Your Dad told me to say hello in that he hardly ever sees you while school is in session
(Laughs)  Well, it was great to see him in the stands and I'm looking forward to talking to im when we get out of here [Glaxo].  He watched the team play UNC-G the other night and I was very excited for them, both team and family.   This Duke team is a great group of guys.
Miles had a [private] nice game against UNC-G.  Did you see those dunks?
You know, I only heard about it, so I'm looking forward to seeing the game.  I get real excited when my brothers do well and I can't wait to be a part of it all.
As media our seats shift around a bit, but during the UNC-G game I was sitting directly behind the bench and Krzyzewski which was cool.  As you know they don't like people looking in on huddles so, I had to look the other way during timeouts.  But I noticed that Mason jumped up in great joy as Miles threw down a thunder dunk.  Is that the way it is with concerns to support in your family?
All the time.  Yes sir, we completely support one another and as a family we know what each other is capable of.  We really push and bring out the best in one another and that makes for a great family.
People often talk of Marshall Plumlee and the word development comes up a lot.  Although you are always developing.  One thing a lot of people may not realize is that you are the only Plumlee that wasn't held back a year.  In context, that means your brothers had an extra year for development.  Can you speak to that?
You know, I never gave it much thought.  For me I just know that my body continues to develop and as I get stronger it'll be different than the way Miles got stronger or Mason.  In the meantime, all I can do is keep working and focus on the things I know are best for me and my body would catch up in time.
How would you describe your game in your own words?
My own words?  I want to do whatever it takes to win.  I want to block shots, rebound and do whatever it takes whether it is scoring 20 point a game or setting a pick.  I just want to win.  It's all about winning to me and that's what I want to do.  That's why I chose to play for Duke as well, because I wanted to be a part of a winning program.  I really wish I were there right now, but I appreciate another year with my current teammates at Christ School.  I know I'm not ready right now but I've got another year to get better.  It's exciting to be around the team because they are such great guys and they'll be friends forever.  I'm looking forward to see what we can accomplishment together.
Is there anyone on the current team you've hit is off with? 
Oh man, I hate to give a shout out and leave somebody out but I'd have to say that Nolan.
Rollin' Nolan.  He's something isn't he?
Oh, he's awesome, he's great, they all are.
Not a lot of people know how stringent Christ School can be.  You have designated times to study and those there take academics seriously.  Can you talk of what a normal week is like there?
Yes sir.  What a lot of people don't realize is that we have a ton of acreage for a school and there are no custodians.  So, we wake up early in the morning and we all have a job.  One person may scrub toilets, another sweeps the hallways and it really brings us together.  You are expected to make good grades and I pride myself in keeping a 4.0 GPA.  Basketball is great and it's my passion but there are some many other things out there in life and why not be at all of it.
There have been a few times when I tried to get in touch with you but curfews were in place.  You guys have to be in bed by a certain time and study, right?
Yes, study halls are enforced and curfews are in place, but with this being my senior year, I have the honor of being chosen as a Christ School prefect or leadership position.  So my purpose job is enforcing those rules on the younger guys.  So, there is a little bit more time this year where I can study.
Why is leadership important?
It helps me in so many ways.  Leadership is something ...  when it's there and obvious when it's not.  It's important in the locker room and with your teammates.  And when I get to Duke, I'll do what ever Coach K tells me to do.
I know that Chris Collins came to see you the other  evening and Wojo [Steve Wojciechowski] tonight.  Do the coaches converse with you afterwards?
Yeah, for the most part we keep in good touch.  I personally like conversions with them because I can pick their brain and they tell me things I could do better and things I did well and their wealth of knowledge  I pick up on a lot of things.
Do you ever get razzed now that you have elected to play for Duke?
Oh yeah, yeah, yeah.  There are always Carolina fans out there.
Quite a few in the western part of the state, huh?
Yeah, yeah, but I'm 110% Duke.  It's fun to be a part of it all.
And what does the future hold for Marshall Plumlee?
The future for me will be a steady process of a lot of work.  Some of the best advice I've got from the Duke coaches is that it's a marathon and not a sprint and I can never forget that and you mentioned earlier how players develop and my biggest fear is n for  tme to peak for there should always be room for improvement.
Duke fans will soon get some good news that you guys will actually play in Cameron in February against Oak Hill Academy and Quin Cook.
I'm really looking forward to it.  Oak Hill is a great basketball school and we've had some opportunities in the past and I'm looking forward to another shot against them.  I'm looking forward to seeing Quinn Cook again, he's a great team and he'll be a good teammate.
Have you guys been able to get together or stay in touch?
Yeah.  We keep in touch and I have seen him on visits at Duke and gotten to know him and the little time I've spent with him let's me know he's a great kid and I'm real excited to play with him.
Thanks for your time, Marshall!
Yes sir.  Thank you. [/private]
Coming next - Breaking down the improvements in Marshall Plumlee's game.