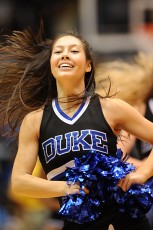 Welcome to another edition of BDN's Monday Musings where we roll thoughts out on whatever comes to mind with concerns to Duke Athletics.  To start things off let me wish all of you a happy Martin Luther King Day.  C.B. Caliborne was the first African American athlete to play for the Duke Basketball team and I grew up in those days and can tell you that King ushered in a long overdue era of equality.  I can actually remember a "Blacks Only," restroom in the Durham downtown Belk's and Woolworth's in the sixties.  Being an innocent child in those days, I never understood some of what I saw and had plenty of questions for my parents. 
 I can later remember being on vacation with them in Myrtle Beach, South Carolina where I was running about the infamous Ocean Drive arcade when the news came out that King had been shot.  There was no cable or satellite networks in that time, just televisions with rabbit ears or room top antennas.  In short, it certainly wasn't the techno era but everywhere you went a radio was on and televisions showing that motel room balcony.  Even after the tragic death I overheard some good old boys saying  "He got what he deserved," or "He was a trouble maker," when walking around the boardwalk that same evening and it was then I realized I was a part of a change in thinking in America. 
 "It's a great day in America," said one man, glowing in approval and I was appalled at his mean spirited gloating narrowness despite my innocence.  Heck, even a child realizes right from wrong and all I knew is that King was a preacher and a so called activist even though I couldn't have told you what the definition of that word was.  Later that evening,  "I have a dream," rang out from most televisions and radios and I heard nothing but good in the words as I beamed into his infamous speech for the first time. 
Towards the end of that vacation, I had a defined view of what good and bad really was.  And a lot of supposedly good people had some bad views which was clear now that my eyes were opened.  In hindsight, I am glad my eyes were closed to many of the injustices of that time for it would not have made for as good of childhood memories.  But my eyes were truly opened on that tragic day and as they say, you never forget where you were during historical moments.  Here is to equality folks and me learning in my innocence that a man is a man and that we are all in this together.
These Blue Devils are learning
Last seasons national championship team had three seniors in Jon Scheyer,  Lance Thomas and Brian Zoubek.  And they had two juniors namend Kyle Singlerand Nolan Smithbacking them up which is in a word experienced.  This season both Singler and Smith returned to lead as seniors,  but they have no experienced juniors behind them.  The bottom line is once you get past Kyle and Nolan, Duke is very, very young.  That means this team is indeed a work in progress with a lot of growing to do before they can make a deep run in March. 
We have remained positive that Kyrie Irving would return this season, but the bottom line is that Duke fans need to focus in on what is on the court at the moment for these are the guys we'll be playing with in the foreseeable future.  Development must take place for Duke to get better and so far, the Blue Devils are still looking for players to step up in a more consistent manner. 
Team chemistry is oh-so vital down the stretch and in the coming days we'll see if some of the players can buck up and produce.  Irving's absence has effected getting the ball into the bigs, so there numbers are down save rebounding, but there are some other players who have yet to step up despite getting major minutes.  It's really quite simple, Duke needs another consistent scorer to step up during conference play.
Hoop's Recruiting
Duke never stops recruiting and this past weekend they had visits from Austin Rivers and Shabazz Muhammad.  BDN's Terry Rains stayed in Florida for Rivers back to back games and we hope you go back and look at the video interviews on site.  We currently have Andre Slater at the Hoop Hall where he is covering the hottest names including a couple of possible new kids on the radar. His reporting continues for premium members on our message board and we will have plenty of interviews coming members way.  It is a great time to join BDN Premium for full site access for the upcoming changes and coverage will set us apart.  Join now and read about Alex Murphy's reaction to his Duke visit in one of our latest offerings.
Football recruiting too ...
BDN supports Duke Football and we cover them with the best, be it game day, weekly press conferences or recruiting.  Duke had a big football recruiting weekend and our Patrick Cacchio will be bringing you all the news on the latest happenings.  Our premium football message board is growing and it allows you to stay in the know as moves happen.  We will continue to offer out football recruiitng articles free to the public through January, so come back and check out what our commitments and prospects have to say.
Props to Sen Renfree
Sean Renfree was named the teams MVP for this past season, thus a shout out for the promising quarterback.  Renfree will be one of the most experienced signal callers in the ACC next season and we'll talk with the rising junior in short time to update you on his off season status.
Support Women's Hoops
The Blue Devils Women remain undefeated against the nations toughest schedule and they return home to play Georgia Tech this Friday.  The Devils are coming off two road wins over Florida State and Virginia Tech.  Duke has but six home games left on their schedule including the season finale against North Carolina on Sunday  February 27th.   Call GoDuke and get your tickets now.