Browse:
Home
/
Matt Daniels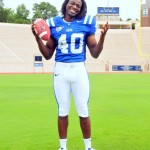 By Patrick Cacchio on August 5, 2011
This is it, baby. The last Football Friday before training camp opens. Get excited, Blue Devil Nation! Football season is here. This week, BDN's Bob Green looks at the 2011 Blue Devils' bowl hopes, and we also previewed the October matchup with ACC favorite Florida State. As promised, we've got an in-depth look at the […]
Posted in Duke Football | Tagged BDN Football Friday, Charlie Hatcher, Duke 4-2-5 defense, Duke Blue Devils, Duke Defense, Duke Football, Duke Football 2011 Preview, Duke football defense preview, Football Friday, Jim Knowles, Kelby Brown, Kyler Brown, Matt Daniels, Rick Petri, Ross Cockrell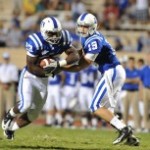 By Bob Green on August 5, 2011
The fourth season with David Cutcliffe at the helm of Duke Football is just around the corner and optimism prevails. Is this the year Duke will win the six games necessary to qualify for a bowl game? The Blue Devils have posted 16 consecutive losing seasons since going 8-5 in 1994. In order to stop […]
Posted in Duke Football | Tagged Coach Cutcliffe, Conner Vernon, Donovan Varner, Duke Football, Matt Daniels, Sean Renfree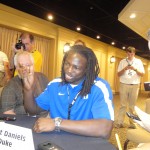 By Mark Watson on July 24, 2011
PINEHURST – BDN is on the scene at the annual ACC Kickoff Media event in scenic Pinehurst  this weekend and we'll be providing you with coverage of both Duke and other ACC teams.  We start off our coverage with a one on one interview with the always entertaining Matt Daniels.
Posted in Duke Football | Tagged BDN Video, Matt Daniels, Pinehurst, watzone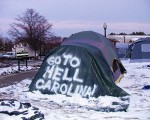 By Patrick Cacchio on July 15, 2011
Football Friday comes to you fashionably late this week, and in abbreviated form so that you can get in line for Harry Potter early. Has anyone camped out for three months for seats to Harry Potter? I didn't think so. That takes real dedication. Here's to you, Cameron Crazies – and here's hoping to see […]
Posted in Duke Football | Tagged Anthony Nash, BDN Football, Blue Devil Nation, Brian Moore, Clarkston Hines, Coach Cutcliffe, Conner Vernon, Cooper Helfet, Courtnye Wynn, D.J. Reader, David Cutcliffe, David Reader, Donovan Varner, Drae Bowles, Duke, Duke Football, Duke Football 2011, Duke Football News, Duke Football Preview, Duke HOF, Duke vs Richmond, Duke vs Stanford, Football Friday, Football Recruiting News, Georgia Tech, Jela Duncan, Keilin Rayner, Korren Kirven, Kyle Hill, Marcus Allen, Matt Daniels, Nigel Williams, North Carolina, Sean Renfree, Todd Gurley, Torey Agee, Twitter, UNC, Virginia, Virginia Tech, Will Snyderwine, Woody Baron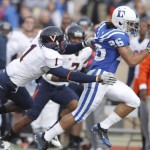 By Patrick Cacchio on July 8, 2011
Happy Friday, Blue Devil Nation! A nice, shortened week should make you feel good but if not, Football Friday is here to satisfy your weekly football craving. As you know, there's never an offseason here at BDN, and Mark Watson and Andrew Slater have been burning the midnight oil all week with great basketball coverage. […]
Posted in BDN Premium Articles, Duke Football | Tagged BDN Football, BDN Football Friday, BDN Premium, Biletnikoff Award, Blue Devil Nation, Blue Devils Football, Conner Vernon, Cooper Helfet, David Cutcliffe, Donovan Varner, Duke Blue Devils, Duke Football, Duke Football 2011, Duke Football News, Duke vs Richmond, Duke vs Stanford, Football Friday, Football Recruiting News, Johnny Williams, Lou Groza Award, Mackey Award, Matt Daniels, Middle Child, Nolan Smith, The Dondo Files, Will Snyderwine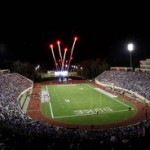 By Patrick Cacchio on July 1, 2011
Even on a holiday weekend, it's still time for BDN's Football Friday, a weekly look inside the world of Duke Football. If you enjoy this weekly column, please consider becoming a BDN Premium Member and joining our growing community of Duke Football fans. As we say goodbye to the month of June, it's time to […]
Posted in Duke Football | Tagged Allen Jackson, BDN Football, BDN Football Friday, Blue Devil Nation, Coach Cutcliffe, Conner Vernon, Cooper Helfet, Dan Beilinson, David Cutcliffe, Deion Williams, Donovan Varner, Duke 2011 Football, Duke Football, Duke Football 2011, Duke Football News, Duke Football Preview, Dwayne Norman, Erich Schneider, Football Recruiting News, Jela Duncan, Jim Collins, Matt Daniels, Rick Petri, Sean Renfree, Thad Lewis, Thomas Sirk, Todd Gurley, Will Snyderwine