Browse:
Home
/
Matt Daniels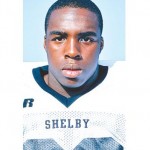 By Patrick Cacchio on June 10, 2011
Is it Friday already? Time flies when you're knee deep in recruiting season. As we did last week, we'll share Football Friday with everyone this week. If you like reading what we have to say, please consider joining BDN Premium. We've quickly become the best resource for all things Duke athletics around, and we'd love […]
Posted in Duke Football | Tagged Allen Jackson, BDN Football, Brandon Connette, Bryce Kennedy, Carlos Wray, Casey Blaser, Chris Tavarez, Coach Cutcliffe, Coach Petri, Cody RObinson, Conner Vernon, Cooper Helfet, David Helton, Desmond Scott, Donovan Varner, Duke, Duke Football, Football Friday, Football Recruiting News, Jamison Crowder, Jared Boyd, Jeremiah Allison, Josh Snead, Juwan Thompson, Keilin Rayner, Kelby Brown, Korren Kirven, Kyle Hill, Kyler Brown, MArcus Aprahamian, Matt Daniels, Sean Renfree, Steven Foster, Tim Burton, Will Snyderwine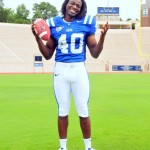 By Patrick Cacchio on April 15, 2011
It's Friday afternoon, which can only mean one thing – Football Friday! This week, we take a look at Duke's 2011 ACC opponents spring practices along with some recruiting updates.
Posted in BDN Premium Articles, Duke Football | Tagged Albert Reid, Allen Jackson, Andrew Jelks, Bart Houston, BDN Football Friday, Bilal Marshall, Blue Devil Nation Premium, Boston College, Carlos Wray, Casey Cochran, D.J. Humphries, D.J. Reader, Dami Ayoola, Dan Beilinson, Darius Powe, Deion Williams, Desmond Frye, Dondre Brown, Dontonio Jordan, Duke Football, Duke Football 2012 Recruiting, Dwayne Norman, Eric Olson, Erich Schneider, Evan Baylis, Florida State, Football Friday, Football Recruiting News, Georgia Tech, Jared Crump, Jay Jay McCullough, Jordan Watkins, Justin Johnson, Keilin Rayner, Keith Marshall, Kent Taylor, Korren Kirven, Lott IMPACT, Mark Harrell, Matt Daniels, Matt Johnson, Max McCaffrey, Max Tuerk, Miami, Michael Summers, Nelson Agholor, Nick Tompkins, North Carolina, P.J. Harris, Patrick Cacchio, Patrick DeStefano, Ron Geohaghan, Todd Gurley, Virginia, Virginia Tech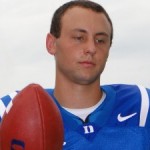 By Duke Sports Information on March 26, 2011
DURHAM, N.C. - Anthony Boone's 32-yard touchdown pass to Tyree Watkins with 11:15 remaining in the fourth period lifted the White squad to a come-from-behind victory over the Blue unit in Duke's annual Spring Game on Saturday afternoon at Wallace Wade Stadium. Saturday's event brought spring practice to a close for the Blue Devils. The Blue team […]
Posted in Duke Football | Tagged Anthony Boone, Austin Gamble, Brandon Connette, C.J. France, Charlie Hatcher, Coach Cutcliffe, Desmond Scott, Duke Football Spring Game, Issac Blakeney, Jamal Wallace, Jon Woodruff, Josh Snead, Matt Daniels, Patrick Kurunuwe, Sean Renfree, Tyree Glover, Tyree Watkins, Walt Canty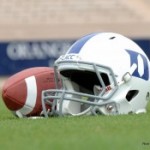 By Patrick Cacchio on March 25, 2011
Duke Football will hold its annual spring game this Saturday at 3 PM in Wallace Wade Stadium. The event is free to the public and offers fans a chance to get a first look at the 2011 Blue Devils. Duke men's lacrosse will host Georgetown at 1 PM in Koskinen stadium, so be sure to […]
Posted in Duke Football | Tagged BDN Football, Blue Devil Nation, Charlie Hatcher, Conner Vernon, Desmond Scott, Donovan Varner, Duke Defensive Line, Duke Football Spring Game, Football Friday, Jay Hollingsworth, Jordon Byas, Kelby Brown, Lee Butler, Matt Daniels, Rick Petri, Sean Renfree
By Bob Green on November 10, 2010
I remain convinced a team must successfully run the ball to consistently compete to win. After rushing 45 times for 142 yards in the win at Navy, Duke followed up by rushing for 230 yards on 45 attempts with six rushing touchdowns in Saturday's 55-48 victory over the Virginia Cavaliers. So far in 2010, through […]
Posted in Duke Football | Tagged Abraham Kromah, Brandon Connette, Coach Cutcliffe, Cooper Helfet, Desmond Scott, Donovan Varner, Duke Football, Kelby Brown, Lee Butler, Matt Daniels, Ross Cockrell, Will Snyderwine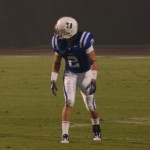 By Bob Green on September 29, 2010
Sometimes statistics can be misleading while other times they concisely tell the tale. In Saturday's 35-21 loss to the Army Black Knights one needs to look no further than the five Blue Devil turnovers to understand the outcome. Sean Renfree threw interceptions on two of Duke's first three possessions, which resulted in the Cadets jumping […]
Posted in Duke Football | Tagged Abraham Kromah, Austin Kelly, Brandon Connette, Coach Cutcliffe, Conner Vernon, Desmond Scott, Donovan Varner, Duke Football, Kelby Brown, Matt Daniels, Sean Renfree