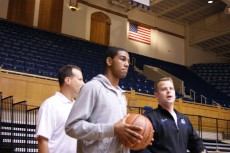 One of the two players who signed with Duke for next season is a shooting guard out of Texas by the name of Matt Jones. Jones is a solid player getting better as he works on his game per his future teams orders. Jones said he was just trying to be a normal kid on and off the court and play with more confidence this season during our chat and that he was looking forward to putting on a Duke uniform and that he wanted to each time he watched the Blue Devils. Check out what he had to say for yourself as a BDN Premium member -
On his season to date ...
My season has been going pretty good so far as a team and individually. We're eight games into our season and I am trying to lead my team, we're pretty young this season but we are ranked like #20 in the nation, so we're pretty good.
On playing a different role with his high school team this season ... [private]
Yeah actually I am. I'm playing more point guard this season. I have been working on my handle and being more vocal on the court this year, so my role has changed. I talked to Coach K yesterday and text the assistants when I can.
On what Coach Krzyzewski has asked him to work on in conversations ...
He told me about the guys on the team and winning the tournament. He wants me to be more vocal and be more aggressive on the court this season and work on my handle and overall floor game and things like that. The goal is to become a more confident and versatile player before entering Duke.
On whether he'd like to already be at Duke when he watched them play this season ...
Oh yeah. Every time I watch Rasheed (Sulaimon) and them play I wish I was there already and makes me anxious.
On signing day festivities at his DeSoto High School in Texas and getting his LOI to Duke ...
It was cool, it was good. I had my family there and a couple of good friends from my school and some girls from the basketball team. It was pretty fun. It's just an honor to know I will be playing for Coach K at Duke and I was excited to make it official.
On playing in the Triangle later in December ...
Yes sir. I will be coming to Raleigh, North Carolina in December and I am looking forward to getting back to the area.
On the possibility of playing with Jabari Parker if he chooses Duke ...
Jabari is a great player and one we need, it would be great to play with him. [/private]