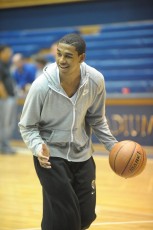 One of the top shooters in the class of 2013, Matt Jones, will play his college basketball career at Duke University.  Jones is a 6-5 shooting guard out of the state of Texas where he plays for DeSota High School.  Jones soared up the rankings while playing with his AAU team, the Texas Titans over the summer.  Jones is a flat-out dangerous outside shooter who nails the three ball on a regular basis.  The Blue Devils offered Jones after Coach K and his staff took a look at him during the Peach Jam this past summer.
"Duke is great, a great school. Coach K is just a really great person on and off the court, a great mentor and he's really cool," Jones told Blue Devil Nation.  Jones picked Duke over Arizona, Baylor, Florida, Kansas and North Carolina and others.
When asked why he chose Duke, Jones stated, "I mean, I just felt confident in the coaches to take me to the next level both on and off the court."
His parents and AAU and high school coaches also helped him to make his decision to head to Durham after his high school career. Jones is also the teammate of another key Duke prospect, Julius Randle who plays on his Texas Titans AAU team.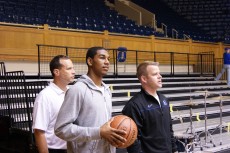 I followed Jones on the AAU circuit and he is a complete player on the court who can penetrate and pass the ball well.  He is also a solid defender and of course a superb shooter. "Duke has always had great guards and shooters. Obviously, Coach K is a legend. Just a great coach. It's a great school with a winning tradition and history. Great players and everything," said an elated Jones.
He continued by saying, "My family were as excited about this as I was, so that definitely made me feel more confident about the decision to go ahead and pick Duke."Jones also points to his faith as playing a big role in his life, stating,  "In life it helps me to make the right decision and gives me more confidence in that I am doing what God wants me to do.  It gives me more things to play for and I want to give God all my glory.  It just makes me work harder and gets me through things people don't want to do."
Jones is in the midst of his high school basketball season and he is still working on areas of his game.  "I'm trying to get a little stronger, but mostly I want to work on my flexibility. I think I need to keep improving that area. I need to get more flexible."
Many thought the Texas shooting guard would choose Duke after his visit to Countdown to Craziness but Jones wanted time to make sure his decision was right for him; as time passed, Duke remained at the forefront and he felt it the was the right time to commit.  Jones is the first prospect in the class of 2013 to cast his lot with the Blue Devils and Duke continues to recruit other great players in the class, including Jabari Parker - the consensus top-rated player. With Jones, Duke continues to have good shooters on their roster and he will certainly feel the role as a specialist in that area.