Browse:
Home
/
Max McCaffrey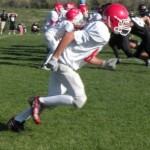 By Patrick Cacchio on June 1, 2011
Head Coach David Cutcliffe and the Blue Devils have added their 5th verbal commitment to the class of 2012 today from the state of Colorado. Max McCaffrey informed the Duke coaching staff of his decision on Wednesday afternoon. McCaffrey is a 6'3" 190 pound wide receiver prospect from Highlands Ranch, Colorado. As a receiver and […]
Posted in Duke Football | Tagged Billy McCaffrey, Connecticut, David Cutcliffe, Duke 2012 Football Commits, Ed McCaffrey, Football Recruiting News, Max McCaffrey, Valor Christian Football, Wake Forest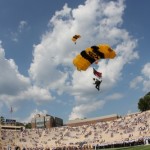 By Patrick Cacchio on May 27, 2011
In case you haven't noticed, things tend to come in waves here at BDN Premium. With AAU coverage in full swing, we're also entering the heat of the college football recruiting season. The Blue Devils have added another verbal commitment this week, and they're just getting started.
Posted in BDN Premium Articles, Duke Football | Tagged Albert Reid, Allen Jackson, BDN Football, BDN Football Friday, BDN Premium, BDN Premium Football, Bilal Marshall, Blue Devil Nation, Brent Wilkerson, C.J. Prosise, Carlos Wray, Chris Moody, Coach Cutcliffe, Coach Luke, Colin Thompson, Conner Vernon, Cooper Helfet, Dan Beilinson, Danny Parker, David Reader, Deion Williams, Donovan Varner, Dontonio Jordan, Duke Football, Duke Football Class of 2012, Duke Football commitments, Dwayne Norman, Erich Schneider, Evan Baylis, Football Recruiting News, J.C. Coleman, Jared Crump, Jeremiah Allison, Jonavaughn Williams, Jordan Watkins, Justin Johnson, Justin Meredith, Keilin Rayner, Keith Marshall, Kent Taylor, Korren Kirven, l'Tavius Mathers, Larry Hope, Matt Godin, Max McCaffrey, Max Tuerk, Micheal Summers, Nick Tompkins, Patrick DeStefano, Ron Geohaghan, Todd Gurley, Torey Agee
By Patrick Cacchio on April 29, 2011
You still haven't joined BDN Premium? Man, you're missing out! …collapsing the distinction between the exasperatingly silly and the charmingly naughty… …delivers plenty of wit, verve and surreal mayhem to entice… A piece of fluff as artificially sweetened as a fuchsia Peep… Thanks to its fondness for smushing together seemingly incongruous elements…is just demented enough […]
Posted in Duke Football | Tagged Anita Caldwell, Aramide Olaniyan, BDN Football, BDN Football Friday, BDN Premium, Billy McCaffrey, Cam Clear, Dan Beilinson, David Cutcliffe, Donovan Varner, Duke, Duke Football Myths, Duke Indoor Practice Facility, Ed McCaffrey, Eric Olson, Football Friday, Hop Movie, Matt Luke, Max McCaffrey, Northwestern, Patrick Cacchio, Sean Renfree, Southern Storm Relief Efforts, Stanford, Vanderbilt, Wake Forest, Wallace Wade, Wallace Wade Stadium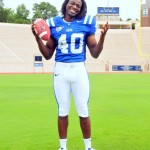 By Patrick Cacchio on April 15, 2011
It's Friday afternoon, which can only mean one thing – Football Friday! This week, we take a look at Duke's 2011 ACC opponents spring practices along with some recruiting updates.
Posted in BDN Premium Articles, Duke Football | Tagged Albert Reid, Allen Jackson, Andrew Jelks, Bart Houston, BDN Football Friday, Bilal Marshall, Blue Devil Nation Premium, Boston College, Carlos Wray, Casey Cochran, D.J. Humphries, D.J. Reader, Dami Ayoola, Dan Beilinson, Darius Powe, Deion Williams, Desmond Frye, Dondre Brown, Dontonio Jordan, Duke Football, Duke Football 2012 Recruiting, Dwayne Norman, Eric Olson, Erich Schneider, Evan Baylis, Florida State, Football Friday, Football Recruiting News, Georgia Tech, Jared Crump, Jay Jay McCullough, Jordan Watkins, Justin Johnson, Keilin Rayner, Keith Marshall, Kent Taylor, Korren Kirven, Lott IMPACT, Mark Harrell, Matt Daniels, Matt Johnson, Max McCaffrey, Max Tuerk, Miami, Michael Summers, Nelson Agholor, Nick Tompkins, North Carolina, P.J. Harris, Patrick Cacchio, Patrick DeStefano, Ron Geohaghan, Todd Gurley, Virginia, Virginia Tech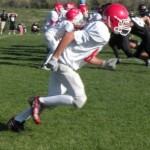 By Patrick Cacchio on March 29, 2011
With Duke's prolific passing offense, it's no surprise that the Blue Devils have had success recruiting and developing talented wide receivers in Durham, most notably All-ACC performers Eron Riley, Donovan Varner, and Conner Vernon. The Blue Devils hope to continue that trend in the class of 2012, and have been scouting throughout the country in […]
Posted in Duke Football | Tagged BDN Football, Blue Devil Nation, Duke Football, Duke Wide Receivers, Football Recruiting News, Matt Lubick, Max McCaffrey, Patrick Cacchio, Wake Forest