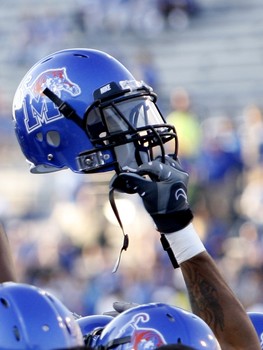 It's Homecoming Weekend in Durham, and the Blue Devils play host to the Memphis Tigers on Saturday at 6PM in Wallace Wade Stadium. Duke will use the weekend to commemorate its 100th year of football and hope to cap off the celebration with a victory.
To give us a scouting report on the Tigers, BDN welcomes in Phil Stukenborg, Memphis football reporter for The Commercial Appeal, where he has worked since 1983. He has written about high school, college and professional sports in the Mid-South, spending time as the beat writer for Ole Miss, Arkansas and the University of Memphis athletics. He was honored by the Memphis Chapter of the National Football Foundation and College Hall of Fame in 2004 with its Contribution to Amateur Football Award and by the All-American Football Foundation in 2001 with the Jim Murray Outstanding Sportswriter Award. Thanks for joining us, Phil!
Memphis is off to a disappointing 0-3 start under first year Head Coach Justin Fuente. What are the expectations for the Tigers this year, and what does the new staff need to do to turn the program around?
Mired in the program's worst stretch in its 100-year history -- 34 losses in the past 39 games -- there weren't many expectations this season under Justin Fuente. Fans were hoping for better organization and discipline on the field and, so far, they've gotten that to some extent (4 turnovers last week nonwithstanding). To turn the program around, the new staff needs time and about three good recruiting classes.
Texas Tech transfer Jacob Karam leads the Memphis offense, which also features a finally healthy Durham native Jerrell Rhodes at running back this year. How do you expect the Tigers will try to attack the injury-plagued Duke defense, and how can they take better care of the football?
Rhodes is the most productive back the Tigers have and has enjoyed playing in the Durham area (as he did two years at East Carolina). But Memphis hasn't had a strong rushing attack so far. Getting JUCO transfer Jai Steib back and healthy has helped somewhat, but the turnovers have been costly. Memphis allowed 24 points off turnovers in its loss last weekend. Fuente has spent extra time in practice this week addressing the fumble problem.
Memphis gave up over 35 points per game in 2011, and are coming off a 48-30 defeat to Middle Tennessee State in week 3. What is the expected strength of the new 3-4 defense, and what has been the source of their early season struggles?
Fuente has praised his defensive front since preseason camp began and it is a solid group anchored by nose tackles Johnnie Farms and Terry Redden, along with end Zach Gholson. Free safety Lonnie Ballentine has blossomed this season, too. The defense's early season struggles have been a byproduct of facing opponents with superior team speed. Arkansas State ran a no-huddle offense that produced nearly 100 plays and the Tiger defense wilted in the final quarter.
Duke enters this game in an unfamiliar position as a heavy favorite. How do you expect the game to play out Saturday night in Durham?
Memphis has had the misfortune to play teams with veteran quarterbacks each week of the season so far. Sean Renfree may be the most experienced the Tigers have faced. While Karam is a former Texas Tech quarterback, he didn't play much for the Red Raiders. Saturday will be only his fourth career start. This is a Memphis team still learning how to win. I'm not sure I can disagree with the oddsmakers on this one.