[private]So, your hometown school is coming to town ...
Preparation.  That's the key.  You have to treat it like any other game.  Those guys are going to come out to play.
This is a huge game for both teams.  Miami has their back against the wall in that they are 0-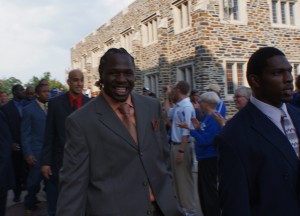 2, meaning they'll be dangerous.  They also have a pretty solid defensive front, much like Tech - what are your feelings?
We have to match their intensity and match the play those guys are going to bring in here and bring the fight to them.  If you deliver a counter punch or don't give up, it can pan out.  We have to go out there and play all phases of the game.
Duke will have played three straight games on ESPNU.  What does that mean for Duke?
You have an opportunity to show people who you are.  Some people will tune in to see what you got, so you have a chance to show the world what you can do.  Some guys will take that like an opportunity to perform.
How many players do you know on the Miami team?
A lot!  I know a lot of them.  I grew up playing against them in the little league or in high school.  You grow up knowing each other just playing football in general.
Is this a big game for your Mom and family?
Everybody calls me back home.  They say you have them this week.  Some of my family members and even some media I know want to see me play well and win.  It's a great deal for the family, but it's not really personal for me.  It's about this (Duke) football team.
You have gone up against these guys a couple of times.  Is there a little bit of smack talk on their end?
If I played any other position beside quarterback, I would smack talk back (laughing).  Talking back to what those guys are saying can get you out of your game.  I don't smack talk, but maybe my lineman can for me.  Most of them are pretty stand up guys, so they just go our there and play hard all the time, but they'll call your name some and stuff like that.
The offense struggled a little bit the past two games.  What can you do as a quarterback to help?
We just have to go out there and practice and execute.  If you practice well, you generally play well.  We just need to get some first downs to get this offense rolling.
How do you deal with a defense that held Central Florida to 4 yards rushing and one that had Florida at bay for most of the game before losing?
We have to be aggressive and get the running game going.  It opens up the offense.
On fan support -
We need our fans and we need them to be loud and give them (Miami) a little trouble.  It means a lot to us when they turn out and I hope they support us like they do the basketball team.[/private]