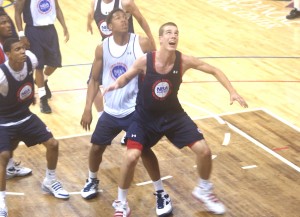 CHARLOTTESVILLE- The first day of the NBAPA Top 100 Camp is in the books and the Blue Devil Nation brings you highlights and thoughts from day one.   The talent level is a bit watered down with the likes of Austin Rivers, Quincy Miller and others making the Team USA U-18 squad.  Despite the absence of a few big names there are still plenty of intriguing prospects to watch and some of them will certainly make it to the league.
Michael Gbinije- Despite his disappointment of not making the USA U-18 team, Gbinije shook off jet lag to have a nice first day.  In his second game of the day, Gbinije scored seven straight points during a key stretch finishing with 17 for the game and leading his Spurs team to a 98-82 win over the Jazz.  Gbinije seemed to have benefited from the USA trials in that he was playing some really good on ball defense which showed improvement.  Gbinije is a solid player whose quiet demeanor makes some of his game go unnoticed but there is no doubt that he can be a solid contributor at Duke.
Marshall Plumlee- Marshall ended day one with 8 and 7 points in his two games.  He had one nice sequence when his team was down [private] by four.  Plumlee completed a three point play and after a defensive stop he called for the ball, was hit with the pass and then immediately hit a teammate cutting to the basket for an assist.  Plumlee will meet with the UVA staff before leaving but he recently talked with Coach K and Wojo and came away saying it was very positive.   I'll go ahead and tell you that I think Marshall will be a Blue Devil soon enough.  We have an interview coming with Plumlee.
Kaleb Tarczewski -The 2012 big man is listed as seven feet tall and despite being one of the younger players here, he is holding his own.  I fell for his game during last seasons AAU tournament and Duke has  been keeping tabs on him making contact.  He is of course the teammate of Alex Murphy who appears to be a Duke lean according to trusted sources.  Tarczewski is a strong kid who does not back down and despite not following the college game but one year, his game is promising.  In an interview you'll soon hear, Tarczewski said that he planned on visiting Duke.  If I were to guess I would say Kansas and Duke could be his early leaders but it is early.
J.P. Tokoto- UNC offered him one minute after midnight but according to his stepdad it is not a done deal.  Still, most feel if it were up to him it would be over.  Interestingly his scoring total in the first two games was a grand total of zero.  It has not helped Tokoto playing with his AAU teams 16-U team and his stock is falling - not too far mind you, but the lack of an outside game offensively is a glaring weakness.  Tokoto is still a top notch prospect and Duke is still in it from what I am told.
Tyler Adams- Mr. Bang loves to play the workhorse role and Duke loves that he is about anchoring the middle.  Adams had about 20 rebounds in his first two games and averaged 5.5 ppg.  Again, keep in mind that the teams have 12 roster players when looking at numbers.  Adams has a new drop step he is proud of and he indeed, loves to bang.  Solid day for the young and future Dukie Adams.
Notes - Future UNC player P.J. Hairston is the camps leading scorer but let me make this clear in that he is shooting more than anybody here. An awkward moment came when Jerry Stackhouse, a coach, had to be restrained from going after a ref.  Not one of his better moments and not what a role model should do.  The games were shortened tonight so that the players might eat pizza and watch the Lakers defeat the Celtics for the NBA title.  They played two halves instead of four quarters.  The kicker is that one of the games went four quarters and some prospects complained that their numbers would be down.  Anthony Davis is a man and he caught the eye of several talent scouts.  Deuce Bello averaged 10.5 ppg and was very impressive.  His athletic moves wowed many who watched his games.  Isaiah Austin averaged 5 ppg and plays with Tyler Adams on a 0-2 Celtics team.  FWIW, the teams are split up and named after NBA teams.  Another player who looked good was Rodney Purvis, a class of 2013 product who plays in Raleigh, North Carolina.  He lists UNC as his dream school but said Duke has shown interest in him. A UNC lead but his mom will play a big role in his decision but it sounds like she grew up a fan of the dark side as well.  We have an interview coming with him.  Former Duke standout Chris Duhon is working at the event as a mentor and coach. [/private]