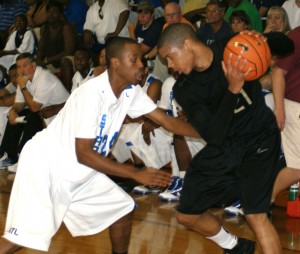 Andre Dawkins torched the nets for 36 points and added 9 rebounds but his Boo Williams team was no match for talent laden Team Final.  Team Final is of course led by Michael Gilchrist, but his 13 points and 8 rebounds were not the main factor in a 101-74 victory.  Tyreak Duran and Trevor Cooney scored 52 points together and Rakeem Christmas contributed with 12 points as Team Final moved to the next round.
It is worth noting that Team Final won that game as well 92-77 over California Supreme.  Gilchrist went for 14 points and 11 boards in that game and Cooney and Christmas added 20 points apiece.  Team Final will play Team Florida in the semi finals tomorrow and will play the winner of the Albany City Rocks - All Ohio Red.
Earlier in the day, Harrison Barnes and Howard Pulley were sent packing.  Barnes had another amazing game in a standing room only audience scoring 21 points and grabbing 12 rebounds to go with 2 steals.
BDN talked with Barnes after the game [private] and you will get the lowdown as the week goes on.  Barnes will only play in two more events, none of which are on the AAU circuit.  He will attend the Nike Global Challenge and the Rumble in the Bronx in Rucker Park. Coaches watching Barnes were Wojo and Collins, Roy Williams, Billy Donovan, John Calipari, Bill Self and Johnny Dawkins.
Tobias Harris has cemented his name and will rise on all of the gurus charts.  His 27 points helped Albany to the semi finals.  Jarren Sullinger(21 points 8 boards)  and All Ohio Red sent Each One Teach on packing.  Austin Rivers had 10 points and 4 assists.  In the previous game, Rivers scored 22 points, 4 rebounds and 2 assists leading his team to a win over Houston Hoops.
Finally, Brad Beal redeemed himself in a big way with a stat stuffing performance.  Beal talked with BDN for a second time after the game and mentioned that he took fouling out with 2 points hard.  Beal's impressive numbers were 29 points, 10 rebounds, 4 assists, 2 blocked shots and 2 steals.
That's it for now, but we will have plenty more to come as the week goes on.  One last note, Chris Spatola came in and took Wojo and Collins place as the duo headed to West Virginia. [/private]