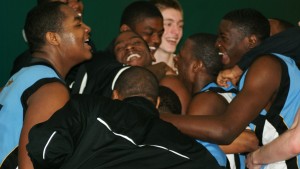 Here is a sample of our live updates for Blue Devil Nation Premium members.    The trial runs out at midnight, so take advantage now and witness the hardest working premium Duke site on the Internet.  Join now and discuss the many happenings on our private message board.
Wow! Tremendous games today. I was all set to make the headline "The Andre Dawkins show" for his 27 points were a team high for Boo Williams and they held a 63-60 lead with possession of the ball and just seconds left on the clock. On the in bounds play, Team Final forced a turnover and had the ball with 1.3 ticks left. Then a floating three point shot by Tyreek Duren and it looked like OT.  After Boo got it to Luke Cothran at half court who fumbled it and Mike Gilchrist threw in a three point shot from just left of center court.  Team Final rushed over to the camera and Boo Williams' players were stunned that Team Final scored 6 points in 3.1 seconds to win. Unreal.
On the next court, All Ohio held on for a close win led by behemoth Jared Sullinger over Team Stat.   Brandon Knight was injured in the first half and did not return after scoring 10 points.
To have been able to watch both of these close games was amazing.
But that's not all! I went across the way to catch Howard Pulley in their semi final bronze medal game. Upon entering the gym, Barnes drove to the hole for a slashing lay in.  The next time down he nailed a three pointer but that was after he blocked the shot on the defensive end. If that wasn't enough, he threaded a pass to a cutting teammate for an assist on the third straight offensive possession.  Barnes went on to score 26 points and his team has won three straight contests after dropping the opening two games.   Barnes will play one more game which I will stay for.  IOW, I am closing it out and staying for the duration.
The best I have seen - Barnes, Knight, Sullinger, McAdoo and Lamb would make up my first team  Dawkins played really, really well after his first game.  Much to come including a bevy of interviews and information.