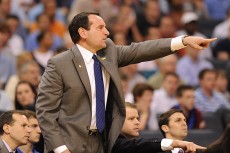 Is there anybody you would choose to lead your team onto the battlefield of March Madness other than Coach Mike Krzyzewski?  During today's press conference, Krzyzewski was relaxed and focused on the job at hand, stating, "I don't look at the brackets or look ahead.  Our focus is on Lehigh, they're a good team."
He then stated to any possible disbelievers that it was true and that he doesn't lie and while some from afar still might think, he has taken a look past Greensboro, I can assure you that he hasn't.  It does no good to worry about anything past Lehigh and scout Notre Dame and Xavier for there is simply too much you cannot control.
Krzyzewski holds the highest NCAA winning percentage with a 96-31 record which translates into a .756%, so if he chooses to focus on one game at a time, then so be it for it has worked for him in the past.   A further testament to his prowess is the fact Duke has been a #1 or #2 seed in the tournament 14 of the past 16 years and who can find any fault in that?
With 927 wins, the most of any coach ever to be at the helm in college basketball it can sometimes be overlooked by fans just how lucky they are.  Krzyzewski is a living legend and that is sometimes hard to realize amongst an increasingly spoiled fan base.
In 2010, he guided his team to the National Championship when nobody gave them a chance.  Duke was called to unathletic and a team without a true point guard but they managed to find ways of using their teams strengths and brough hime his 4th national championship.
And that is why I feel confident that Coach Krzyzewski will tweak this team a bit more, one which is certainly battle tested and good, but a team with a smaller margin for error than some of his past teams.
It's not easy adjusting to injuries in the middle of the season and I am of course referring to Ryan Kelly who missed the ACC Tournament and possibly the game this Friday.  While the Duke defense picked it up recently, the offense struggled and the man in charge recognized that and said that his team would get back to what they were doing earlier in the season.
Adjustments have been a huge part of the Duke program, one which takes every teams best shot.  Krzyzewski has been a master at taking his talent and molding them into a team and I am of the opinion that this years edition has been one of his best coaching jobs in Durham.
This years team doesn't have the upperclassmen leadership as some of the recent Duke teams. but who is betting against him pushing the right buttons to get the most out of what he's got?
The Blue Devils are in practice right now and  Coach Krzyzewski is planning his teams way.  You can bet that he will try to push each players buttons to get the most out of them, be they in a slump or just hitting a wall.
Counting the Blue Devils out in March is simply something that should never be done under the man known as Coach K for he has a knack at getting the most out of all his teams.  Duke needs three wins for a fourth straight 30 win season, but the 28th win is all Krzyewski has on his mind at this time.
While March Madness is tense as it can be where teams are one and done with a loss, Duke fans should feel good about having Krzyzewski on their side. History shows us that Krzyzewski is the winningest coach in the NCAA Tournament and that is something no other school in all the brackets can claim.