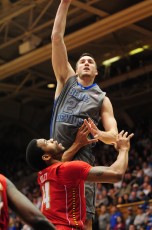 Sitting behind the Duke bench during the Blue Devils 73-55 victory over Maryland was a proud father who had just watched not one, but two sons produce double-doubles.  Perky Plumlee had that look of satisfaction on his face as he cracked his normally serious game face for a big grin and why not?
His eldest son, Duke senior Miles Plumlee had just grabbed an amazing 22 rebounds, the most of any player on a team Mike Krzyzewski has coached.  "Miles  was fabulous. That's the most rebounds any player has ever had that I have coached in 37 years in a ball game, and I told Miles, I have coached some pretty good players," Krzyzewski stated in his post game press conference.
The hope is that Plumlee will build on this performance and bring consistent play down the stretch as March will soon be upon us.  With just six regular season games left and three of those at home, maybe that is in the back of the seniors mind. 
Krzyzewski alluded to the fact that (Miles) Plumlee was great today and while he would not put pressure on Plumlee, he did mention him in the same breath as Brian Zoubek who played a huge role in helping Duke win the 2010 National Championship.
There are times when the light just comes on for players and if Plumlee were to bring half the rebounds he grabbed against Maryland to the table the rest of the way, it would be a good thing for Duke.
"I know I have the potential to be a great asset to this team," said Plumlee who then stated, "I just have to be consistent and play strong every night and that's something I can do."
The mere fact that Plumlee has grabbed more rebounds in a single game than any other player in the ACC this season is impressive.  And Plumlee has the athleticism and size to be a major factor in coming games.
With wo straight double-doubles recorded by Plumlee it makes for a good start to stepping up his game as did the aforementioned Zoubek.  And one must also remember that he was on that title team and saw up close and person what it takes to make a run at the ultimate prize.
On a day when it was hard to get up for the task at hand after a rousing and classic win over arch rival North Carolina, Miles Plumlee answered the bell and Duke fans can only hope that the comparisons to Zoubek continue.
Many Blue Devils fans voiced their displeasure with the new Nike duds on social media networks but it seems Miles took to them just fine.  In fact, one might consider letting him wear that jersey underneath which ever other one he chooses the rest of the season.