Browse:
Home
/
Miles Plumlee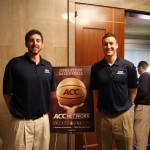 By Mark Watson on October 19, 2011
CHARLOTTE – ACC Media Day is in full swing and Blue Devil Nation is here to bring you news as it happens.  Just moment ago, we spoke with the two Duke captains Miles Plumlee and Ryan Kelly.  We'll get in depth with both the captains a bit later but until then, these hot off the […]
Posted in Duke Basketball | Tagged Blue Devil Nation, Duke Basketball News, Miles Plumlee, Ryan Kelly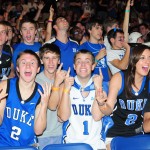 By Mark Watson on October 17, 2011
Blue Devil Nation in conjunction with Ball is Life brings you this highlight video from Countdown to Craziness.  Let us know how you like it?  Be sure to check out the Austin Rivers mix as well.
Posted in Duke Basketball | Tagged Andre Dawkins, Blue Devil Nation Video, Duke Basketball News, Mason Plumlee, Miles Plumlee, Quinn Cook, Ryan Kelly, Seth Curry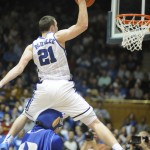 By Mark Watson on October 4, 2011
With Countdown to Craziness right around the corner, I thought it a good idea to have our own countdown to the CTC.  I'm really excited about Miles Plumlee going  into his final season at Duke.  Plumlee will almost assuredly start for Duke and I think he's ready to have a big year.  Apparently Coach K […]
Posted in Duke Basketball | Tagged Duke Countdown to Craziness, Miles Plumlee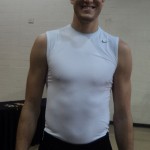 By Andrew Slater on September 9, 2011
Blessed with a reported thirty-six inch vertical, a 6'11," 247 lb. frame, and the mind of a high school salutatorian, Miles Plumlee is a rare specimen. On a relatively young squad, Miles, a twenty-three year-old third generation college basketball player, has started more games, forty-one, than any current Duke player. The team will need him […]
Posted in BDN Premium Articles, Duke Basketball | Tagged BDN Premium, Blue Devil Nation, bluedevilnation.net, Coach K, Duke, Duke Basketball, Jeff Capel, Jon Scheyer, Lance Thomas, Marshall Plumlee, Mason Plumlee, Miles Plumlee, Wojo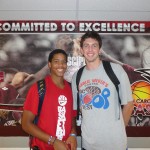 By Bob Green on August 27, 2011
Participation in the Friendship Games provided an early look at the 2011-12 edition of the Duke Blue Devils. In three games against the China Junior National Team and one game against the United Arab Emirates National Team, Coach Krzyzewski was able to get an early jump on melding the individual Blue Devils into a cohesive […]
Posted in Duke Basketball | Tagged Alex Murphy, Andre Dawkins, Austin Rivers, Coach Krzyzewski, Duke Basketball, Friendship Games, Mason Plumlee, Miles Plumlee, Ryan Kelly, Seth Curry, Tyler Thornton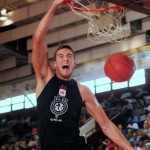 By Mark Watson on July 27, 2011
BDN caught up to rising Duke senior Miles Plumlee for a brief chat as passing fans did their best to distract him.  Check out the latest exlusive from BDN Video -
Posted in Duke Basketball | Tagged BDN interviews Miles Plumlee, Blue Devil Nation Video, Duke Basketball, Miles Plumlee, NC Pro Am