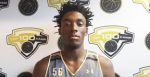 Standing in at a long 6-6, wing standout Nassir Little is garnering monster attention on the recruiting trail.  Little is a part of the Class of 2018 who plays for Orlando Christian Prep and his game is standing out on the circuit.  He is a consensus top 30 player in the country who is multi talented and has his eyes on the NBA one day.
What you see when scouting Little is energy and effort.  He is strong for a wing and can hit the glass and finish over smaller defenders.  He has a high motor and good body control but still needs to polish up his game.
Duke is showing interest in Little and he is returning that.
Nassir, you are blowing up.  Some people are calling you the most recruited player in the country.  Is that true?  And if so, describe the process at the moment.
I do think that.  That I am the most recruited player in the country at this time and it is a good problem to have.
You have had a lot of schools show interest in you for a long time now.  Among those are Miami, Kansas, Georgia Tech, Florida and Arizona.  Are they the leaders in your recruitment?
Ummm, there a lot of schools that have been there for a long time with me, but I cannot state that they are the forerunners right now. The process is still open with other schools coming in.
Describe your game in your own words or give me a scouting report on yourself.
I think I am a very versatile player with good skills...a good rebounder, good defender and good shooter with high energy.  That is what everybody seems to like about my game.  I think I'm coachable as well with good conditioning.
Who in your circle will help you make your ultimate collegiate decision on where to play basketball?
My parents and my AAU coach.
I understand a lot of other schools are getting into the mix.  Have any other schools been calling you of late?
Duke, North Carolina, Arizona State, Arizona, Oregon, Ohio State, just a lot of new schools as well.
You mentioned Duke.  What do you think about them?
Coach (Nate) James called me. Duke has been on me pretty hard as of late.  They have been feeling me out getting to know me and guaging my interest.  They're trying to show that they have interest and are making sure I know.  They think I am a versatile wing and they are looking for one in this class.  I have watched and like some of the players who've played there.
Does it hurt that they are getting in later than the other schools on your list?
No sir.
So, you are still pretty much wide open right now...
Yes sir, I am.
Any visits planned?
Not really just yet, but Georgia Tech soon.
Josh Pastner has been on you pretty hard.  What do you think about their school?
I like them a lot and are familiar with them.  They've let me now that they will continue to make a really strong effort towards me,  They want me to be the centerpiece of their class.
Are there any players on the circuit you would like to play with or does it matter?
There are some good point guards out there.  It is important to play with some good point guards.  (He mentioned two, but the names were inaudible due to static.)
What are you looking for in a coach and in a school?
In a coach, somebody who that when they are dealing with me are honest who will not pump you up too much in the good times but who will in the rough times lift you up.  As for a college...a school with good academics and a program that likes to get out in transition.
A guy or your talent likely had so little downtime away from basketball.  But when you do, what do you do with it?
I watch TV and play video games.  I play the piano.
Oh, really?
Yeah, a lot of people don't know about that but I am pretty musically inclined.  I play the saxophone as well.  I get that from my Dad, he played so I picked it up.
Where did you learn the game of basketball from?
Just..it just kind of cam so nowhere in particular.  When I was growing up, I just balled  when I could.  I liked the game but my parents never pushed it on me.  They have allowed me to make my own choices.
Well, I know you are thankful to have parents like that.  So, where would you like to see yourself in three or four years?
In the NBA.  No doubt.
Is it important that you go to a school with success of getting players to the pros?
It is not the main thing I am looking for but it is a good thing, so...
So, just to recap...you are still very open in the process and listening to a lot of schools.  Is that correct?
Yes sir.
Well I appreciate your time and wish you luck in your endeavors.
Thank You
Note - He had some more to say that was hard to decipher from phone static about Duke.  It is clear that he is open to them and this kid is a big time talent and a solid young man to boot.  Stay tuned.