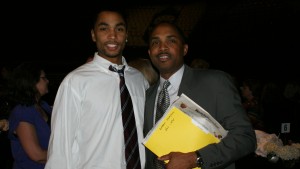 DURHAM, N.C. -- Duke guard Gerald Henderson announced on Saturday that he will make himself eligible for the 2009 NBA Draft to be held on June 25 in New York City. Henderson has not hired an agent.
"After a lot of thought and discussion with my family and the Duke coaching staff, I have decided to enter the NBA Draft," said Henderson. "Playing in the NBA has been a goal of mine since a young age and I am thrilled to have the opportunity. My three years at Duke have been a tremendous learning experience and have helped me develop both as a person and as a player."
Henderson, a first team All-ACC and ACC All-Tournament team selection last season, led the Blue Devils to a 30-7 record, the program's 11th ACC Championship and a trip to the NCAA Tournament Sweet Sixteen in 2008-09. He led the team in scoring at 16.5 points per game, while also ranking second in rebounding (4.9 rpg) and assists (91) and third in blocked shots (28) and steals (46). Henderson scored in double figures 31 times in 2008-09, including 11 games with 20 or more points scored. He was also named to the Wooden Award, AP (third) and the FoxSports.com (second) All-America teams last season.
"Gerald is an impressive young man on and off the court," said Duke head coach Mike Krzyzewski. "We had great conversations about his NBA prospects and we are 100 percent behind his decision. Gerald is coming off a great season and he has an extremely bright future as a professional. We are ready to help him in any and every way during this process."
Henderson is one of 59 players in school history to score over 1,000 career points and ranks 39th at Duke with 1,262 points. He played in 103 career games with 79 starts and finished his career with 435 rebounds, 182 assists, 101 steals and 69 blocks. Henderson shot at least 45 percent from the field in all three seasons and shot a career-high from both the three-point line (.336) and free throw line (.761) during his junior year.
If Henderson were to remain in the 2009 NBA Draft, Duke would return nine letter-winners, including four starters, from a year ago. Early entries have until June 16 to decide on whether or not to remain in the draft.