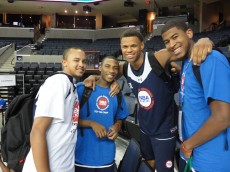 CHARLOTTESVILLE -Several close contests highlighted last nights evening session of the NBAPA Top 100 Camp in Charlottesville, Virginia.  Future Blue Devil, Rasheed Sulaimon drained a three point shot to help get his Laker team to overtime, but a timeout called doomed them in that there are no timeouts allowed in the extra period. 
THURSDAY NIGHT RECAPS
Spurs 65
Mavericks 62
Kellen McCormick scored 10 points leading a very balanced Spurs attack and pushing them past the Mavericks 65-62 evening their record at 1-1 on the day's action. Amile Jefferson continued to impress, scoring a game high 20 markers. T.J. Warren added 11 in the tough loss.
Grizzlies 79
Heat 63
Gary Harris posted 17 points and the Grizzlies moved to 2-0 on the first day with a 79-63 burning of the Heat. The Grizzlies stand as the top seed after the first day's games based on point differential. Adam Woodbury turned in a strong performance with 13 points and was joined in the scoring column by Anthony Bennett with 11. Kyle Anderson led the Heat with 14 points. Tony Parker added 11 points.
Magic 81
Lakers 79
Codi Miller-McIntyre sank a short jumper in overtime pushing the Magic to an 81-79 victory over the Lakers and moving to 2-0 on the day. Miller-Mac was outstanding finishing with a camp high 26 points, including four 3's. Katin Reinhardt added 10 points in the tight victory. Rasheed Sulaimon led the Lakers with 17 markers, including a deep three to knot the score in regulation. He was assisted in the scoring column by Javan Felix with 12.
Celtics 75
Bulls 64
The Celtics move to 2-0 in camp action with a hard fought 75-64 victory over the winless Bulls. Jordan Price was a young man against boys finishing with 21 large and his running mate Savon Goodman added 18 in the win. Glenn Robinson added 12 points for the Celtics. Mike Gesell was high man for the Bulls finishing with 12. Shaquille Clear added 10 in the loss.
Hawks 55
Thunder 53
Arnaud Moto tipped in a missed chance and the Hawks came back from a major deficit to slide past the Thunder 55-53. Mitch McGary converted a 3-point play the old fashioned way and the Hawks grabbed their first lead of the game with a little under four minutes remaining in the contest. From that point a back and forth contest ended with the Moto tip. Sam Dekker led the Hawks with 14 points and Gavin Ware captured a double/double with 10 points and 11 boards. Jordan Burgess led all scorers with 16 points in the tough loss.
Top 10 Games
1. Codi Miller-McIntyre, Magic 26
2. Jordan Price, Celtics 21
3. Amile Jefferson, Mavericks 20
4. Tyler Lewis, Thunder 19
5. Jerome Hairston, Celtics 17
T.J. Warren, Mavericks 17
Rasheed Sulaimon, Lakers 17
Gary Harris, Grizzlies 17
9. Codi Miller-McIntyre, Magic 16
Amile Jefferson, Mavericks 16
Jordan Burgess, Thunder 16
| | | | | | | | |
| --- | --- | --- | --- | --- | --- | --- | --- |
| # | Name | | Year | Team | Game 1 | Game 2 | PPG |
| 23 | Codi | Miller-McIntyre | 2012 | Magic | 16 | 26 | 21.0 |
| 84 | Amile | Jefferson | 2012 | Mavericks | 16 | 20 | 18.0 |
| 47 | Jordan | Price | 2012 | Celtics | 14 | 21 | 17.5 |
| 8 | Jordan | Burgess | 2012 | Thunder | 13 | 16 | 14.5 |
| 73 | T.J. | Warren | 2012 | Mavericks | 17 | 11 | 14.0 |
| 56 | Savon | Goodman | 2012 | Celtics | 8 | 18 | 13.0 |
| 20 | Gary | Harris | 2012 | Grizzlies | 8 | 17 | 12.5 |
| 5 | Nate | Britt | 2013 | Thunder | 14 | 10 | 12.0 |
| 80 | Adam | Woodbury | 2012 | Grizzlies | 10 | 13 | 11.5 |
| 30 | Rasheed | Sulaimon | 2012 | Lakers | 6 | 17 | 11.5 |
| 35 | Katin | Reinhardt | 2012 | Magic | 13 | 10 | 11.5 |
| 33 | Anthony | Bennett | 2012 | Grizzlies | 11 | 11 | 11.0 |
| 103 | Gavin | Ware | 2012 | Hawks | 12 | 10 | 11.0 |
| 78 | Chicken | Knowles | 2012 | Heat | 15 | 7 | 11.0 |
| 63 | Mitch | McGary | 2012 | Hawks | 12 | 9 | 10.5 |
| 51 | Justin | Anderson | 2012 | Heat | 14 | 7 | 10.5 |
| 83 | Devonta | Pollard | 2012 | Magic | 15 | 6 | 10.5 |
| 53 | Robert | Carter | 2012 | Celtics | 12 | 8 | 10.0 |
| 67 | Daniel | Ochefu | 2012 | Grizzlies | 12 | 8 | 10.0 |
| 77 | Tony | Parker | 2012 | Heat | 9 | 11 | 10.0 |
| 88 | Anton | Gill | 2013 | Lakers | 11 | 9 | 10.0 |
| 44 | Omar | Calhoun | 2012 | Bulls | 14 | 5 | 9.5 |
| 45 | Sam | Dekker | 2012 | Hawks | 5 | 14 | 9.5 |
| 31 | Jordan | Tebbutt | 2012 | Lakers | 10 | 9 | 9.5 |
| 3 | Tyler | Lewis | 2012 | Thunder | 19 | 0 | 9.5 |
| 42 | Danuel | House | 2012 | Thunder | 15 | 4 | 9.5 |
| 15 | Jordan | Adams | 2012 | Bulls | 14 | 4 | 9.0 |
| 21 | Brice | Johnson | 2012 | Bulls | 12 | 6 | 9.0 |
| 2 | Yogi | Ferrell | 2012 | Magic | 11 | 7 | 9.0 |
| 37 | Marcus | Smart | 2012 | Spurs | 9 | 9 | 9.0 |
| 76 | Zena | Edosomwan | 2012 | Spurs | 10 | 8 | 9.0 |
| 7 | Jerome | Hairston | 2012 | Celtics | 17 | 0 | 8.5 |
| 69 | Glenn | Robinson | 2012 | Celtics | 5 | 12 | 8.5 |
| 66 | Steve | Taylor | 2012 | Grizzlies | 12 | 5 | 8.5 |
| 75 | Brandon | Bolden | 2012 | Lakers | 11 | 6 | 8.5 |
| 03 | Rosco | Allen | 2012 | Magic | 9 | 8 | 8.5 |
| 38 | Ryan | Arcidiacono | 2012 | Spurs | 11 | 6 | 8.5 |
| 57 | Montrezl | Harrell | 2012 | Bulls | 10 | 6 | 8.0 |
| 36 | Michael | Frazier | 2012 | Hawks | 10 | 6 | 8.0 |
| 4 | Ronnie | Johnson | 2012 | Heat | 9 | 7 | 8.0 |
| 52 | Kyle | Anderson | 2012 | Heat | 2 | 14 | 8.0 |
| 00 | Javan | Felix | 2012 | Lakers | 4 | 12 | 8.0 |
| 48 | Denzel | Valentine | 2012 | Magic | 12 | 4 | 8.0 |
| 14 | Mike | Gesell | 2012 | Bulls | 3 | 12 | 7.5 |
| 9 | J.P. | Tokoto | 2012 | Grizzlies | 14 | 1 | 7.5 |
| 26 | James | Robinson | 2012 | Grizzlies | 9 | 6 | 7.5 |
| 109 | Joell | James | 2012 | Hawks | 13 | 2 | 7.5 |
| 65 | George | Niang | 2012 | Lakers | 11 | 4 | 7.5 |
| 102 | Robert | Upshaw | 2012 | Lakers | 6 | 9 | 7.5 |
| 105 | A.J. | Hammons | 2012 | Magic | 6 | 9 | 7.5 |
| 49 | Allerik | Freeman | 2012 | Mavericks | 9 | 6 | 7.5 |
| 60 | Marcus | Hunt | 2012 | Mavericks | 13 | 2 | 7.5 |
| 46 | Braxton | Ogbueze | 2012 | Grizzlies | 5 | 9 | 7.0 |
| 13 | Jabari | Bird | 2012 | Heat | 10 | 4 | 7.0 |
| 55 | Ricardo | Gathers | 2012 | Heat | 10 | 4 | 7.0 |
| 108 | Hanner | Perea | 2012 | Spurs | 6 | 8 | 7.0 |
| 02 | Xavier | Johnson | 2012 | Bulls | 9 | 4 | 6.5 |
| 86 | A.J. | Davis | 2013 | Celtics | 13 | 0 | 6.5 |
| 59 | Twymond | Howard | 2012 | Heat | 7 | 6 | 6.5 |
| 16 | Alex | Caruso | 2012 | Mavericks | 6 | 7 | 6.5 |
| 04 | Cameron | Biedschied | 2012 | Spurs | 9 | 4 | 6.5 |
| 104 | Brandon | Ashley | 2012 | Bulls | 4 | 8 | 6.0 |
| 106 | Shaquille | Cleare | 2012 | Bulls | 2 | 10 | 6.0 |
| 54 | Raphael | Davis | 2012 | Celtics | 8 | 4 | 6.0 |
| 101 | Elijah | Macon | 2012 | Celtics | 6 | 6 | 6.0 |
| 40 | Kellen | Dunham | 2012 | Heat | 9 | 3 | 6.0 |
| 19 | Jerami | Grant | 2012 | Spurs | 3 | 9 | 6.0 |
| 72 | Chris | Walker | 2013 | Thunder | 8 | 4 | 6.0 |
| 22 | Terry | Henderson | 2012 | Grizzlies | 11 | 0 | 5.5 |
| 79 | Steve | Taylor | 2012 | Grizzlies | 2 | 9 | 5.5 |
| 12 | Damien | Wilson | 2012 | Hawks | 4 | 7 | 5.5 |
| 74 | Andrew | White | 2012 | Magic | 9 | 2 | 5.5 |
| 10 | Ron | Patterson | 2012 | Spurs | 9 | 2 | 5.5 |
| 100 | BeeJay | Anya | 2013 | Thunder | 9 | 2 | 5.5 |
| 70 | D'Vauntes | Smith-Rivera | 2012 | Hawks | 8 | 2 | 5.0 |
| 58 | Jeremy | Hollowell | 2012 | Lakers | 5 | 5 | 5.0 |
| 25 | J-Mychal | Reese | 2012 | Mavericks | 2 | 8 | 5.0 |
| 107 | Landen | Lucas | 2012 | Mavericks | 6 | 4 | 5.0 |
| 62 | Kellen | McCormick | 2012 | Spurs | 0 | 10 | 5.0 |
| 82 | Cameron | Ridley | 2012 | Spurs | 4 | 6 | 5.0 |
| 01 | Gabe | York | 2012 | Spurs | 7 | 3 | 5.0 |
| 61 | Grant | Jerrett | 2012 | Thunder | 4 | 6 | 5.0 |
| 41 | Kris | Dunn | 2012 | Bulls | 5 | 4 | 4.5 |
| 1 | Marcus | Paige | 2012 | Lakers | 5 | 4 | 4.5 |
| 29 | Daiquan | Walker | 2012 | Hawks | 7 | 2 | 4.5 |
| 90 | Matt | Costello | 2012 | Celtics | 6 | 2 | 4.0 |
| 43 | Shawn | Smith | 2012 | Hawks | 8 | 0 | 4.0 |
| 24 | Nerlens | Noel | 2013 | Magic | 0 | 8 | 4.0 |
| 28 | Josh | Scott | 2012 | Thunder | 2 | 6 | 4.0 |
| 50 | Anrio | Adams | 2012 | Bulls | 2 | 5 | 3.5 |
| 97 | Elijah | Brown | 2013 | Magic | 7 | 0 | 3.5 |
| 27 | L.J. | Rose | 2012 | Celtics | 2 | 4 | 3.0 |
| 18 | William | Goodwin | 2012 | Lakers | 2 | 4 | 3.0 |
| 11 | Alex | Poythress | 2012 | Magic | 2 | 4 | 3.0 |
| 81 | Andre | Drummond | 2012 | Mavericks | 2 | 4 | 3.0 |
| 95 | Kenny | Kaminski | 2012 | Heat | 5 | 0 | 2.5 |
| 32 | Negus | Webster-Chan | 2012 | Thunder | 0 | 5 | 2.5 |
| 6 | Charles | Mann | 2012 | Hawks | 2 | - | 2.0 |
| 91 | Miles | Overton | 2013 | Grizzlies | 2 | 0 | 1.0 |
| 64 | Arnaud | Moto | 2012 | Hawks | 0 | 2 | 1.0 |
| 93 | Nick | Tatu | 2012 | Hawks | 2 | 0 | 1.0 |
| 89 | DeLante | Victory | 2013 | Thunder | 2 | 0 | 1.0 |
| 07 | Tyler | Clark | 2012 | Celtics | 0 | 0 | 0.0 |
| 05 | Aubrey | Dawkins | 2012 | Heat | 0 | 0 | 0.0 |
| 06 | Darrin | Minnifield | 2013 | Lakers | 0 | 0 | 0.0 |
| 39 | Kareem | Canty | 2012 | Mavericks | 0 | 0 | 0.0 |
| 68 | Rodney | Purvis | 2012 | Thunder | - | - | #DIV/0! |