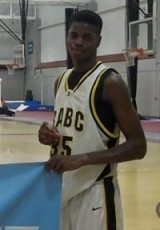 There was a lot of young talent on display at this past weekends Nike EYBL event held at the Boo Williams Facility in Hampton, Virginia.  One of those young talents is 2013's Nerlens Noel of BABC.  Noel is a 6-9 front court player from Everett, MA and he went up against the likes of Tony Parker and held his own as his team went undefeated.
Noels told BDN [private] that he had no dream school while growing up and that they were all equal in his eyes.  When asked to describe his game, Noels said:

After three games Noel was shooting 75% from the floor, averaging 13.o rebounds and 4 blocked shots per game.
"I try to be the defensive anchor for my team, stop fast breaks off blocks and contribute offensively as much as I can and keep everybody involved.  It is important to keep good team chemistry."
"I have done a lot of work with my head coach at Tilton School.  My confidence is soaring in knowing what I can do and the skill set I can improve upon."
Noels rocking his Kids n' Play haircut is a focused young man on the court and his skill set has already earned him major interest from Kentucky, Florida, UCLA, Syracuse and others.  "I like ACC, Big East and SEC schools the most," said Noel.
When asked of ACC schools, Duke in particular, Noel said "If I hear from them I would probably take a good long  look at them."  He went on to say that he was wide open and that it was early in the process for him.  Noels said that Duke, North Carolina had shown interest but he has yet to really hear a lot from the two rival schools.
Noels is an athletic type that plays hard and loves the game.  He will surely be in the top ten players in the class of 2013 and he is they type kid all the major schools will take a look at.  He runs the floor well and is very aggressive around the basket and loves to dig on on the defensive end.  BDN will keep tabs on Noel in the future and it wouldn't surprise us if the Blue Devils staff takes a good look at him when they can get out on the road.
This is the first of many prospects we'll touch base on this week,for our coverage is just getting started. [/private]